« A Closer Look
|
Final Thoughts »
Rosewill RISE Cooling Capabilities and Ventilation Options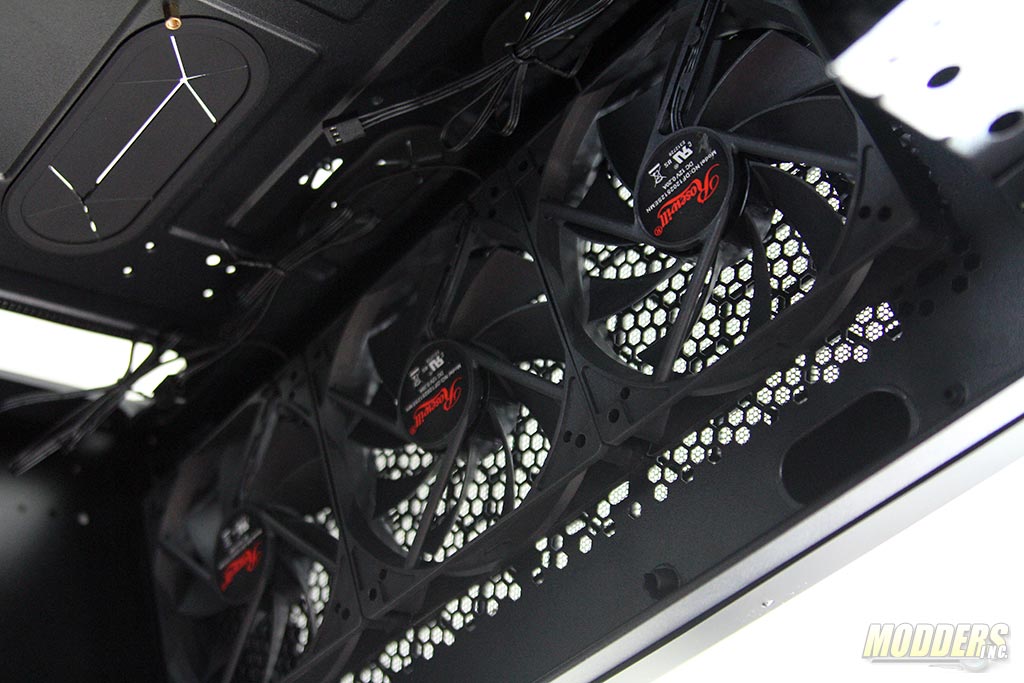 Four fans are pre-installed out of the box for excellent cooling with three 120mm fans in the front and a single 140mm fan in the rear for exhaust. These fans move a lot of air and are very good at full blast although for those concerned about noise, the fans can be run as low as ~550 RPM for the 120mm and ~370RPM on the 140mm if need be. Additional fan mounting options such as 80mm in the rear and the pair of 120 or 140mm at the roof also extend airflow potential.
Rosewill RISE Hardware Assembly and Compatibility Issues

Rear Radiator:
120 or 140 mm radiator supported.
80mm radiator support (independent from the 120/140mm mounting area).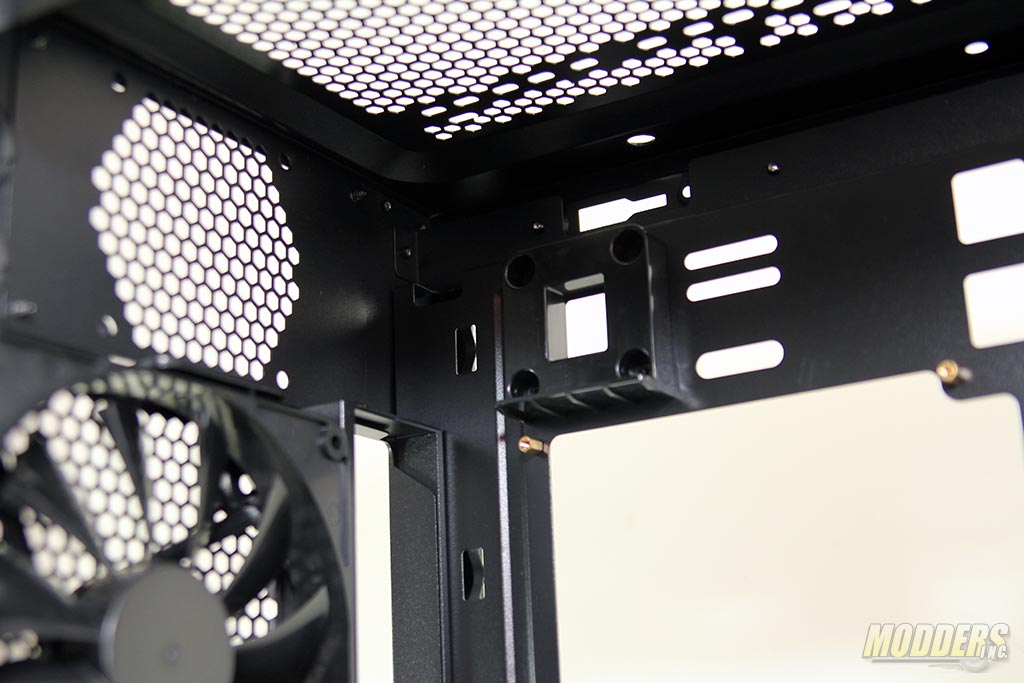 Front mounted radiator:
Some 360mm radiators can only be mounted with some modding such as Swiftech's MCR320-XP which is 2mm longer than the front space provided (400mm vs 402mm). Fitting longer 3x120mm radiators requires users to drill out the rivets holding the housing from the front for the second convertible external drive bay (difficulty: easy)
Fans can be mounted externally but the space is very tight and the fan will be pushing directly against the front dust cover. Dust cover can be removed completely if users wish.
Maximum internal front radiator space with HDD cage positioned the farthest is 80mm.
Top mounted radiator:
2×120 or 2x140mm radiators supported.
Either 15mm or 20mm spacing is supported.
Internal ceiling until motherboard is reached is 100mm.
Bottom area:
There is also the optional 120mm fan at the bottom in front of the power supply and although I was able to install a 120mm fan with the 175mm long 1000W PSU, the modular cables could not be plugged in.
Video Card clearance:
All current video card lengths supported, even in SLI/CFX and even without removing the drive cage.
CPU Tower coolers: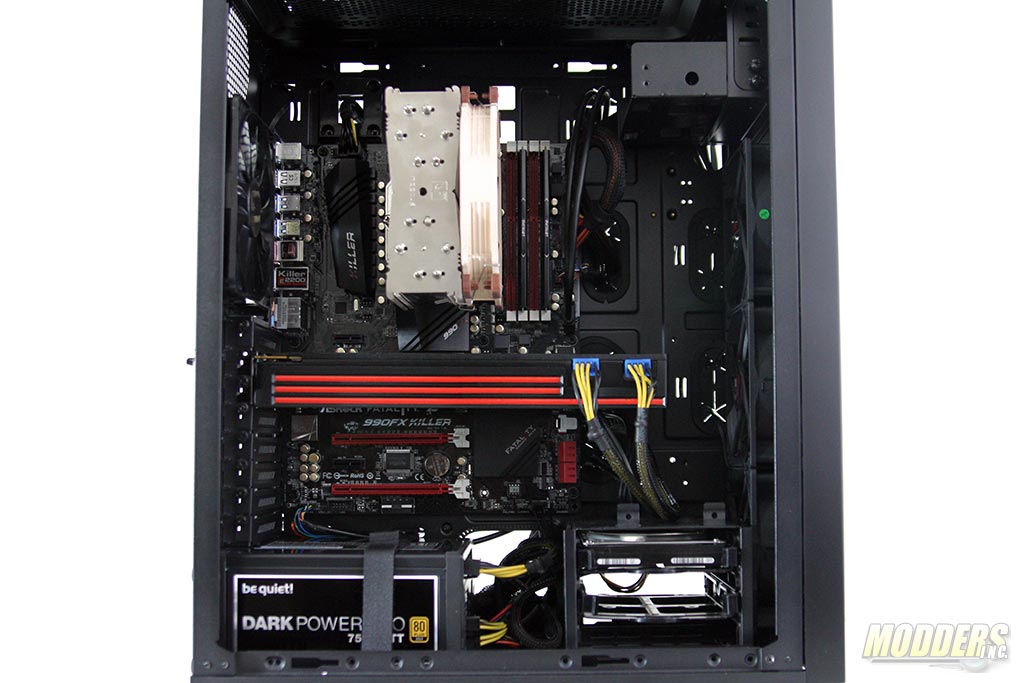 Drive mounting:
HDD cage can be moved or removed completely for clearance.
Only straight SATA cables can be used on the 2.5″ drive mounting option behind the motherboard tray.
Cable routing and management:

Available 20mm clearance at the tightest area behind the motherboard tray for cable routing.
A single MOLEX power connector powers both pre-installed fan, this can be disconnected so the fans can be plugged to the motherboard header instead
Separate top openings at the upper right hand corner for the 4/8-pin CPU power connector and smaller cables such as for routing fan cables.
Plenty of space for hiding extra cables underneath, even when working with non-modular power supplies (just remove unused caddies).
Excellent distribution of cable loops to tie down cables to the motherboard tray, unlike some cases which only have some on the middle area.