« Hardware Assembly and Compatibility Issues
Final Thoughts about the Rosewill RISE

The Rise has a shorter length than most full-tower cases but it does not come up short feature-wise, making due of the minimal 3.5" drive mounting support in place of extensive liquid cooling radiator options. The removal of the 3.5" drives also increase the airflow options significantly and provide plenty of room that is easy to work with.
Even for those not planning on building a PC with two water cooling radiators, the spacious top ceiling can be used to mount a secondary power supply. The price is also very reasonable at only $99 compared to other full-tower cases, with a "Glow" version featuring 3x LED front fans and an additional vertical drive mounting bar. The options are very extensive already with what you get with space up to five2.5" drive or SSD mounting (2x behind motherboard, 2x in HDD cage and 1 on top) and three 3.5" drives (two in the HDD cage and one in the top). Granted, you cannot use the Rosewill Rise as a server case with its minimal drive mounting options, but the extra room provided by mounting the power supply at the top also frees up space at the bottom for additional drive mounting done by simple modding. Simply drill holes and mount the drives on the floor, a technique typically used by other cases to extend mounting options. Rosewill could have provided an extra optional HDD cage but since each cage only supports two drives, it does not make sense cost-wise so this limitation is understandable.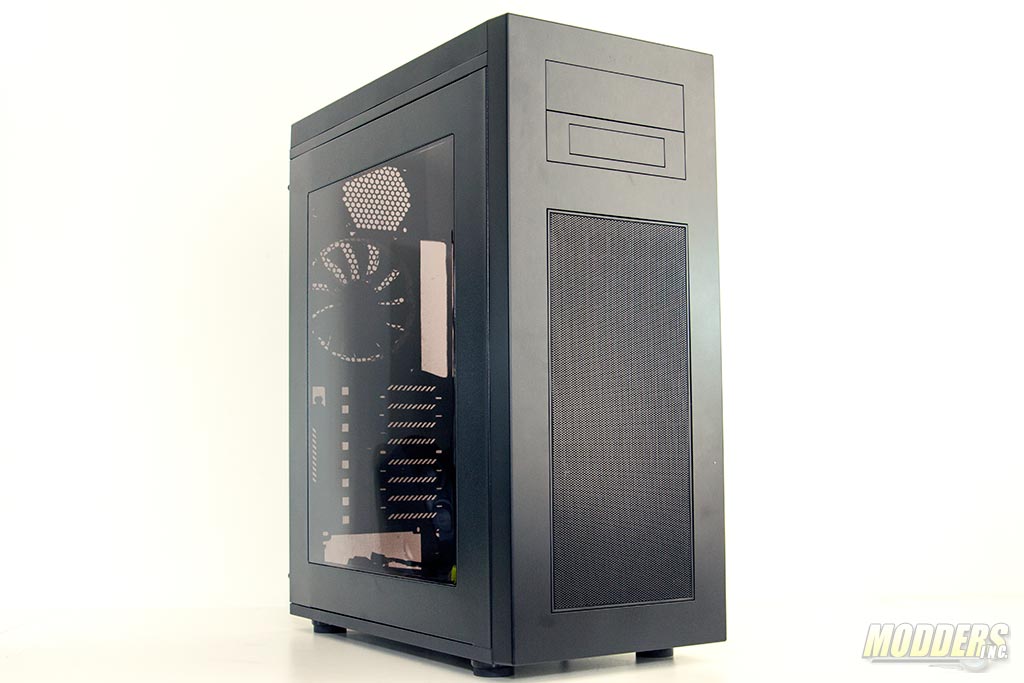 If one must nitpick, all of the Rosewill Rise's shortcomings can be alleviated by very basic modding but the out-of-the-box feature set is already very good and provides flexible build options considering the $99 price tag. The only other flaw I see that does not have an easy fix is the inability to mount a fan externally on top with the filter in place because of the limited space, but considering the internal ceiling provides 100mm clearance, this should not be an issue for any builder even with the thickest of radiators. Also, users can just remove the top filter entirely if it is really needed.
The Rosewill Rise's design is deceptively simple but it is executed well with flexible system building options that most full-tower cases do not have despite the limited bulk. Pricing is also very attractive at $99 which makes it a very competitive offering, even against the latest crop of water-cooling oriented full-tower cases. For a simple, yet sensible and highly functional design and affordable everyman pricing, the Rosewill Rise deserves the Modders-Inc Editor's Choice award.
[sc:editors_choice_award ]