Closer Look at the Rosewill STAR PREDATOR »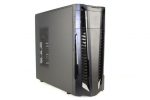 Every once in a while I need a new case to mod off. It takes a while for me to find a right case that has potentials to work with. I always take price in to consideration when choosing the case. Lets face it, no one wants to spend hundreds of dollars on the case that they will rip a part later. Sure its nice to have a shiny brushed aluminum case to work with but at what price? There are numerous on the budget cases out there and believe me, we see plenty of them that would work well for that special project you have in mind. Today I am going to be taking a look at STAR PREDATOR by Rosewill. STAR PREDATOR is a steel based ATX Mid Tower with well designed air supply. Offering support for full ATX motherboards and long format GPU cards this looks like a pretty cool case. Let dig deeper.
Review Sample Provided by: Rosewill
Product Name: STAR PREDATOR
Price at time of review: $ 74.54 USD
Product was given in exchange for work done to produce this review.
The STAR PREDATOR was ships in an ordinary cardboard box. The packaging is rather plain as it only shows some features of the case. The cardboard box has all text and graphics printed in black. The case itself is very well protected inside of the shipping box. Top and the bottom of the case are supported by plastic foam. Rosewill used a plastic bag to protect the case from any accidental scratches.
There aren't many accessories that came with STAR PREDATOR. The only accessories I found were regular motherboard screws with some hard drive screws and zip ties. The User Manual was also included. It comes in handy when trying to figure out how to mount your hardware.
Technical Specifications
Type
ATX Mid Tower
Color
Black
Case Material
SPCC Steel
Power Supply Mounted
Bottom
Motherboard Compatibility
Micro ATX / ATX / Mini-ITX
Drive Bay
2x 5.25, 6x 3.5, 1x 2.5
Expansion Slots
8
Front Ports
2 x USB 3.0(internal 20-pin connector to MB) 2 x USB 2.0 Audio In/Out
Cooling System
120mm: 2x Front (pre-installed), 1x rear (pre-isntalled), 2x top, 1x bottom

140mm: 2x front, 2x top

Dimensions (H x W x D)
17.91″ x 7.87″ x 18.35″
Weight
14.15 lbs