« Intro
|
Page 3 »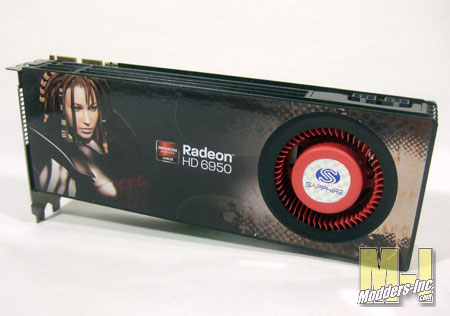 Well there it is, the Sapphire HD 6950. My guess from earlier appears to be correct that this card is a large size card (11 inches long) and has the look of the HD 6870.  A single cooling fan is used to keep the card nice and cool.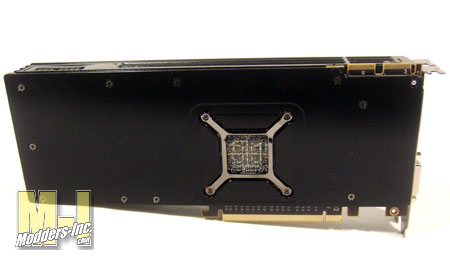 Normally I just throw in an image of the back side of the card just to allow you to see all the angles of the card, but this time it is different. When I turned over the HD 6950 I saw a full panel covering the once exposed PCB. I am not sure if this was like this on the 6870 cards – as we did not have a sample- but I really like this. For years I have always thought to myself… "Man why don't they do something with the bottom part of the video card? This is the side you always see through you window and it looks like s$#&." 
This new design will give us modders or gamers a chance to do something with this. You can paint it, place a decal on it or just about whatever you can think of. This is a "two thumbs up" for me. But I know it was not designed for that reason, it was of course made that way for the cooling of the card.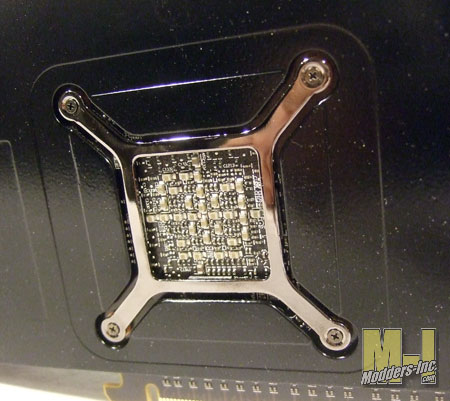 Even with the new panel the underside of the GPU is exposed. This I am guessing is that from their testing that it needed more ambient cool air to help keep it cool.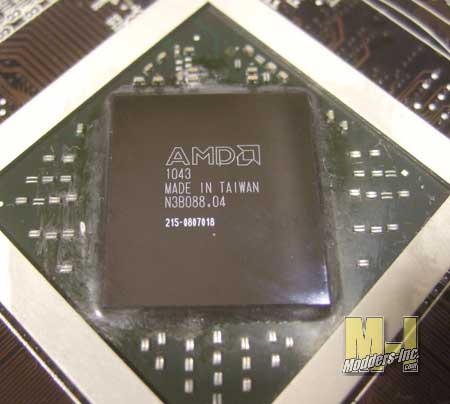 The GPU for this card is the Cayman and is a 40nm process that is designed to give you great performance with a low power draw. Advanced hardware features include an enhanced Tesselation unit, new AA and image filtering options, dedicated HDR Texture compression, multi-threaded communication with system CPU cores, embedded support for many of the DirectCompute 11 instructions, 3D stereoscopic support and HDMI 1.4a.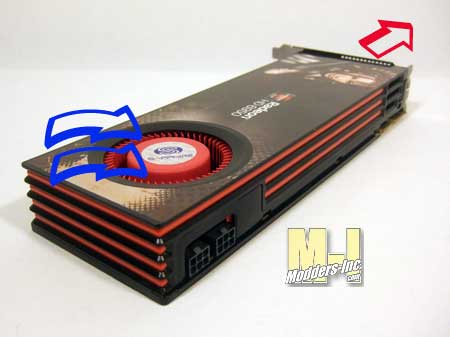 The design of the fan and cooler shroud is made to have single intake for the air. Cool air will enter through the fan and then be pushed along the cooler and out of the case. This kind of design helps eliminate the distribution of unwanted heated air back into the case. Creating this duct effect is a great way to control the flow of the air.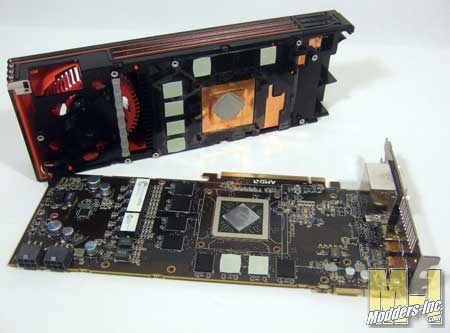 Here we have taken the card apart so that we can see what is hidden under that huge cooler. To my surprise there really was not that much. The memory chips use some heat transfer pads while the GPU uses the typical thermal grease. From this vantage point we can see that the heat sink for the cooler is made from some highly polished copper.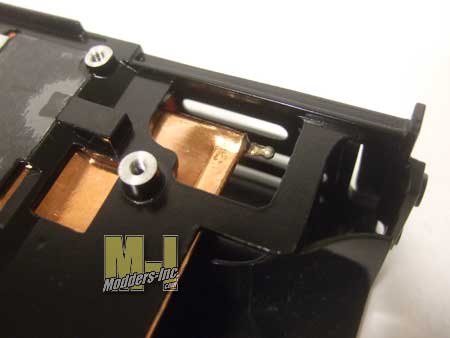 Without taking the cooler completely apart I could see that the cooler uses a heat pipe setup to maximize the removal of the heat created by the Cayman GPU.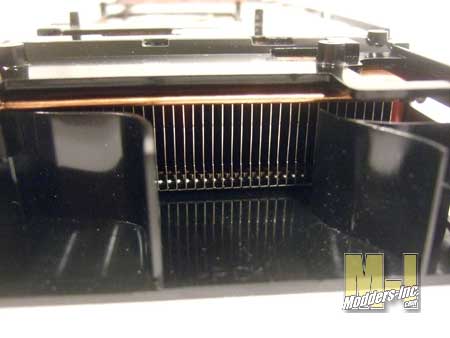 Finally a look down the fins that the air passes through. After examining the cooler very closely I will have to say that I am very impressed with the quality of the construction of the cooler.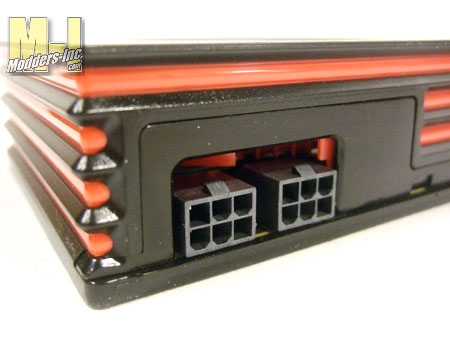 An increase in performance also means a you will need more power to feed the beast. Unlike the HD 6850, which used a single six pin power, the HD 6950 asks for 2 six pin connectors. They do recommend that you have a least a 500w power supply to this card. If you plan on doing some crossfire then you will need to make sure that you have at minimum a 700w power supply.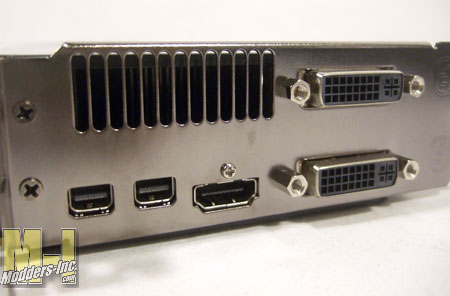 The HD 6950 has two DVI, one HDMI and two mini-DisplayPort outputs, allowing a broad selection of monitor configurations to be used. A 1.8m High Speed HDMI cable is included with the SAPPHIRE HD 6950 series cards. With the upcoming release of the DisplayPort v1.2 drivers, it will be possible to daisy chain several DisplayPort v1.2 monitors from each DisplayPort output, which means that you will have the support to be able to hook up six displays per card. (Yeah I know, don't that sound so cool.)
Dual-Link DVI

Equipped with the most popular Dual Link DVI (Digital Visual Interface), this card is able to display ultra high resolutions of up to 2560 x 1600 at 60Hz.
HDMI 1.4a

HDMI 1.4a builds on previous generations of HDMI connectivity with support for Deep Color, 7.1 High Bitrate Audio, and 3D Stereoscopic support, ensuring the highest quality Blu-ray and video experience possible from your PC.
Mini-DisplayPort

Enjoy the benefits of the latest generation display interface, DisplayPort. With the ultra high HD resolution of 2560 x 1600 the graphics card ensures that you are able to support the latest generation of LCD monitors.
Single-Link DVI-D

Supports Digital monitors up to 1920×1200 resolution.
ATI Eyefinity
ATI Eyefinity technology maximizes your field of view that span across up to three displays, fully engaging your peripheral vision.  For gamers this puts you right into the game and for other applications it helps to increase productivity by maximizing your workspace.  ATI Eyefinity technology is also ideal for multimedia applications as it allows you to keep several 'palettes' or 'panels' open over a larger workspace while you edit your images or videos. Once you go mutli-panel you will never want to go back.