Packaging »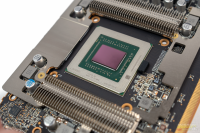 Sapphire makes some of the best custom cooled AMD cards on the market. The Sapphire Nitro comes to mind. However, the Nitro isn't the only card is Sapphire's arsenal. They are also the makers of the Pulse series of cards as well. Which brings us to this review. On the bench, we have the Sapphire Pulse Radeon RX 5700 XT. With 8 GB of GDDR6 running on a 256-bit bus, 2560 stream processors and boost clocks up to 1925 MHz, the Sapphire Pulse RX 5700 XT is designed with 1440p gaming in mind. So, how does AMD's latest architecture paired with Sapphire's exceptional coolers compared to the competition? We ran the Sapphire Pulse RX 5700 XT through our suite of benchmarks to try and answer that very questions.
The last few generations have been rather exciting with AMD coming out swinging on both the CPU and GPU side of things. It was on August 14th, 2017 that AMD released their long-awaited Vega line up of graphics cards. AMD's 5th generation GCN, or Graphics Core Next architecture was based on their 14nm FinFET architecture and featured HBM2 memory in place of the traditional GDDR memory. On February 7th, 2019, AMD released the predecessor to the RX Vega line up, the Radeon Vega VII. Using the Vega 20 graphics processor, The Radeon VI switched from using GlobalFoundries 14 nm manufacturing to TSMC's 7 nm process. Also, using a much smaller dye, Vega II was able to double the amount of HBM2 when compared to the RX Vega 64 line up with a total of 16 GB of HBM2.
Just a few short months later, AMD released both the Radeon RX 5700 and the Radeon RX 5700 XT to great reviews. The RX 5700 and RX 5700 XT were AMD's first GPU on their all-new RDNA or Radeon DNA architecture. Along with its all-new RDNA architecture, AMD also introduced the world to its very long-awaited Navi GPU. But, if there is one thing we as enthusiasts love more than all-new graphics cards, its all-new graphics cards with custom coolers. When it comes to custom cooled AMD graphics cards, one name comes to mind, Sapphire.