« A Closer Look at the Sapphire Pulse RX 5700 XT: Internals
|
Synthetic Benchmarks »
Test System and Testing Procedures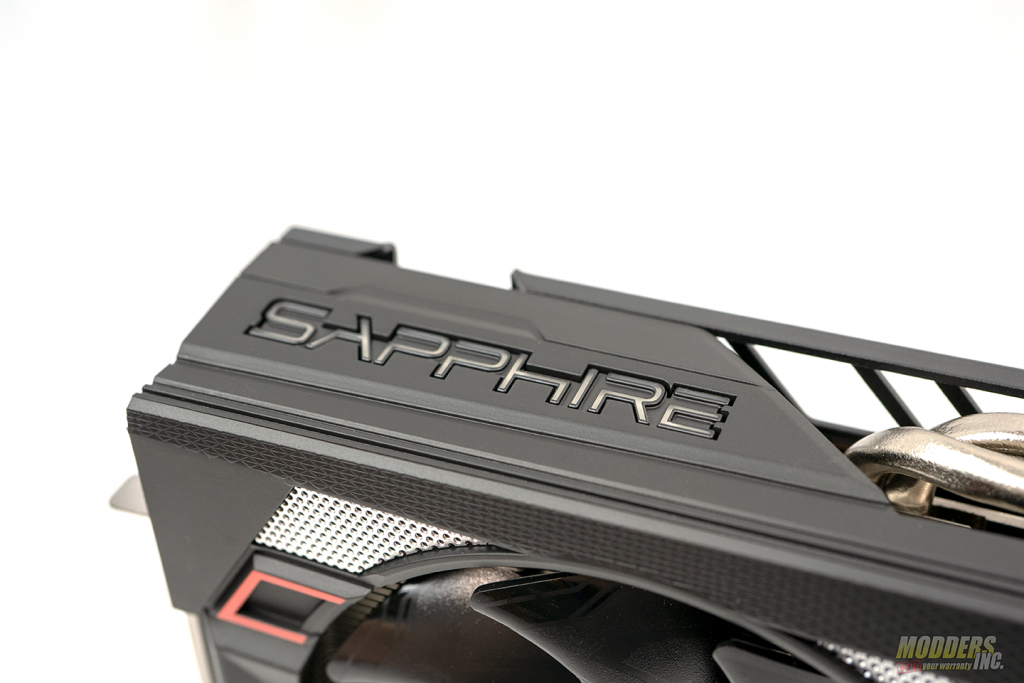 All testing was done with both the CPU (8700k) and GPU at their stock settings. For the I7 8700k, it was left at its stock speed of 3.7 GHz. However, this particular chip usually boosts between 4.4 and 4.5 GHz. Ambient temperature is kept as close to 20°c (68°f) as possible. When the system was first turned on, it sat idles for about 30 minutes or so before any benchmarks were run or results recorded. We waited in between each benchmark no less than 30 minutes to give the system time to cool down a bit.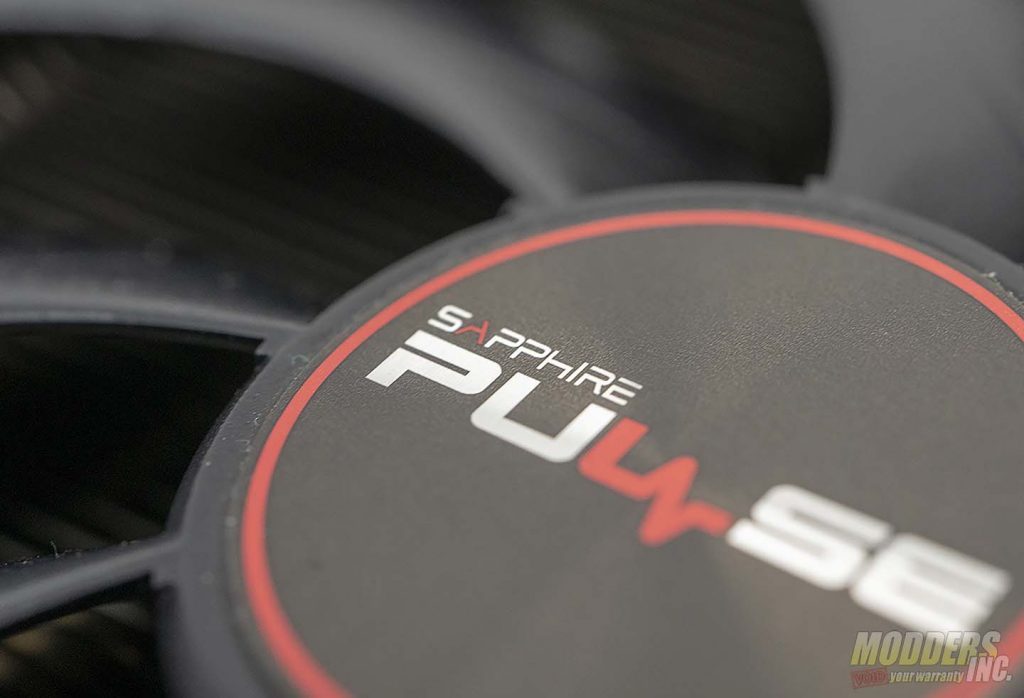 All games were tested at their highest presets except for one. All games were tested in 1920 x 1080, 2560 x 1440 and 3840 x 2160. The games we tested for this review were Battlefield V, Deus Ex: Mankind Divided, Far Cry 5, Final Fantasy XV, Ghost Recon; Wildlands, Shadow of the Tomb Raider, Shadow of War and The Witcher 3. For synthetic benchmarks, we used the following; 3DMARK Time Spy, 3DMARK Firestrike, Unigine Superposition, VRMARK Orange Room, VRMARK Cyan Room, and VRMARK Blue Room. Lastly, we tested Furmark with the 1080p, 1440p and 2160p presets.
A quick side note. The reference RX 5700 XT and RX 5700 were both tested on previous drivers. They were not tested separately for this review. Rather, we included the results from our initial 5700 XT and 5700 review. This is just to give you a rough idea of how reference cards stack up against the Pulse RX 5700 XT. Also, both the Radeon VII, or Vega 2 and the Pulse 5700 XT were tested on AMD's latest drivers. That being Adrenaline 19.7.5. This was a fresh install of Windows 10 Pro with all drivers and software on the latest versions and all up to date.
Test System
The hardware used in this review is the usual hardware that's on my test bench, the hardware is not on my normal test bench. Usually, I use the Praxis Wetbench from Primochill. However, I recently switched my standard test bench to the Thermaltake P5. Not the same case but, both are open-air cases. The I7-8700k used in this review is water cooled on a custom loop and the GPU used its stock air cooler. The bloxk is the EK Velocity waterblock. There is a single 360 x 60 mm EK radiator in the loop and a 280 ml reservoir and a D5 pump.
Component

Product Name
Provided By
Processor
Intel Core I7-8700k
Intel
Motherboard
Z90 AORUS Pro
Gigabyte
Memory
32 GB Patriot Viper Steel DDR4 3866 MHz CAS 16
Patriot
Drive
Crucial P1 500 GB NVMe M.2 SSD
Crucial
Video Card
Sapphire Pulse Radeon RX 5700 XT
Sapphire
Monitor
LG 27UL500-W 27″ 3840×2160 @ 60 Hz
Retail Purchase
Case
Thermaltake Core P5
Retail Purchase
Power Supply
1600 Watt EVGA Super Nova Ps 80+ Platinum Power Supply
EVGA
Operating System
Windows 10 x64 Pro with latest patches and updates
Sapphire TRIXX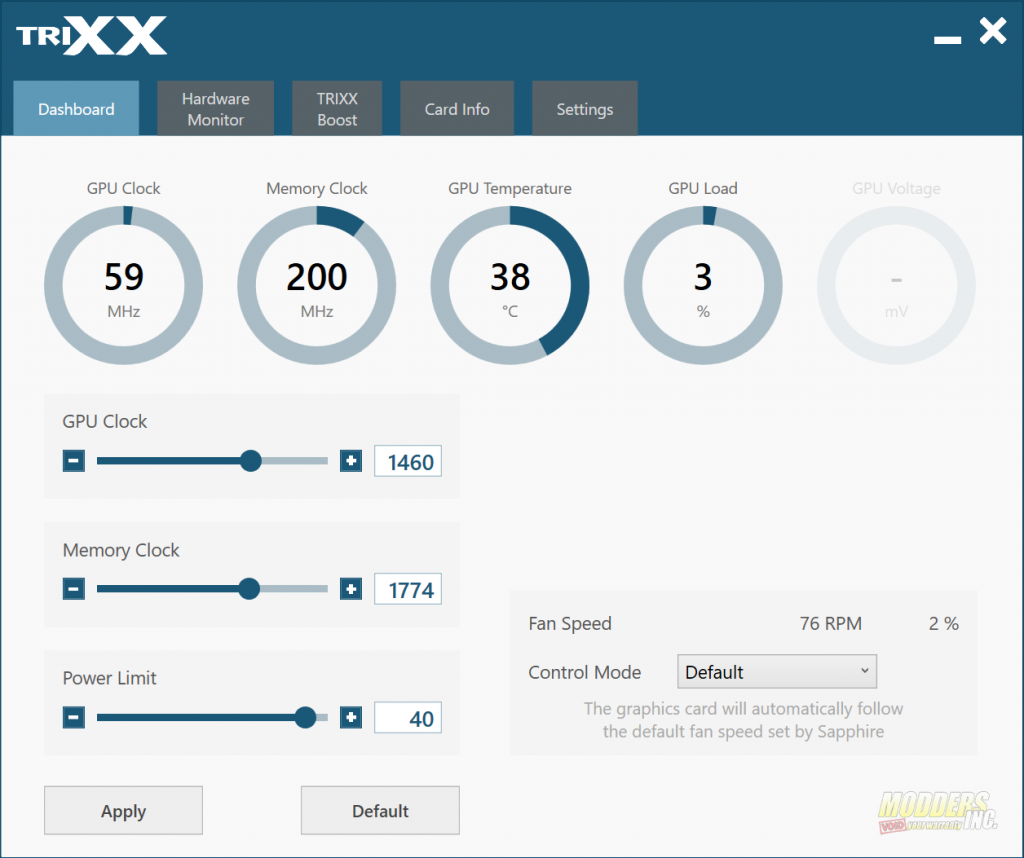 Sapphire has an overclocking utility call TriXX. This Utility allows you to not only overclock your Sapphire graphics card, but also to monitor your hardware as well.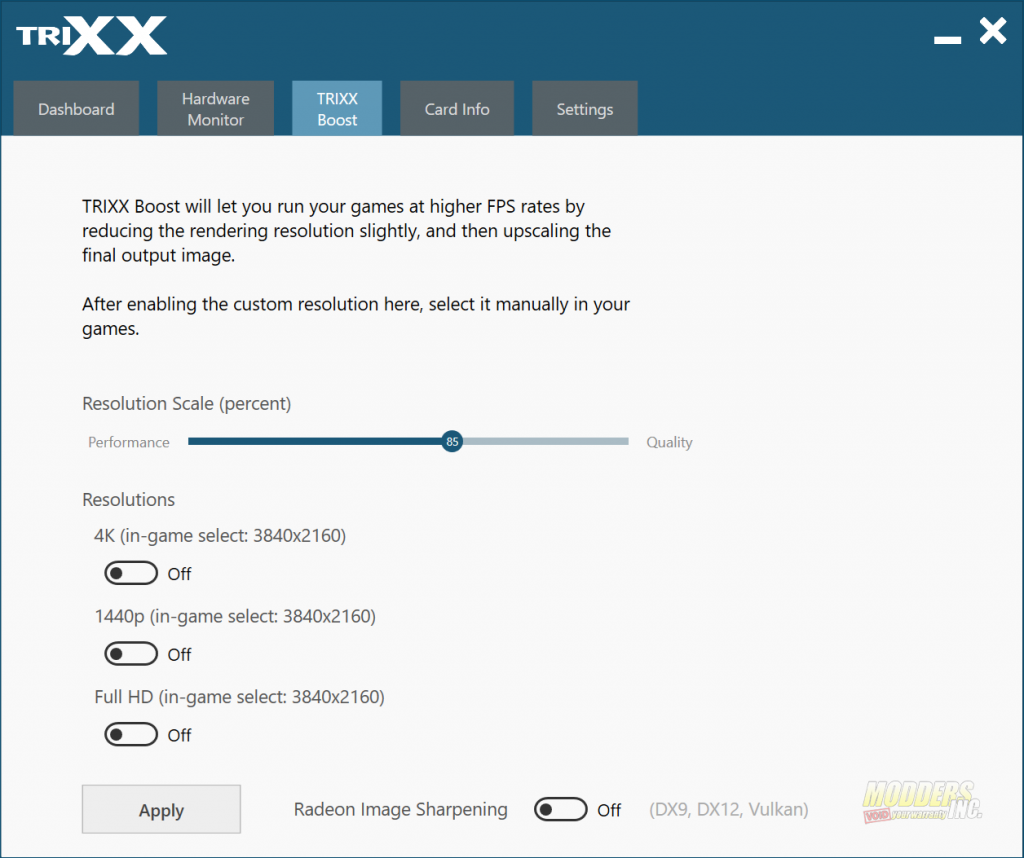 I'd say the best feature of the TriXX software is the ability to reduce the rendering quality of your games, allowing you to run your games at higher frame rates. By lowering the resolution scale in the TriXX software, you can achieve up to a 22% performance increase in 3DMARK and up to a 15% increase in performance in many popular games. Radeon Image Sharpening also gives you a better image with very little impact on your game.  The chart below will give you an idea of the performance boost to expect. This can be achieved by adjusting the resolution scale on 3840 x 2160 to 90%, or 3456 x 1944. Then enabling Radeon Image Sharpening.