« A Closer Look at the Sapphire Pulse RX 5700 XT
|
Test System and Testing Procedures »
A Closer Look at the Sapphire Pulse RX 5700 XT: Internals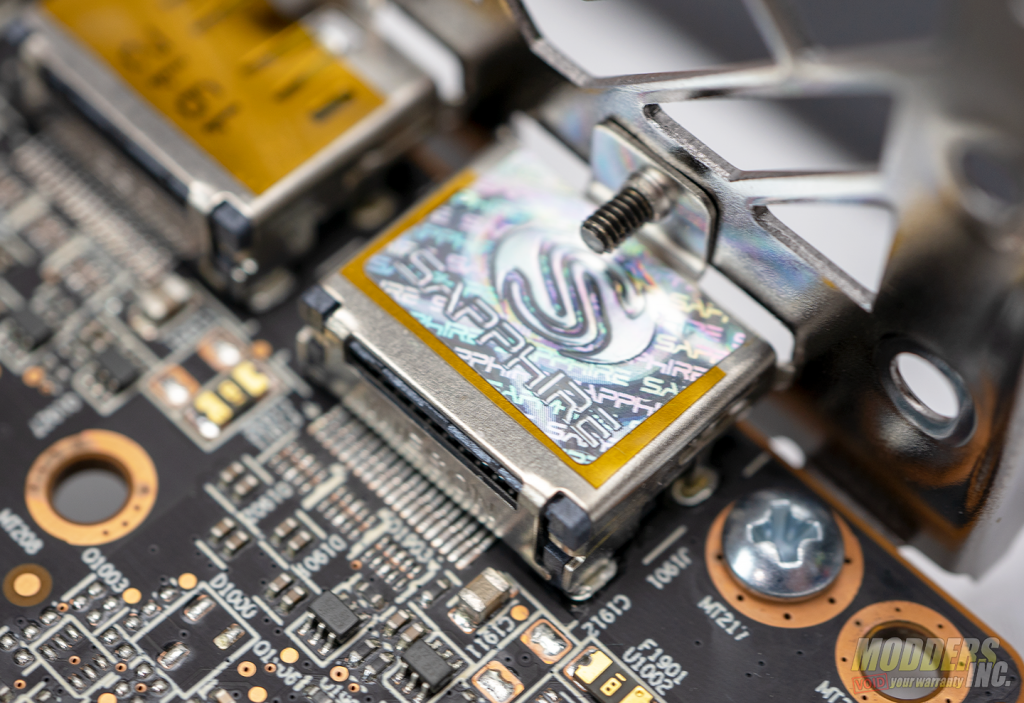 For GPU reviews, we always tare the card apart to see the internal layout as well as how the cooler is constructed. I'll have to say the Sapphire Pulse RX 5700 XT has a couple of very innovative designs to it. Sapphire cards, in general, are designed with excellent and robust VRM and memory cooling. There is a separate memory cooling plate equipped with heat sinks dedicated to the memory and mosfets. There is even a thermal pad on the pack of the 12 layer PCB that covers the backside of the mosfets.
The heat sink in the case of the Sapphire Pulse RX 5700 XT is completely separate from the fans. Either side of the heat sink has several different heights so it can fit together with the PCB and memory heat sink. This allows for just about every component that produces heat to make contact with the heat sink to ensure optimal heat dissipation.
The Sapphire Pulse RX 5700 XT has a quick disconnect fan feature that I absolutely love. If you end up having an issue that required the fans to be replaced, all you have to do is disconnect the shroud with the two fans and send only that part back. It's a very innovative feature that I wish more cards had.
The large copper base plate makes contact with all five heat pipes that weave between the aluminum heat fins that make up the rather thick heat sink on the Sapphire Pulse RX 5700 XT.
The Sapphire Pulse RX 5700 XT is sporting a 12 layer PCB design delivers stable, reliable, and steady performance, The 12 layer PCB also helps to lower the PCB temperature and eliminate background component noise. The Sapphire Pulse RX 5700 XT is designed with 7+1+2 Phase Digital Power Phase specifically for GPU and memory and to help get the best clock speed possible out of your Sapphire Pulse graphics card.
The actual GPU Dye on the Sapphire Pulse RX 5700 XT measures 331 mm squared. This is much smaller than the 495 mm squared GPU on the Radeon VII gpu. The Memory modules on the Sapphire Pulse RX 5700 XT are made by Micron. They are marked with the FBGA Code D9WCW. The Part number associated with that specific FBGA code is MT61K256M32JE-14. For more on this specific Micron sku, click here: https://www.micron.com/products/graphics-memory/gddr6/part-catalog/mt61k256m32je-14