« Introduction
|
Under The Hood »
A Closer Look
The Sapphire Vapor-X R9 290x total length comes in a just over 12 inches or 305mm. Be sure this card will fit in your case. Width is just shy of 4.5 inches or 114mm. Where the Sapphire Vapor-X seems to be a little larger than most current GPUs is in the height; the card is what is considered a 2.5x slot height and is almost 2 inches tall with the exact measurement being 1.85 inches or 47mm. The backplate for the card is a nice thick piece of aluminum that adds extra stability for the card and helps prevent the cooler from pulling on the PCB and potentially damaging the delicate traces located within.
The back panel of the Sapphire Vapor-X R9 290X features dual DVI-D ports, one HDMI 1.4a, and one DisplayPort. The back of the fan shroud has an interesting design that allows the heat pipes and heatsink fins to peek out just a little.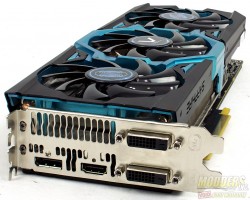 The blue and black color scheme work well for the Vapor-X R9 290x and it is nice to see someone willing to venture away from a black and red color scheme.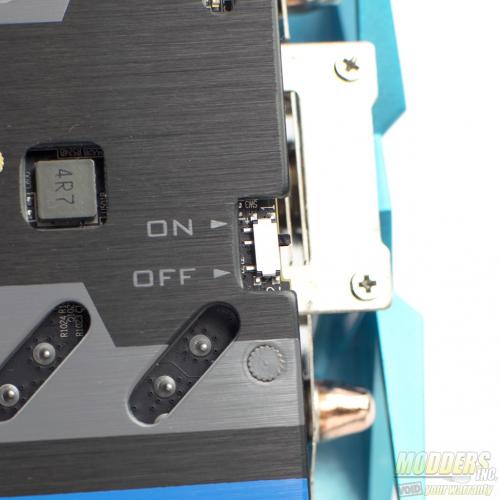 There is a tiny switch located at the end of the card and is marked with on and off. This switch controls Intelligent Fan Control (IFC). When IFC is on and the card is idle, the two outboard fans shut down but quickly ramp back up when a load is placed on the card. With the switch in the off position all three fans spin all the time and change RPM with the load level.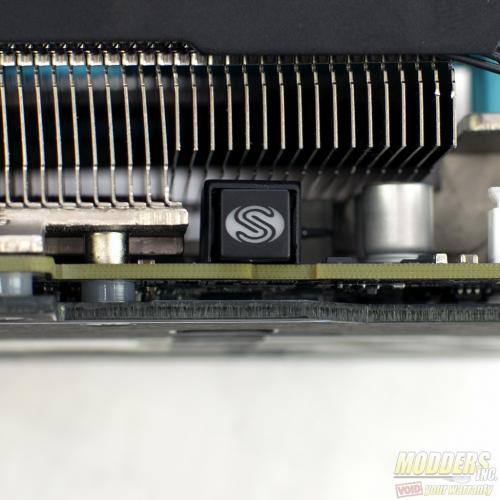 At the front of the card on the leading edge near the mounting bracket is a switch that selects between UEFI or legacy BIOS and is an extra bit of protection when flashing the BIOS and not have the user end up with a $500.00 brick.