A Closer Look at the SilverStone Kublai KL05 »
What is the first item you shop for when you're building your PC? Is it your motherboard, GPU, or is it the case? When I am looking at building a PC, I start at the case. It will be the foundation. The case dictates which hardware can be used in the build. The motherboard size, GPU size and water cooling options are all limited by the case. There are cases on the market for every budget and there are cases that are loaded with features, however, the included features may be too much for your budget to handle. I tend to look for cases that strike a balance between the two. The SilverStone Kublai KL05 claims to balance cost and features.
[sc:sponsor sponsor="SilverStone" product_link="http://www.silverstonetek.com/product.php?pid=534″ product_name="Kublai KL05″ product_price_link="http://amzn.to/1PnvzO7″ product_price="74.99″ ]
SilverStone chose to go the "less is more" route with the packaging. The box features some line art graphics of the case on one side. On the other side is more line art of the inside of the case and a list of features and specifications. The case is snuggled in between two rigid pieces of Styrofoam and wrapped in a plastic bag in order to reduce scuffs and scrapes.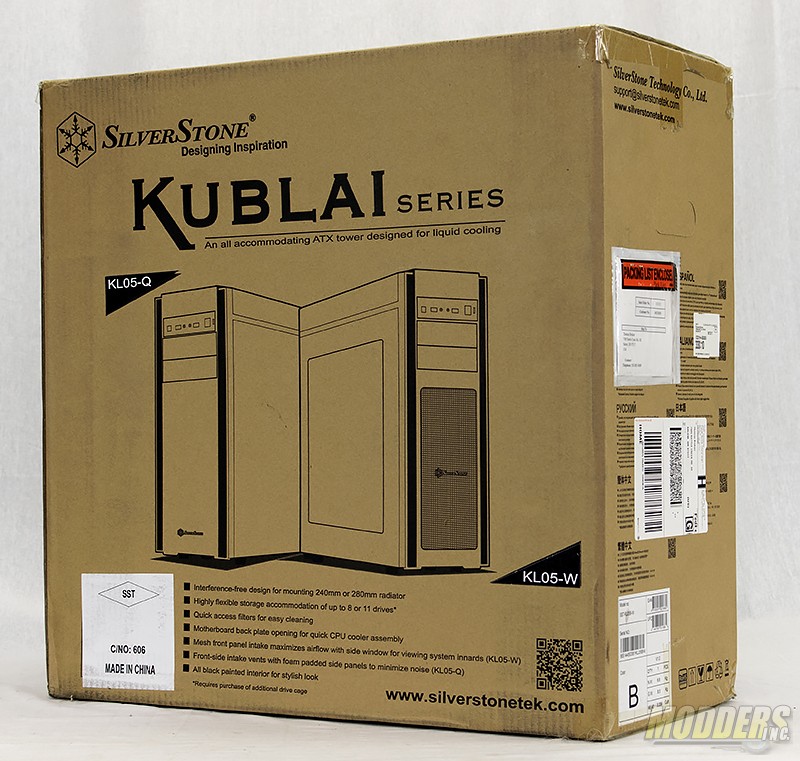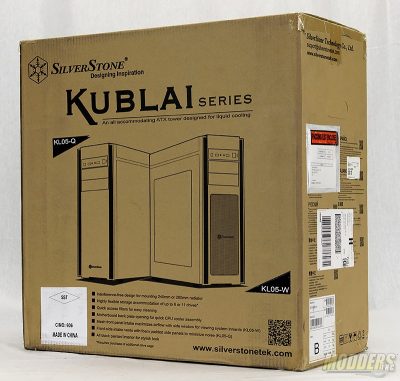 A users manual, motherboard stand-offs, case screws and zip-ties are included with the case.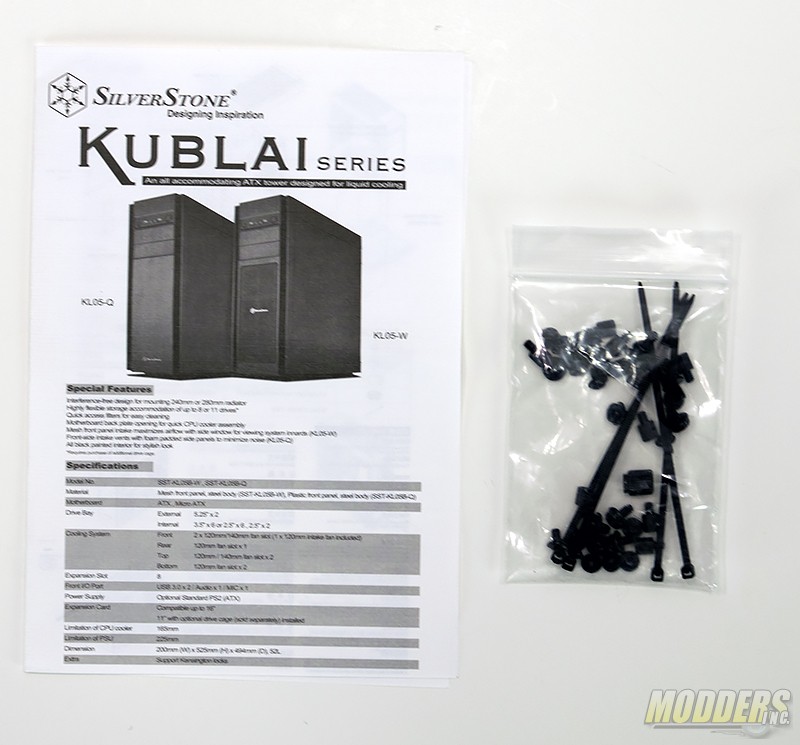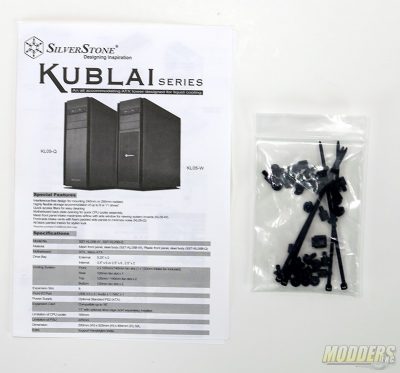 Model No.
SST-KL05B-W
SST-KL05B-Q
—
—
Material
Mesh front panel, steel body (SST-KL05B-W)
Plastic front panel, steel body (SST-KL05B-Q)
Motherboard
ATX (up to 12" x 11"), Micro-ATX
Multimedia
—
Drive Bay
External
5.25" x 2
—
Internal
3.5″ x 6 or 2.5" x 6 , 2.5" x 2
Cooling System
Front
2 x 120mm/140mm fan slot (1 x 120mm intake fan included)
Rear
120mm fan slot x 1
Side
—
Top
120mm / 140mm fan slot x 2
Bottom
120mm fan slot x 2
Internal
—
Expansion Slot
8
Front I/O Port
USB 3.0 x 2
Audio x 1
MIC x 1
Power Supply
Optional Standard PS2(ATX)
Operating system support
—
Expansion Card
Compatible up to 16", 11" with optional drive cage (sold separately) installed
Limitation of CPU cooler
165mm
Limitation of PSU
225mm
Net Weight
KL05-Q:6.8Kg / KL05-W:6.9Kg
Dimension
200mm (W) x 525mm (H) x 494mm (D), 52 liters
Extra
—
Support VESA Mount
–