« A Closer Look at the SilverStone Kublai KL05
|
Hardware installation »
Closer Look at the SilverStone Kublai KL05 contd.
Two thumb screws per side secure both side panels to the case. The panels slide backwards for removal. Internally, for a mid tower case there is quite a bit of room. The cutout in the motherboard tray is probably one of the largest I have seen. While there are no grommets in the wire management holes, SilverStone has taken care to roll the edges of each and ensure there are no sharp edges to damage wires or water cooling tubing.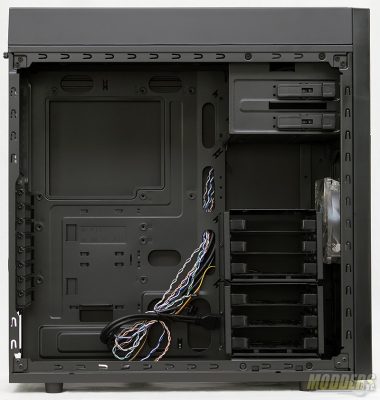 Clearance between the back of the motherboard tray and the side panel of the case measured out at 5/8″.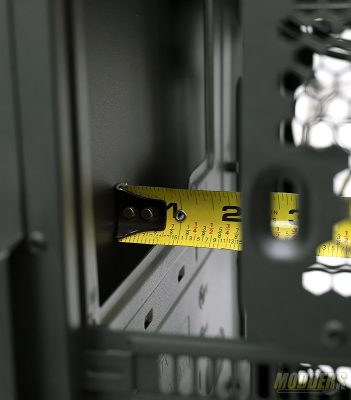 There are six hard drive slots in the main body of the case. While the 3.5″ drives are tool-less, the 2.5″ drives will need to be secured to the drive tray with screws. Both drive cages are removable. With the top drive cage removed, the SilverStone Kublai will support a video card up to 16 inches in length. To remove the drive cages, simple squeeze the tabs together and pull. Installation requires pushing the tray in until it clicks.
To remove the two drive cages, simply remove the thumb screws on the back of the cages and slide them out. All is not lost if you remove the drive cages as the Kublai features two 2.5″ drive trays attached to the rear of the motherboard tray.
The front mesh filter is easily removed for cleaning. There is a small tab the needs to be pressed and the mesh panel pops off.
The front of the case can support dual 120 or 140mm fans and one 140mm blue LED fan is included with the case. This case can support a single 240 or 280mm radiator up front as well.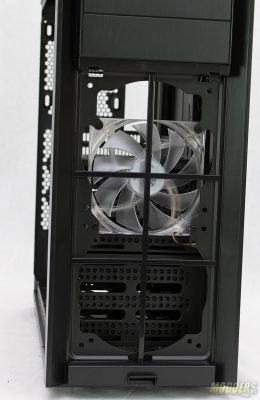 The case features a bottom mount for the power supply with a maximum length of 225mm (8.86″). Four pads help keep the vent of the power supply off the bottom of the case for air flow and insulate any sounds due to vibration. The length of the power supply you will be able to install depends on your cooling configuration. The floor of the case in the configuration pictured below can support an additional 120mm fan and with the drive cages removed can support two (total) 120mm fans. Depending on the combined height of the fans and radiator, you may be able to get a 240mm radiator to sit down here as well.