« Introduction
|
Closer Look at the SilverStone Kublai KL05 contd. »
A Closer Look at the SilverStone Kublai KL05
The SilverStone Kublai KL05 is a mid-tower case that measures in at 525 x 220 x 494 mm (20.67 x 8.66 x 19.45 inches (HxWxD)). The case is made from a steel frame and steel side panels. The top panel and front panel are made of plastic. The case comes in two varieties, one is a windowless design and a solid front panel. The other features a windowed side panel and a mesh front. The model featured in this review is the Window/Mesh version.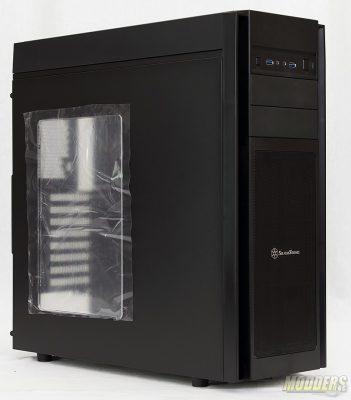 Externally the case features two 5.25″ bays for items such as optical drives, fan controllers, and bay reservoirs. Front I/O is dual USB 3.0 ports, a headset, and a mic port. The power and reset buttons are located on the outer edges of the front I/O panel.
The left side of the case features a clear, medium size case window. The window is covered with a protective plastic film during shipping. The right side of the case is nice and clean.
The top of SilverStone Kublai is ventilated for airflow. This case's top panel is a little different than what I have seen in the past.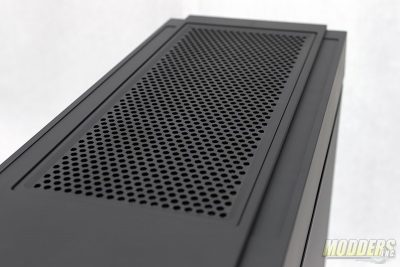 The top panel is removable. The case will fit either dual 120 or 140mm fans and can also support one 240 or 280mm radiators up top.  Removal of the top panel requires the removal of just two thumb screws located at the rear of the case.
The bottom of the case is ventilated as well. A thin nylon mesh filter covers the bottom ventilation to prevent dust getting into the case. Four hard rubber feet hold the case up off the surface about an inch and can be easily removed and replaced.  There is additional room for another two 120mm case fans at the bottom.