Closer Look at the Synology DS418j »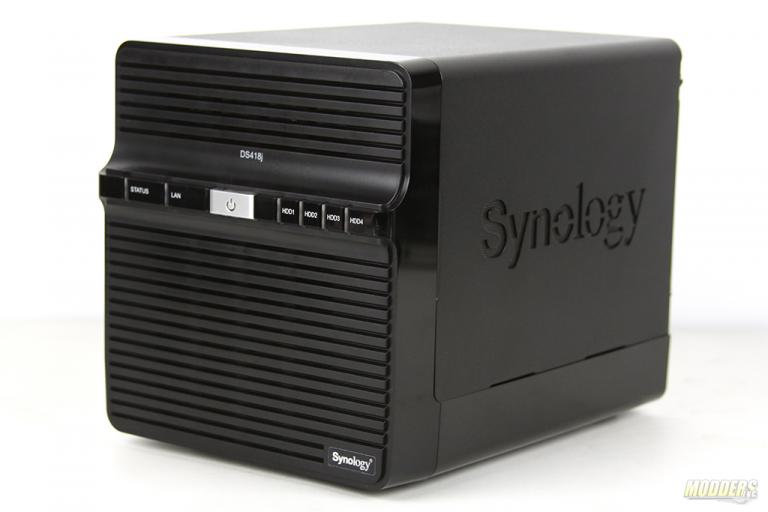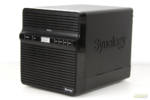 Last year we had an opportunity to review Synology's DiskStation DS416j, a Network Attached Storage device. We liked every aspect of this device and based on the benchmarks and in depth discoveries gave a highest rating we could. This year Synology is releasing a newer model of 'J' series, DS418j. DS418j is a physical replica of DS416j however, internal components has been improved drastically to improve performance and features. Our friends at Synology has provided us with a DS418j for evaluation.
Review Sample Provided by: Synology
Product Name: DS418j
Product was given in exchange for work done to produce this review.
Packaging
Packaging of DS418j is recycle friendly. The shipping box is plain with just a sign of DiskStation on the front. Internal packaging consists of plastic foam that holds everything together and a plastic bag that keeps DS418j unit free from accidental scratches and dust.
Just like DS416j, Synology included all that you are going to need to get up and running in no time. What is helpful with all of the Synology NAS products is the Quick Installation Guide which is included. In the image above you can see few bags of screws (for HDD and SSD), power brick, power cord and Ethernet cable. Supported drives that could be used in DS418j are 3.5″ SATA HDD, 2.5″ SATA HDD and 2.5″ SATA SSD.
Specifications
Basic to RAID 1
Basic to RAID 5
RAID 1 to RAID 5
RAID 5 to RAID 6
Hardware Specifications
CPU
CPU Model
Realtek RTD1293
CPU Architecture
64-bit
CPU Frequency
Dual Core 1.4 GHz
Hardware Encryption Engine
Memory
System Memory
1 GB DDR4
Storage
Drive Bays
4
Compatible Drive Type*(See all supported drives)

3.5″ SATA HDD
2.5″ SATA HDD
2.5″ SATA SSD

Maximum Internal Raw Capacity
40 TB (10 TB drive x 4) (Capacity may vary by RAID types)
Maximum Single Volume Size
108 TB
Notes

"Compatible drive type" indicates the drives that have been tested to be compatible with Synology products. This term does not indicate the maximum connection speed of each drive bay.
The maximum single volume size is not directly related to the maximum raw capacity. (Learn more)

External Ports
RJ-45 1GbE LAN Port
1
USB 3.0 Port
2
File System
Internal Drives
EXT4
External Drives

EXT4
EXT3
FAT
NTFS
HFS+
exFAT*

Notes
exFAT Access is purchased separately in Package Center.
Appearance
Size (Height x Width x Depth)
184 mm x 168 mm x 230 mm
Weight
2.21 kg
Others
System Fan
80 mm x 80 mm x 2 pcs
Fan Speed Mode

Full-Speed Mode
Cool Mode
Quiet Mode
Low-power Mode

Brightness adjustable front LED indicators
Power Recovery
Noise Level*
20.6 dB(A)
Scheduled Power On/Off
Wake on LAN/WAN
Power Supply Unit / Adapter
90W
AC Input Power Voltage
100V to 240V AC
Power Frequency
50/60 Hz, Single Phase
Power Consumption*
21.22 W (Access)
8.97 W (HDD Hibernation)
British Thermal Unit
72.41 BTU/hr (Access)
30.61 BTU/hr (HDD Hibernation)
Environment Temperature
Operating Temperature
5°C to 40°C (40°F to 104°F)
Storage Temperature
-20°C to 60°C (-5°F to 140°F)
Relative Humidity
5% to 95% RH
Certification

FCC Class B
CE Class B
BSMI Class B

Warranty
2 Years
Notes
Power consumption is measured when fully loaded with Western Digital 1TB WD10EFRX hard drive(s).
DSM Specifications 
Storage Management
Maximum Internal Volume Number
256
Maximum iSCSI Target Number
10
Maximum iSCSI LUN
10
Supported RAID Type

Synology Hybrid RAID
Basic
JBOD
RAID 0
RAID 1
RAID 5
RAID 6
RAID 10

RAID Migration
Volume Expansion with Larger HDDs

Synology Hybrid RAID
RAID 1
RAID 5
RAID 6

Volume Expansion by Adding a HDD

Synology Hybrid RAID
RAID 5
JBOD

Global Hot Spare Supported RAID Type

Synology Hybrid RAID
RAID 1
RAID 5

SSD Support
SSD TRIM
File Sharing Capacity
Maximum Local User Accounts
1024
Maximum Local Groups
256
Maximum Shared Folder
256
Maximum Shared Folder Sync Tasks
2
Maximum Concurrent CIFS/AFP/FTP Connections
100
Windows Access Control List (ACL) Integration
NFS Kerberos Authentication
Log Center
Syslog Events per Second
100
Add-on Packages (learn more about the complete add-on package list)
Chat
Maximum Users
10
Notes

The number of concurrent HTTP connections for Chat was configured to the maximum.
CPU and RAM usage were both under 80% when the number of maximum users was reached.

Cloud Station Server
Maximum Number of Concurrently Connected Devices
100
Maximum Number of Synced Files (ext4)
100,000 / single file reaction time 789 ms
Notes

The maximum number of concurrently connected devices refers to the maximum number of devices that can remain connected at the same time. For more information on file processing capability, please refer to the reaction time for file processing.
File reaction time refers to the preparation time required for other devices to start downloading a 1KByte file from a Synology NAS after the file has been added to the NAS. RAM expansion was not used during testing.
Non-encrypted shared folders were used during the aforementioned testing.

Download Station
Maximum Concurrent Download Tasks
30
exFAT Access (optional)
Media Server
DLNA Compliance
Office
Maximum Users
10
Maximum Simultaneous Editing Users
10
Notes

CPU and RAM usage were both under 80% when the number of maximum users was reached.
For tested models with expandable memory, the maximum amount of RAM was installed.
Client performance may affect maximum simultaneous editing users. Client PCs used for testing: Intel Core i3-3220 / 8GB RAM

Surveillance Station
Maximum IP cam (Licenses required)
16 (including 2 Free License) (See All Supported IP Cameras)
Total FPS (H.264)*
480 FPS @ 720p (1280×720)
240 FPS @ 1080p (1920×1080)
150 FPS @ 3M (2048×1536)
100 FPS @ 5M (2591×1944)
Total FPS (MJPEG)*
224 FPS @ 720p (1280×720)
150 FPS @ 1080p (1920×1080)
100 FPS @ 3M (2048×1536)
60 FPS @ 5M (2591×1944)
Notes
Surveillance Station throughput is tested with Axis network camera, using continuous recording with live view from Surveillance Station and motion detection by camera. Live view and recording are sharing the same stream from the camera.
Video Station
Video Transcoding
Group 2 (See more)
VPN Server
Maximum Connections
5
Environment & Packaging
Environment
RoHS Compliant
Packaging Content

Main Unit X 1
Accessory Pack X 1
AC Power Adapter X 1
AC Power Cord X 1
RJ-45 LAN Cable X 1
Quick Installation Guide X 1

Optional Accessories

Surveillance Device License Pack
VS360HD