« Packaging
|
Test System and Testing Procedures »
A Closer Look at The Team Group 16 GB Vulcan Z Memory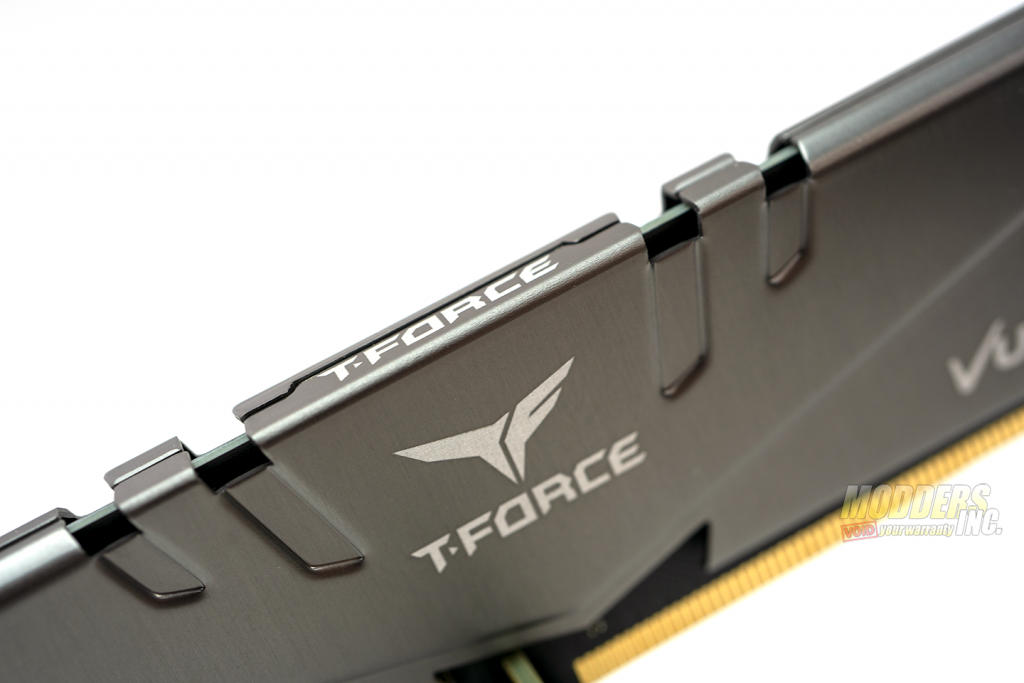 Team Group's T-Force Vulcan Z DDR4 memory is your standard 288-pin unbuffered non-ECC memory. Vulcan Z memory comes in three speeds. These speeds include 2666 MHz, 3000 MHz and the focus of this review, 3200 MHz. Both the 3000 MHz and 3200 MHz kits have a CAS Latency of 16. However, the 2666 MHz kit has a CAS latency if 18. The data transfer bandwidth of the 3200 MHz Vulcan Z kit is 25,600 MB/s (PC4 25600). The 3200 MHz kit runs at 1.35 volts, as does the 3000 MHz kit. The 2666 MHz kit runs at only 1.2 volts. Timings are advertised at  16-18-18-38. Team Group's Vulcan Z memory is backed by a lifetime warranty.
Vulcan Z DDR4 comes in several different capacities including 4GB, 8GB, 16 GB, 4x2GB, 8x2GB, and 16x2GB kits. The Vulcan Z memory measures 32mm in height by 140mm in length by 7mm in width. An aluminum heat spreader covers the Vulcan Z memory modules and comes in two colors. The available colors are gray and red. For this review, we received an 8x2GB kit with gray heat spreaders.
Each of the two DIMMs is covered by an aluminum heat spreaders with the T-Force logo in the center of the heat spreader and the Vulcan Z product branding on the bottom right-hand corner. The T-Force logo is also along the top of the heat spreaders, again in the center of the DIMM.
The memory modules on the Vulcan Z PCB are made by Hynix and rebranded for Team Group. Each DIMM has 8 x T4D10248HT-32 memory modules with each module being 1 GB of DDR4 memory. The heatsinks are held in place by very sticky thermal pads. These thermal pads are so sticky that I could only get one off of one of the DIMMs.