First Look »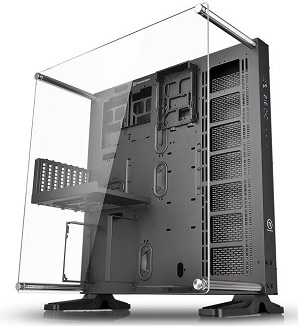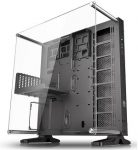 Every once in awhile something new comes out that changes how the PC world looks at things. Thermaltake has put a new spin on computer cases with the CORE P5 an open air mid tower case that has normal PC enthusiasts excited about making their computer look outrageous. We will be taking a closer look at the Thermaltake CORE P5 and show you how to assemble the CORE P5.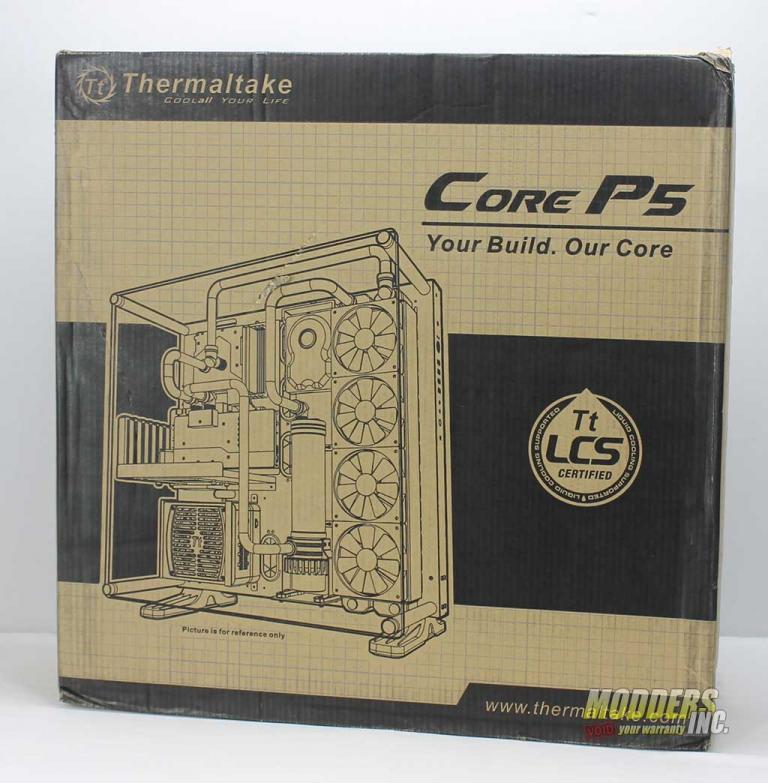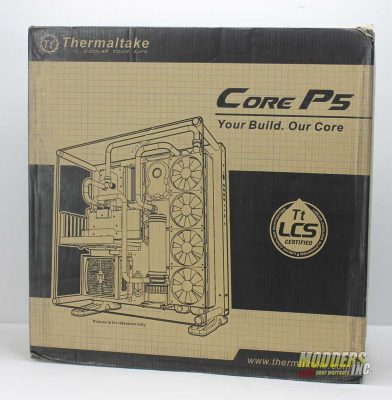 The packaging of the Thermaltake CORE P5 gives you a great visual of what the case looks like and that is built to use water cooling to the maximum. This does not mean that the case is a water cooling rig only. It can be used as a air cooler  PC as well.
Once removed from the box we can see that it is packed with custom Styrofoam that also holds the mounting hardware for the window, the feet and the window itself.
Out of the protective packaging we see that what we have is a large flat two inch thick box that will somehow become a PC case. The CORE P5 made from SPCC which is commercial grade cold rolled steel.
By removing six thumb screws and sliding the back panel about an a half inch you can remove it. Inside we find more of the hardware that will need to assemble the CORE P5.
Specifications 
Model
Core P5
P/N
CA-1E7-00M1WN-00
Case Type
Mid Tower
Dimension (H x W x D)
608 x 333 x 570 mm
(23.9 x 13.1 x 22.4 inch)
Net Weight
12.2 kg / 26.9 lb
Side Panel
Transparent Window
Color
Black
Material
SPCC
Drive Bays
-Accessible : 1 x 3.5'' or 2.5'' (HDD tay)
-Hidden : 3 x 3.5'' or 2.5'' (Behind the M/B tray)
Expansion Slots
8
Motherboards
6.7" x 6.7" (Mini ITX), 9.6" x 9.6" (Micro ATX), 12" x 9.6" (ATX)
I/O Ports
USB 3.0 x 2, USB 2.0 x 2, HD Audio x 1
PSU
Standard PS2 PSU (optional)
Fan Support
Left Side:
4 x 120mm
3 x 140mm
Radiator Support
Left Side:
1 x 480mm
1 x 420mm
Clearance
CPU cooler height limitation:
180mmVGA length limitation:
280mm (With Reservoir)
320mm (Without Reservoir)PSU length limitation:
200mm
The CORE P5 has the ability to hold many different sized radiators from a single 120mm that usually comes with an AIO (All In One) water cooler to the most aggressive cooling 480mm radiator.
Normally we put our videos at the end of the reviews but this time it is a different type of video. Modders-Inc shows you how to assemble the Thermaltake CORE P5 before we get into the actual case. Please take a few minutes and watch the video as it will show you about all the included hardware.