« A Closer Look
|
Final Thoughts »
The Thermaltake CORE P5 is optimized for water cooling, but it can be used as an air cooled case as well. Our CORE P5 sample will be used to as a vertical test bench after the review so will will show how it looks with air cooled hardware as an option. As for other options Thermaltake thought of different ways that you can use the CORE P5 which included the normal vertical position, horizontal and wall mounting making this case very versatile.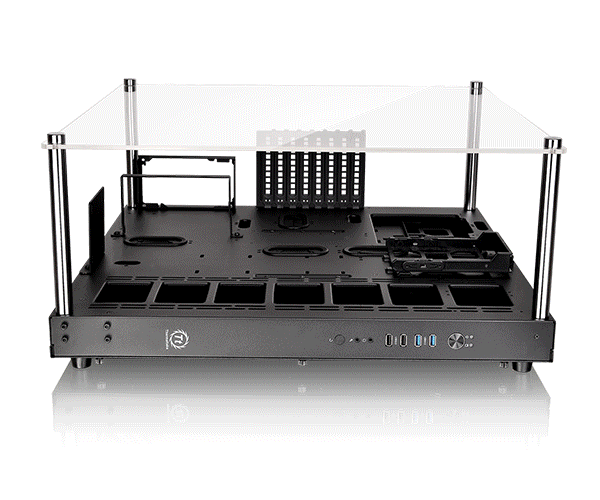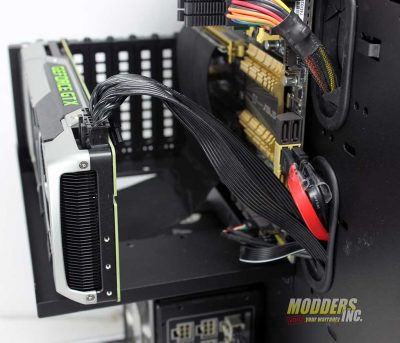 When you place the graphics card in the vertical position you will have to use the included PCI-e ribbon cable. Thermaltake also includes a bracket that attaches to the ribbon and to the support to make sure that you ribbon stays securely in place. If you plan on using more that one card in this configuration then you will need to purchase a ribbon cable for each card.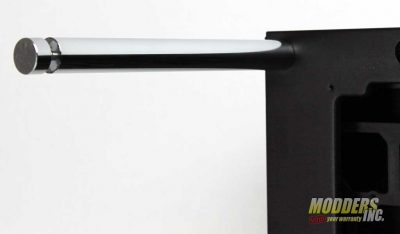 Solid rods that have been chromed are used as supports for the plexiglass window/cover. A single screw is used to mount them to the case panel while a knob/screw is used as the mounting point for the plexiglass.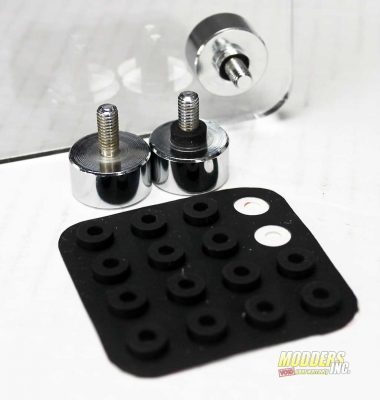 During the install of the cover I found that there was a bit of slack in the size of the hole compared to the diameter of the holder screw. I remembered seeing a package of rubber pads that are actually for the hard drives, but I discovered that they had holes in them and would fit over the threads of the screws and were the perfect size to fit into the holes of the plexiglass, thus taking out any play in the mounting of the window.
Here are a few different angle shots that give you an idea what the Thermaltake CORE P5 looks like with a completed install.