« Intro
|
Page 3 »
A Closer Look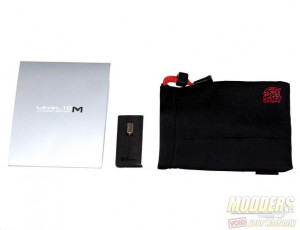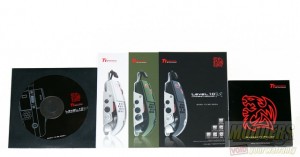 The Level 10 M comes packaged with a Silver envelope containing many key elements for your mouse as well as a few novelty items. Its contents include a quick start guide, Warranty card, software install CD, and three Level 10 M post cards featured in White, Black, and Green. Thermaltake also includes a tool for making adjustments to the height and tilt of the mouse, and a high quality pouch.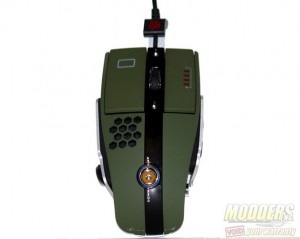 Here we have our first look at the mouse itself. BMW design and high end technology come together in a package of perfect harmony. This is is the luxury class of gaming mouse and Thermaltake pulls out all the stops. On top the height adjustment screw is clearly visible and adds to the edgy modern feel of the mouse.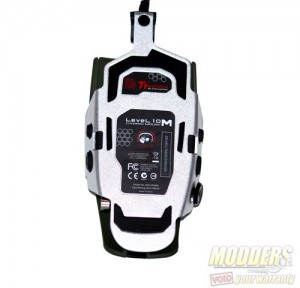 With the Level 10 M flipped over we are able to see that the attention to detail has not been lost here. Five mouse feet are spread over the large base allowing the mouse to move agile and accurately. From this view you also catch a look at the four additional mouse buttons and the DPI/Profile switch as well as the tilt adjustment screw.
Above we have two of the design aspects that make the Level 10 M so unique. In the left picture we have the up/down adjustment screw. This raises and lowers the palm rest of the mouse to your desired height. No matter where the mouse was left adjusted at there was no feeling of play in the adjustment.  On the right we have the left/right tilt adjustment. The system allows for quick adjustment to your specific requirements. The side to side adjustment allows up to five degrees of adjustment in either direction. 
Thermaltake knows how to make there product stand out. Making an adjustment to your Level 10 M is a simple as turning an Allen key ,but why go looking through the garage when you are provided with the answer to your problems. The included tool comes packaged in a high quality foam.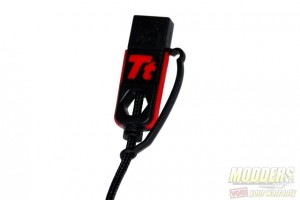 The mouse is powered by a single USB plug. The plug is gold plated  which is nothing new.  The mouse however also features a convenient cover for use while not in use.