Page 2 »
With the CPU being the brains of the computer. The task of cooling it needs to be taken seriously regardless of the type of cooling you decide to use. If the CPU runs on the hot side, it will not perform as well as it should while also shortening its lifespan. With passive cooled CPU coolers being the most popular. There are several things you need to take into consideration when purchasing the cooler. To achieve optimum cooling you will want to purchase a cooler that is capable of transferring the heat from the CPU to the cooling fins efficiently. Today we are going to take a look at a new cooler for Thermaltake, the SpinQ.
Thermaltake has been making CPU coolers for years and they know what it takes to produce a high quality cooler that is capable of cooling today's CPU. The SpinQ is somewhat different in design than most other coolers on the market today. The SpinQ uses a centrifugal style fan instead of a standard blade fan. This would be similar to what one would find in a "blower" or "squirrel-cage" style of fan assembly. Normally these units are mounted externally from the area it is trying to cool. As we can see with the SpinQ, they can be designed otherwise.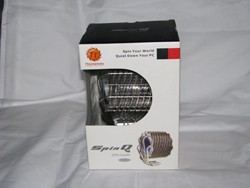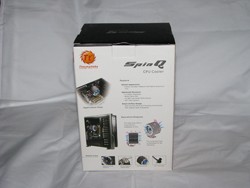 The Thermaltake SpinQ comes in a fairly standard white/ black box that shows a few high resolution shots of the cooler. On the rear of the package, you will find the main features and a brief description of the operation of the cooler.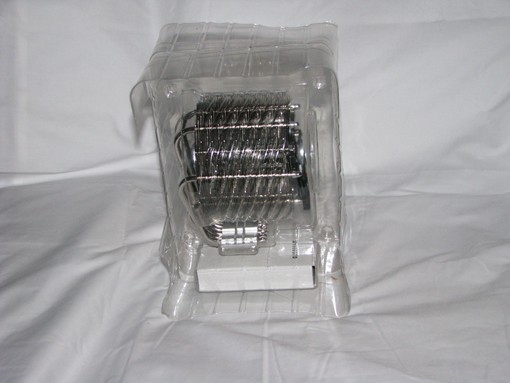 Pulling the contents out of the box, we find the SpinQ encased in a plastic clam-shell design container. The accessories box is tucked underneath it.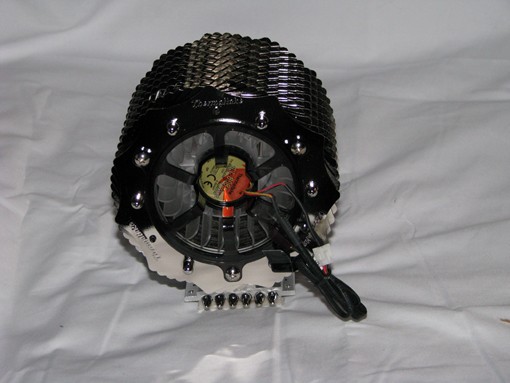 Here we can see that the SpinQ has a chrome finish, which uses a black fan frame, and a clear fan. There are a total of 6 nickel plated heatpipes that transfer the heat from the cooper base to the 50 aluminum fins that are surrounding the 80mm blower style fan. The SpinQ also has a "VR Fan Control" to adjust the RPMs of the fan.
Features:
Stylish Appearance

Classic Cylinder Heatsink and Spiral Aluminum Fins.
Eye-catching S curve™ Blade Fan plus blue LED makes it unforgettable.

Optimized Structure

6 Copper Heatpipes.
50 waved aluminum fins, 6 copper heatpipes and generates efficient cooling performance.
80mm Blower Fan.
Low Noise Performance.
Mirror coating copper base conducts heat effectively from CPU
and gets more surfaces to dissipate the heat.
VR™ Fan Control.

Smart Airflow Design

Integrated with the System to maximize the cooling performance.
VR™ Fan allows the users to adjust the fan speed according to their needs.
It makes good cooling effect at low speed and generates minimum noise.
Cylindrical Structure dissipates the hot air with 360.
Specifications:
Compatibility
Intel® Core 2 Extreme (Socket LGA775)
Intel® Core 2 Quad (Socket LGA775)
Intel® Core 2 Duo (Socket LGA775)
Intel® Pentium D (Socket LGA775)
Intel® Pentium 4 (Socket LGA 775)
Intel® Celeron D (Socket LGA775)
Intel® Celeron (Socket LGA775)
AMD® Phenom (Socket AM2+)
AMD® Athlon 64 FX (Socket AM2/939)
AMD® Athlon 64 X2 (Socket AM2/939)
AMD® Athlon 64 (Socket AM2/939/754)
AMD® Sempron (Socket AM2/754)
Heatsink Dimension
121.63(L) x 90(W) x 151.85(H) mm
Heatsink Material
50 Aluminum Fins w/ Copper Heatpipes & Base
Heatpipe
Ø 6 mm x 6
Fan Dimension
Ø 80 x 85 mm
Fan Speed
1000 ~ 1600 RPM
Bearing Type
Sleeve
Noise Level
19 ~ 28 dBA
Max. Air Flow
86.5 CFM
Max. Air Pressure
2.22 mmH2O
LED Fan
Blue LED
Power Connector
3 Pin
Rated Voltage
12 V
Started Voltage
7 V
Rated Current
0.45 A
Power Input
5.4 W
MTBF
50,000 Hours
Weight
667 g