« Page 3
|
Page 5 »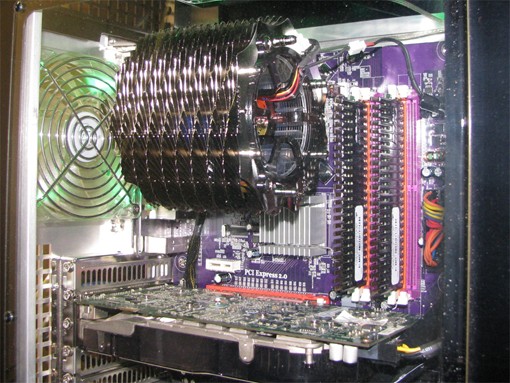 The Test Rig:
Intel E8400 @ 3.00GHz
ECS P43T A2 V1.0
XFX 8800 GTS 320MB Video card
Thermaltake Toughpower 850W Cable Management ESA
Patriot 4 GB PC2-8500 DDR2 Viper Series Memory
1 Western Digital Caviar SE16 250GB Hard Drives
Logitech Wave Mouse/Keyboard Combo
Dell 22″ Widescreen LCD Monitor
Silverstone TJ10 ESA Chassis
Windows Vista 32bit SP1 w/Current Updates
  With the Thermaltake Spin Q installed and running we move onto the testing phase. I will be running Prime 95 on the system to achieve a maximum load temperature. This process is normally run anywhere from 30 – 40 minutes on this configuration. I will monitor the CPU usage with the Windows Task Manager to ensure that I do have all the cores completely loaded. I will record the temperatures using Everest Ultimate at full load after 30 minutes, and again 1 hour later after the system has had time to cool back down to idle temperatures. I will also be conduction two sets of tests, one at low RPMs and one at full RPMs.
  For comparison, I will be using the Cooler Master V8 CPU cooler, and the Thermaltake Max ORB EX. All three coolers will be put through the same processes at both RPM settings. The first test will consist of the low RPM tests while the second will be the high RPM tests.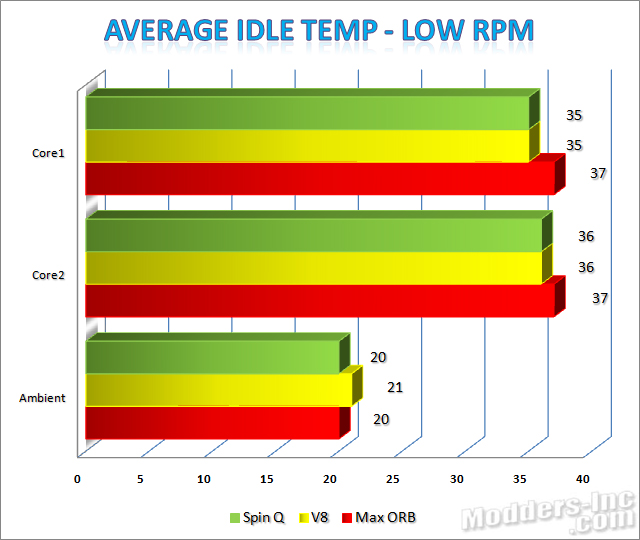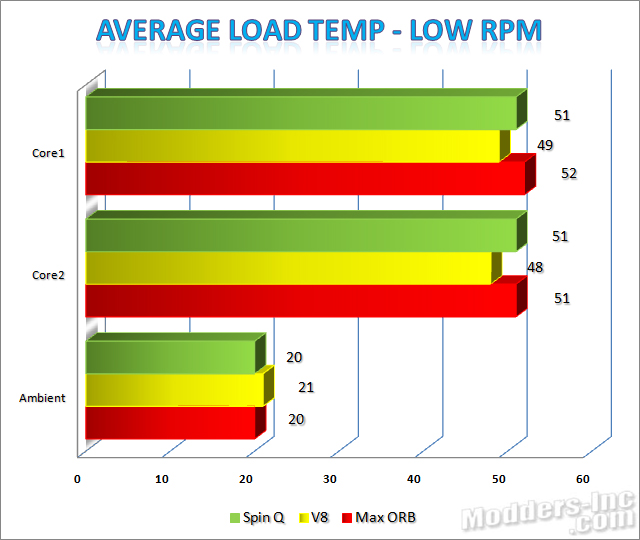 The purpose of the low RPM test is to see how well they perform when the user is wanting to keep things as quiet as possible. Looking at the first set of charts, we can see that all three coolers come pretty close to the same results. We see a three degree range on the idle tests, and a four degree range on the load tests. The Cooler Master V8 nudges out the lead by only two degrees. I definitely have to give the Spin Q credit for hanging with the big boys.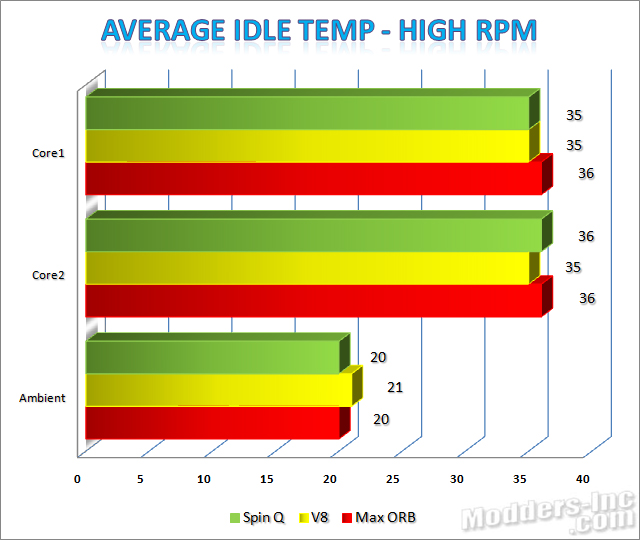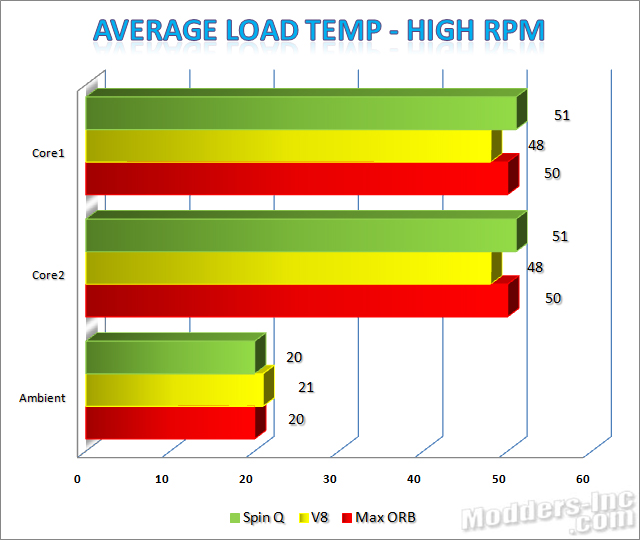 On the high RPM side, I expected to see a bit more of a difference between the three coolers. However, to my surprise, it got even closer. On the idle side we have only a two degree fluctuation, while at load we are still with in the four degree range. Overall the Cooler Master V8 did provide the best results. The Spin Q hung in there like a champ. With the unique design of the Spin Q, I was surprised it got as close as it did. With a few modifications to the design, I am sure the performance will be improved on future versions.
  Of the three coolers tested, the Spin Q seemed to create the most noise and vibrations. This I think relates to the "squirrel cage" style fan. Of course the vibrations I felt where the result of a balancing issue, which could also cause the increase in noise that I heard. Backing the fan RPMs down just a tad below maximum would considerably drop the noise level.