Page 2 »
Introducing the first gaming mouse from the award winning NZXT design team, as with all of NZXT's PC accessories, Avatar is designed to provide gamers with the ultimate crafted gaming armor to emerge victorious in the gaming arena of choice. Featuring a ambidextrous and smaller form, the Avatar mouse is versatile and ideal for gamers. A hardware implemented DPI switching allows compatibility with any game, and the Avatar interface allows for all types of customization including macros and 9 customizable buttons. Extruded Teflon mouse feet also allows for better accuracy and smoothness during game play.

Sponsor: NZXT
[hr]
   Today I'm excited to review NZXT's Avatar Gaming Mouse.  For those of you who don't know NZXT is a mostly a enthusiast  case company started in 2004 in Los Angeles, CA.   They are starting to branch out into other areas and the  NZXT Avatar is their first foray into the world of gaming mice.  So let's take a look shall we and see how they did.
  First off the NZXT Avatar Gaming mouse comes packaged in a neat little compact casing.  The overall dimensions are 2.25 x 4 x 7.75, or just about the size of a small paper back novel or DVD pack.  The artwork is very toned down and looks very professional.   A pic of the mouse itself adorns the front of the packaging while all the specs are listed neatly on the back of the packaging (in four languages) as well as some detail shots of some of the features with detailed specifications.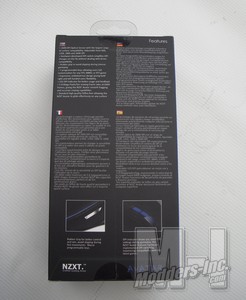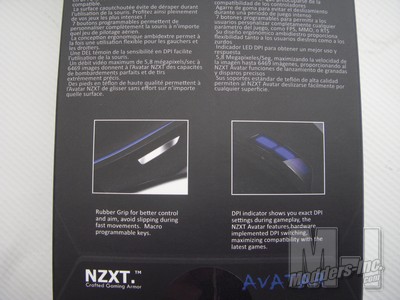 Opening up the packaging you get to see the actual mouse itself nestled inside a clear blister pack.   On the underside of the lid you see a layout of the buttons and functions of the mouse.   The cool thing about this is that it give you a chance to really see the mouse and get an idea of the size, shape and possible feel of the mouse.    Some might see right off things they like or don't like about it this way.  It's always good to be able to see what it is your are purchasing and this small casing does a good job of showcasing the mouse.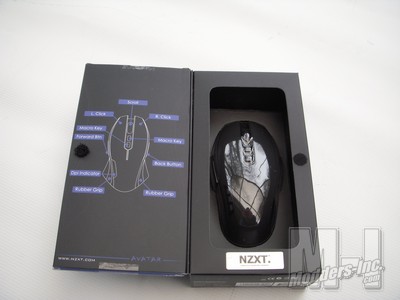 Below we have a list of specifications that are listed partially on the back of the packaging.  For a complete set of features I copied these from the NZXT website and put them here for your convenience. 
| | |
| --- | --- |
| Max Speed | 40 Inches/Second |
| Max Acceleration | 15g |
| Max Frame Rate | 6469 Frames/Second |
| Resolution | 650-2600 DPI |
| Image Processing | 5.8 Mega Pixels/Second |
| USB Reports | Up to 1000 Reports/Second |
| Buttons | 7 Buttons, 5 Million Clicks |
Features: 
Optimal performance — 2600 DPI Optical Sensor provides maximum sensitivity and responsiveness which yields unparalleled gaming accuracy. LED DPI indicator gives the user improved usage and feedback. 5.8 Mega Pixels/second with a max frame rate of 6469 ensures smooth fragging and accurate sniping. 4 Speed DPI switch enables you to go from slow sniper movement to quick attack movement in a matter of second
Maximum Customization — 7 programmable keys allows gamers to customize their configuration specifically for First-Person Shooters, Real-Time Strategy, or Massive Multiplayer Online Role-Playing Games all within the macro and profile settings
Ergonomic Design — Ambidextrous design gives full use to both right and left handed gamers. Rubber grip helps avoid slipping during intense gameplay and the small, light form factor allows for faster and quicker movements, perfect for any gamer on the go or playing on a laptop or notebook. A slim form factor makes it the perfect choice for finger tip gamers.
Simple Installation — Avatar plugs into any available USB port
Slim and small dimensions — Measuring at 36.8mm x 69.1mm x 128mm ( H x W x D ), the Avatar's smaller form factor is the best choice for finger tip gamers and people who game on the go.