Integrating the PC into the desktop is the hottest trend in case modding at the moment and even has manufacturers such as Lian Li offering an integrated case desk line. For creative types who value personalization as much as function, the satisfaction of building your own cannot be matched by any retail offering so it is only natural that this type of modding has taken off. The larger scale of the project allows modders to show off their builds in a way that compliments the room unlike typical case mods, plus the extra space allows for flexible upgradeability and moddability down the road. Icelandic modder Josef Haraldsson with his Thor D3sk mod is one such project.
Modder Alias: jojoharalds
Real name: Jósef
Age: 29
Live: Reykjavik, Iceland
Occupation: Working at a grocery store and YouTube content maker
Years in Computers:
I got my first PC when I was 15-years old. It was a 233MHz Intel Pentium II with some crappy GPU from ATI and a large hard drive. Unfortunately, it is physically huge in size but it did not have a big storage space at only 6GB. The machine was able to run Hitman: Codename 47 when it first came out but there was a lot of stuttering. That was also why I started overclocking. After that,well, l I never played a game not in full specs.
Length of time Modding:
I started modding a year ago, although I always did some minor changes like LED lighting, sticker removal, huge heatsinks and cooler installations, etc. Before that but I never cut out a piece of a case or painted until last year. So I am still far from a professional in this scene :)
Personal Website:
https://www.facebook.com/jojo.haraldsson
https://www.youtube.com/jojoharalds
The Featured Build: Thor D3sk Mod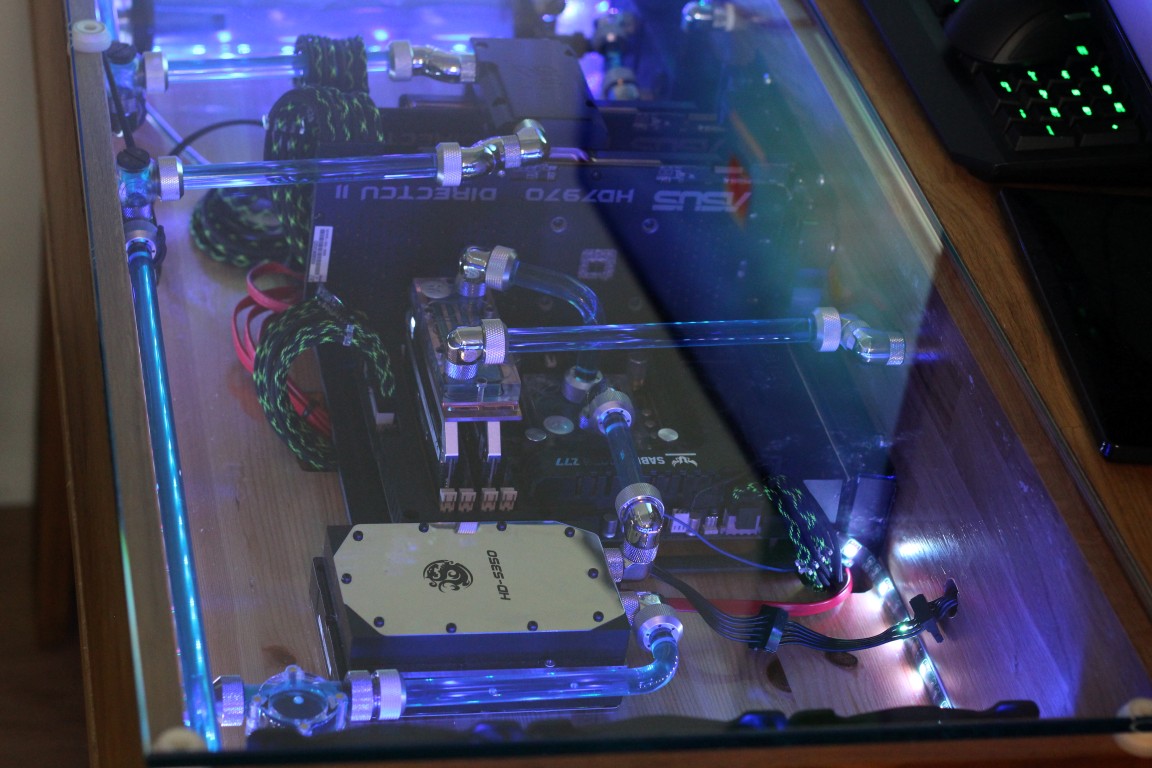 Specifications:
CPU: Intel 3770K OC 4,9Ghz (Update to 4790k)
RAM: Corsair Dominator Platinum 1866Mhz OC 2133Mhz@1,6v
MB: Asus Sabertooth Z77 (Update to Asus Maximus VII Hero )
GPU: Asus 7970 DCII Crossfire OC 1200\1600mhz
PSU: Corsair HX1000i
HDD: Western Digital 2TB Black Edition
SSD: 2 x 120GB Samsung 840 pro RAID0,2 x 120GB Corsair Force LS RAID0,
FANS: Corsair AF 120 Blue Led,Corsair SP 120 High flow,
Water-Cooling Specification:
CPU: EK Supremacy Clear Plexi polished (copper interior)
GPU: EK DCII Block
HDD: Bitspower Silver shining,
RES: Bitspower 350ml Clear pexi
FITTINGS: Primochill Revolver Silver
ADAPTERS: Bitspower 90° Silver shining,Bitspower 90° single rotary Silver shining,Bitspower black extenders,Bitspower Plexi T Adapters,
TUBING: Primochill 10mm ID / 12mm OD,Shackemodz 10mm OD/12mm ID,
PUMPS: 2 x Alphaclool VPP655 (with EK D5 X-Top Acetal Pumptop )
RADIATORS: EK Coolstream PE 240mm,EK Coolstream PE 360mm,EK Coolstream XTX 360mm,BlackIce GTX Extreme 360mm
SENSOR: Bitspower Flowsensor Silver shining.
Bitspower Full board waterblock for VII Hero With Bitspower armor :)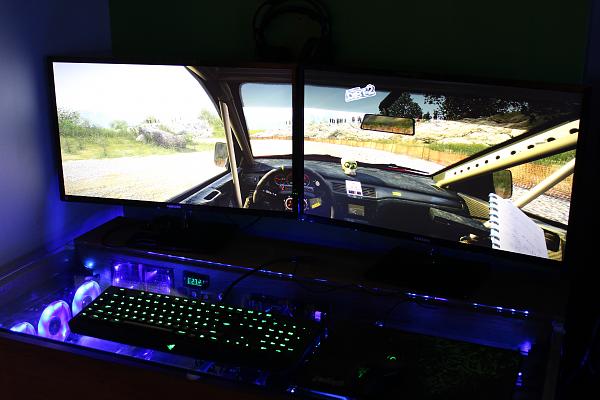 Everyone has a story of what got them into Modding. What or whom got you into Modding?
I always wanted to get into modding but just never really wanted to spend the money it costs, especially since stuff can get very expensive here in Iceland. But after I saw a few builds here and there, I wanted to try it out and thought "How hard can it be?" and "Why not?". The worst that could happen is that if I screw things up and make a mistake, I can just get a new one later.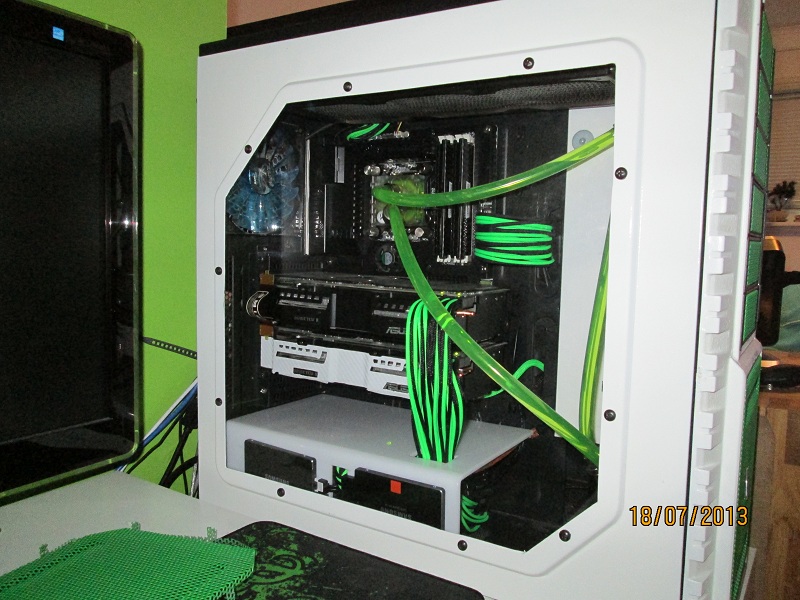 So that is when I bought a used HAF X with some sleeved cables from ICEMODZ.COM and started modding it, although with only minor changes first. I must admit, it was not my best work, but still I tried to improve on it ever since, learning as I go.

Where do you get your inspiration for your mods?
Daily happenings at work, traffic, while walking with dogs,etc. Sometimes from photography. There are plenty of inspiration all over the web. For the Thor D3sk, I have to admit the inspiration came from a modder named Peter Brands with his L3p D3sk at http://www.l3p.nl/l3p-d3sk/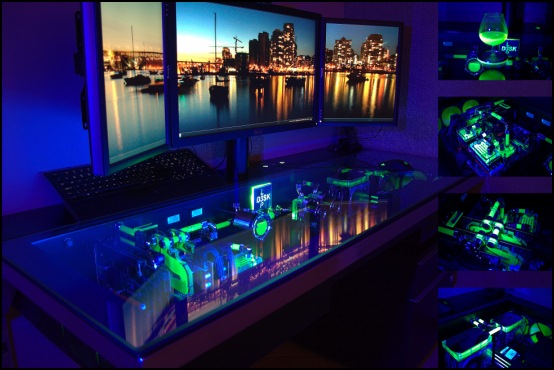 What were the thoughts behind the featured mod?
For the Thor D3sk, I was so excited to watch the build log of the L3p Desk that I really wanted to make something like that of my own, but since I did not have have access to an aluminum factory I just made it out of the best wood I know: OAK!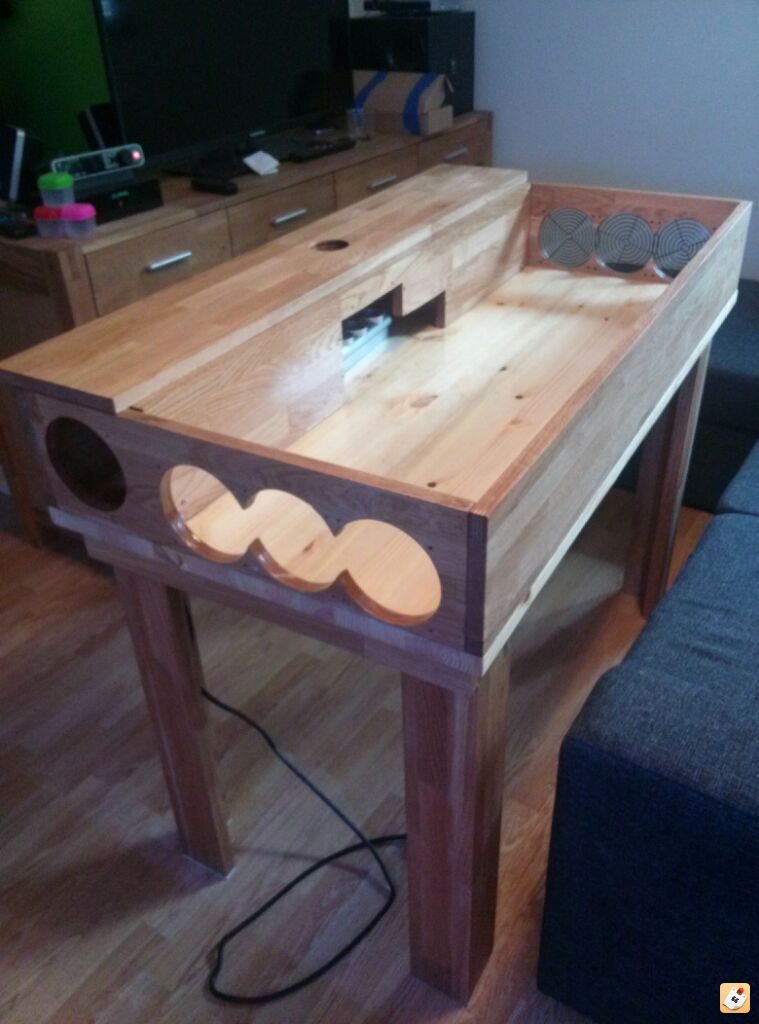 Why did you do it the way you did?
Well I usually try to do things so that i don't need to have huge tools and don't need to spend all the money on a company making things for me. If I can do it myself in a harder way, well so be it.
What do you think was the hardest part about doing the mod?
For me, looking into the future and planing things ahead was hard. I found that the most important thing is planning, drawing things down and working one step at a time when taking on a modding project.

Did it turn out how you thought it would? Is there anything you might have wanted to do different?
I might be getting way ahead of myself here but it is turning out much better than I thought it would. There are some minor changes I would like to do such as use 2 x 360 rads instead of 360 + 240. I am also changing things as we speak, the project is a constant work in progress.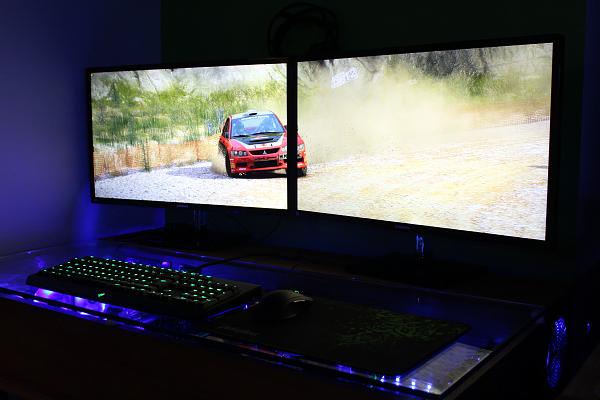 How much time did you spend on the mod?
Total time was maybe six months. I built the D3sk within a month or two, and just put in all the stuff gradually. I started modding it again after using the desk for almost a year and I have been working on it ever since.
Do you have another project in the shop or in the planning?
The next build will be a somewhat Desk PC for my little girl. She is 8 years old, but really likes to watch my every move when modding. I made a deal with her: If she behaves well in school and at home, she can have my current hardware and we shall build a PC together.
I cannot say more as I am still planing and thinking, plus we have to get more hardware first but I will surely let all of you know ;)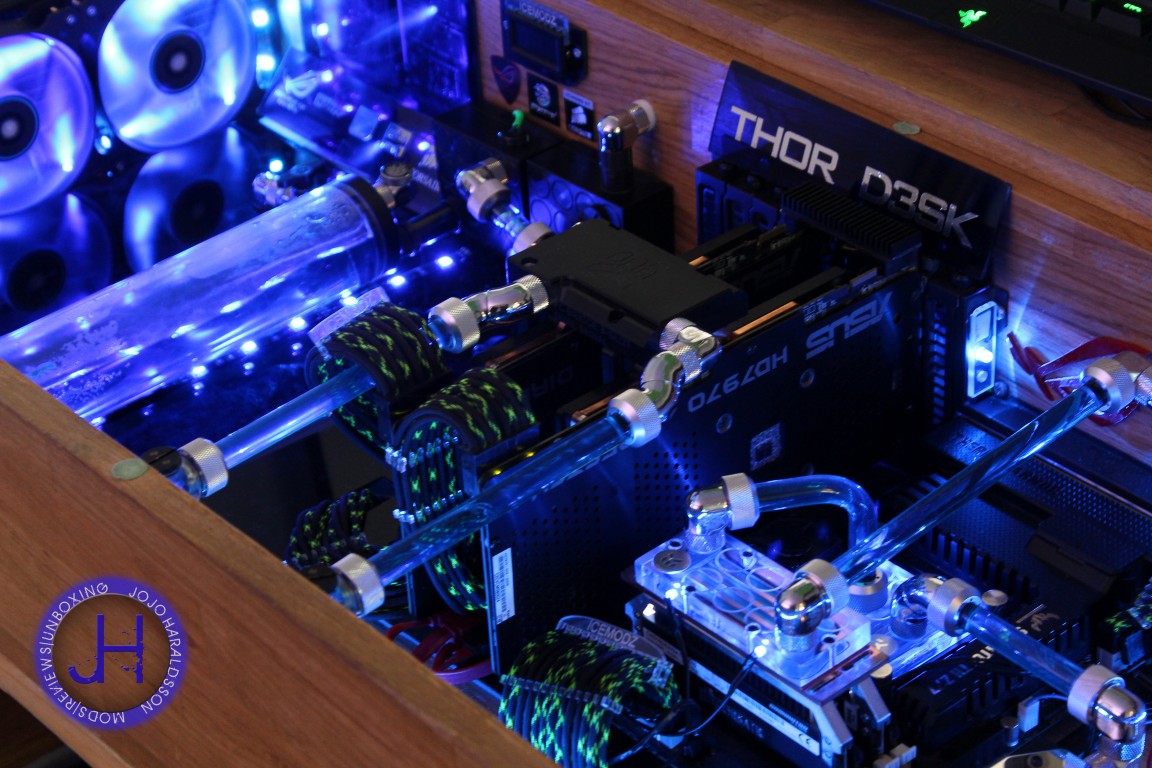 Thank you for agreeing to an interview Josef and we are looking forward to seeing your next creative project.

Check out his Thor D3sk case mod log in our forums for more photos and updates on this mod: http://www.modders-inc.com/forums/showthread.php/4269-Thor-D3sk-Remod-V2-2014
Subscribe to his YouTube channel to follow his projects and watch his videos: https://www.youtube.com/channel/UCDRH2MBZ3nqgyoDbcyazu0Q
Other Modded Cases worklogs:
HAF X AYA Green Lantern Mod: http://linustechtips.com/main/topic/22722-haf-x-aya-green-lantern-modrepainted-white-pics-on-first-page/?hl=aya+green+lantern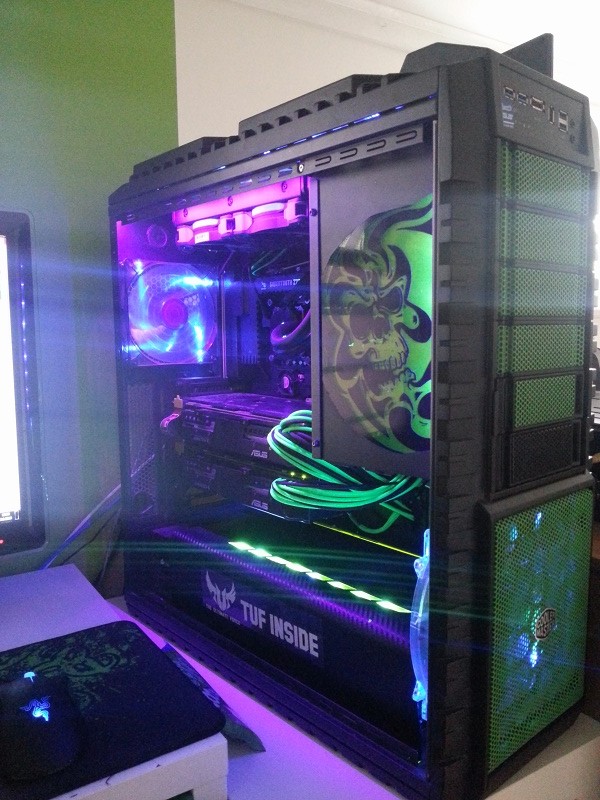 Blue Devil: http://linustechtips.com/main/topic/108615-blue-devil-casemod-2014/?hl=thor%20d3sk