« A Closer Look
|
Conclusion »
Hardware Installation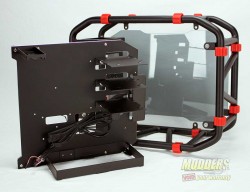 Something I really liked was that you could remove the motherboard tray out of the case. This made it so simple to install all the hardware into the case. I mean this does not sound like much but it truly makes the experience of installing a system a pleasure. More manufacturers needs to go back to the slide out motherboard tray.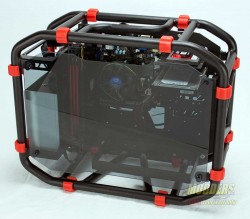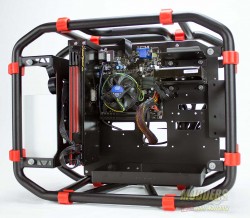 Here we get a look at the system fully installed. With the smoked glass side panel installed you can see that it kind of hides the hardware, but with case you don't want to hide it, you want to show it off.
Now taking a look at the other side of the D-Frame mini we want to actually do the opposite and hide… Hmm, maybe it is better said that we want to cover up any wires that need to be routed here. As you can see the smoked tempered glass does a nice job at doing this.
With all the necessary hardware installed the whole thing only weighed in at 22lbs which is nothing compared to a mid or full tower case. The light weight certainly makes it ideal for a LAN gaming rig.