Page 2 »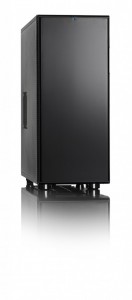 Building a custom computer these days can be very expensive. The last thing you want to have to do is down grade your components to be able to afford the case that you want. I'm not too familiar with Fractal Design, but I immediately gave them a big thumbs up when I opened the box to this $130 case that is nothing but quality.
[sc:sponsor sponsor="Fractal Design" product_link="http://www.fractal-design.com/?view=product&category=2&prod=111″ product_name="Define XL R2 Black Pearl" ]
The box came in very good condition via FedEx. It was packed with the usual foam inserts and a bag around the case. I must have shocked myself ten times on this steel case while taking it out of the box. Fractal Design put plastic wrap on the scratch-able areas of the case so it doesn't suffer from cuts and scrapes while in transit.
Inside you will find a manual and a box that includes all of the screws and accessories.
Some of the great features of this case include:high-level noise reduction thanks to the dense bitumen used on the side panels, "moduvent" design which allows you to choose between optimal silence or maximum airflow, a 26mm space for cable management behind the motherboard, flexible ventilation options, removable HDD cages, and USB 3.0 connectivity.
Here are the specs: