« Page 3
The test system:Cooler Master CM Media 280
XFX 7600 GT Fatal1ty 650MHz 256MB PCI-E
AMD FX 57 Processor
EVGA 131-K8-NF44-AX uATX Motherboard
Seasonic S12 Energy+ 550 Watt Power Supply
2 x 1024 Ultra DDR XL PC3200 Memory
250Gig Western Digital SATA hdd
Logitech MX 5000 Laser
Dell 19″ LCD
Windows XP SP2 w/all updates
Stock EVGA bios
     For the Thermal testing, I will be using a stock AMD CPU cooler, the Ultra X-Wind 120mm Copper CPU cooler, and the Noctua NH-U12F cooler as comparisons. All coolers have been tested on the same hardware. I will record the Idle and Load temperatures for each of the coolers. Each cooler is tested multiple times over a couple day span to make sure the figures are accurate. Once that is done, I will average out the Idle and Load temperatures for the graphs.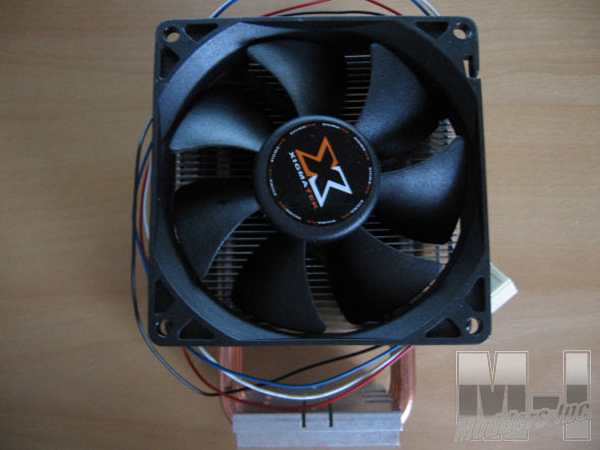 The above picture shows a straight on view of the Xigmatek HDT-S963 cooler. I'm comparing the Xigmatek HDT-S963 against a couple of coolers that I know perform nicely on this specific configuration. The only thing that normally changes on this configuration is the chassis. The coolers are tested at different times and do vary a little bit in ambient room temperature. This is why I list the ambient temps at the time the tests where performed.
     Looking at the CPU temperature graph, we can see that the Xigmatek HDT-S963 was able to achieve the second lowest idle temperature (35C) of the four coolers used. On the load side we see it in second place at 44C. Keep in mind that the X-Wind and the Noctua coolers are both using 120mm fans for their cooling, while the Xigmatek HDT-S963 is using a 92mm fan. The HDT-S963's fan runs in the range of 1200 – 2800 RPMs and has an air flow of 39 – 54.6 CFMs. At full load the fan is audible, but this is the only semi-high RPM fan that I have installed in this configuration. If I had my XFX 7900GT installed, its fan would easily drown out the noise of the HDT-S963.
     Looking at the second graph we are showing the motherboard temperatures. The Xigmatek HDT-S963 ties for the lowest idle temps at 21C and comes in at a respectable second with a load of 26C. The addition of the deflector to help cool the surrounding CPU components does make a difference.
    The Xigmatek HDT-S963 CPU cooler has shown to be able to hold its own in the cooling area. With the added deflector we seen an improvement of cooling for the surrounding CPU components. The fan is mounted via rubber mounts, which will isolate vibrations and reduce noise generated by the unit. On the HDT Tech side of it, without having two identical coolers (one setup stock and one with HDT) it would be very hard to verify if there is an improvement here. This obviously did not hurt the cooling potential of the cooler and very well could be why it does cool as well as it does. The HDT-S963 is definitely a cooler to put on the list when looking at purchasing a new CPU cooler. The Xigmatek HDT-S963 should retail for around $30 US, which is a pretty good price for a performer like this.
[sc:recommended_hardware_award ]