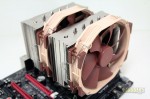 Within enthusiast CPU-cooling circles, a tale of two towers is told that rivals the Tolkien legend. It has tamed heat over the years not through magic but through science. Six 6mm heatpipes distributing heat to two 42-fin aluminum radiator towers and a mighty breeze blown from unmistakably distinct Noctua fans; this was the NH-D14 which was as powerful as it was influential. Yet for all the attention it demanded, it did so silently and went about its task with ease. With the market as competitive as it is and with technology moving as fast as it does, it is surprising that something has remained relevant for this long.
As great as the NH-D14 was, the old must make way for the new so that the latest cooling demands  are met. Noctua thus has introduced the NH-D15, a dual-tower cooler tweaked for efficiency. Do not mistake its large size as an exercise in  brute force for the NH-D15 upon closer inspection, is a measured approach to cooling. Moving to a pair of larger NF-A15 fans, the NH-D15 boasts excellent thermal management capabilities at a lower noise level. The wider body of the NH-D15 also allows for better heatpipe distribution while the staggered bottom aluminum stack design improves RAM module compatbility, contributing to an overall better user experience.
Review Sample Provided by: Noctua
Product Name: NH-D15
MSRP: $99 USD
Product was given in exchange for work done to produce this review.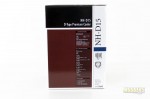 The NH-D15 box alone measures 27 x 19 x 25 cm, making it bigger than two power supply packages combined. Inside, all accessories are packed in their own individual boxes with printed contents and labels. The top compartment housed the mounting kits for Intel and AMD motherboards as well as an accessory box containing a full-size NT-H1 thermal compound, 4x fan mount screws, 4x fan mount dampeners, a Noctua case badge, a pair of low-noise adapters, a pair of fan mounting clips, a Y-cable, and a screw driver.  The NH-D15 unit itself is housed in its own box flanked by the extra NF-A15 fan (in its own box of course) and padded with 2cm foam all around.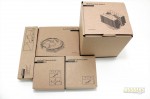 The Intel mounting kit box contains a backplate with the posts built-in unlike previous SecuFirm2 backplates, four black plastic standoffs, a pair of mounting bars, four bolts for LGA2011 mounting and four thumbscrews for securing the mounting bars. In the AMD accessory box, there are four white plastic spacers, four long screws and a pair of AMD mounting bars. Three manuals are also included, one for LGA115x, LGA2011 and for AMD installation. The backplate included is the NM-IBP2 Revision 2 which is raised on the center and has spacers on the poles itself instead of a large insulated area. I've grown fond of this new approach to the backplate design with built-in posts so it is much easier to install whether vertically inside the case or horizontally on a table top. Having to hold all four posts in while trying to hold the backplate in place and securing the mounting bars at the same time just sounds ridiculous now when this new way is so much easier.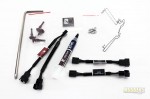 Specifications:
Heatsink Specifications:

Socket compatibility:

Intel LGA2011 (Square ILM), LGA1156, LGA1155, LGA1150 & AMD AM2, AM2+, AM3, AM3+, FM1, FM2, FM2+ (backplate required)
Height (without fan):

165mm
Width (without fan):

150mm
Depth (without fan):

135mm
Height (with fan):

165mm
Width (with fan):

150mm
Depth (with fan):

161mm
Weight (without fan):

1000g
Weight (with fan):

1320g
Material:

Copper (base and heat-pipes), aluminium (cooling fins), soldered joints & nickel plating
Fan compatibility:

140x150x25 (with 120mm mounting holes), 140x140x25 (with 120mm mounting holes), 120x120x25
Scope of delivery:


2 x NF-A15 PWM premium fan
2 x Low-Noise Adaptor (L.N.A.)
Y-cable
NT-H1 high-grade thermal compound
SecuFirm2™ Mounting Kit
Noctua Metal Case-Badge

Warranty:

6 years
Fan Specifications:

Model:

Bundled Noctua NF-A15 PWM
Retail Noctua NF-A15 PWM
Bearing:

SSO2*
SSO2
Max. Rotational Speed (+/- 10%):

1500 RPM
1200 RPM
Max. Rotational Speed with L.N.A. (+/- 10%):

1200 RPM
900 RPM
Min. Rotational Speed (PWM, +/-20%):

300 RPM
300 RPM
Max. Airflow:

140.2 m³/h
115.5 m³/h
Max. Airflow with L.N.A.:

115.5 m³/h
88.7 m³/h
Max. Acoustical Noise:

24.6 dB(A)
19.2 dB(A)
Max. Acoustical Noise with L.N.A.:

19.2 dB(A)
13.8 dB(A)
Input Power:

1.56W
0.96W
Voltage Range:

12V
12V
MTBF:

> 150.000 h
> 150.000 h
SSO2 = Noctua's 2nd Generation Self-stabilising oil-pressure bearing, a type of fluid dynamic bearing design with a magnet placed close to the rear of the rotor axis.

Article Index: