Article Pages:
Page 2 »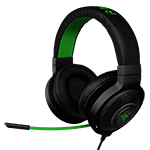 Listening to music is fun, but trying to listen with cruddy headphones is majorly irritating and takes away from the enjoyment of music. Talking to friends in game is great, but having to take your headphones off so your ears stop hurting is not to a gamer's delight.
I'm not a patient person, but luckily I do not have to be. With Razer's Kraken headset your ears feel like they are being serenaded by angles lounging on clouds as they pour gold, sugar, and children's dreams down your ears. You have never felt comfort till you tried on the Kraken pro headset.
Review Sample Provided by: RAZER
Product Name/Link to Website: Razer Kraken Pro
Product was given in exchange for work done to produce this review.
Specifications
Headphones
Frequency Response: 20 – 20,000 Hz
Impedance: 32 Ω at 1kHz
Sensitivity (@1kHz, 1V/Pa): 110 ± 4dB at 1 kHz Max
Input Power: 50 mW
Drivers: 40 mm, with Neodymium Magnets
Inner Ear Cup Diameter: 50 mm / 1.97"
Cable Length: 1.3 m / 4.27 ft plus 2m / 6.6 ft splitter adapter
Approximate Weight: 293 g / 0.65 lbs
Connector: Analog 3.5 mm combined jack (headphone and mic)
Microphone
Frequency Response: 100 – 10,000 Hz
Signal-to-Noise Ratio: 52 dB
Sensitivity (@1kHz, 1V/Pa): -40 ± 3dB
Pick-up Pattern: Unidirectional