Alphacool Eisbaer 240 AIO CPU Cooler Review
Article Index:
A Closer Look at the Alphacool Eisbaer 240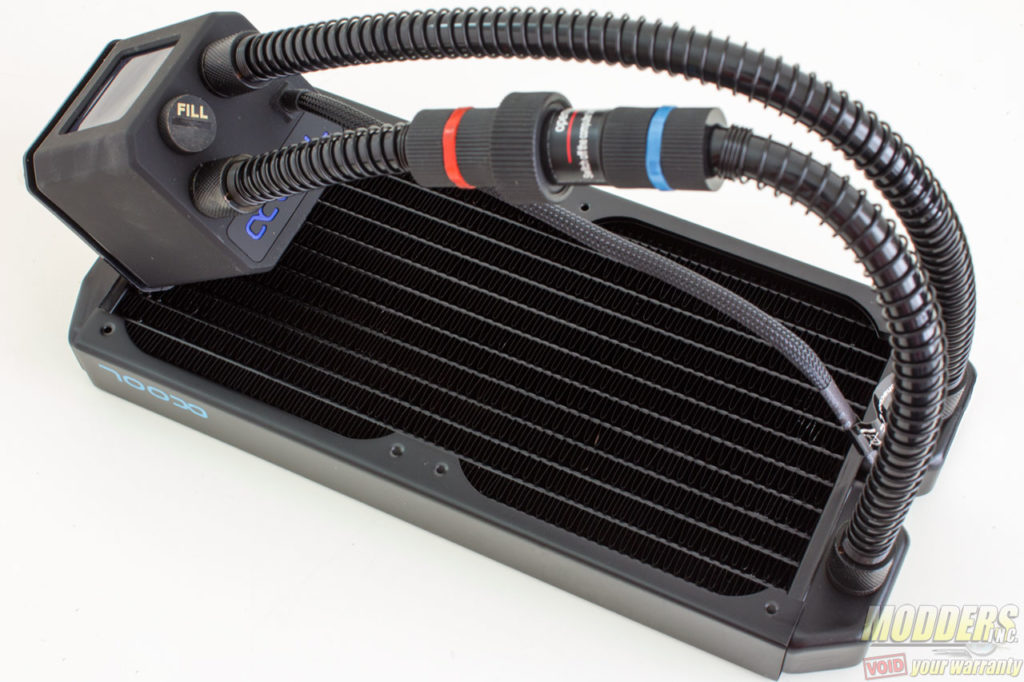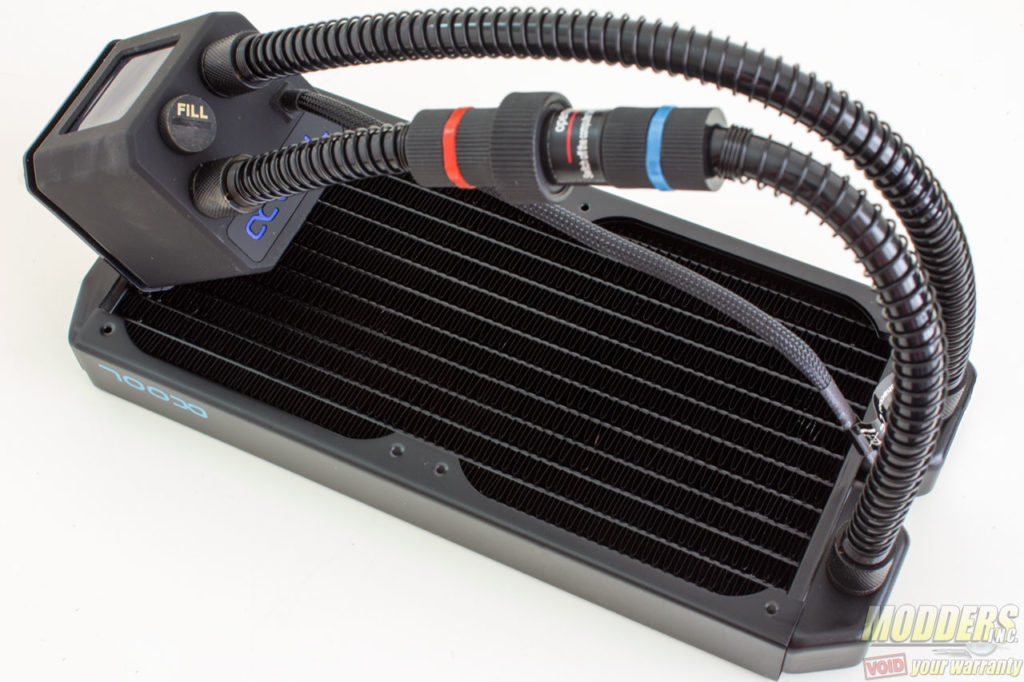 Alphacool is an OEM of liquid-cooling products, and as such have much more control over the Eisbaer's design. Unlike other all-in-one coolers, the Eisbaer is truly upgradeable as the fittings use a standard G1/4 so parts can be swapped later on if the user wanted.
Pump Unit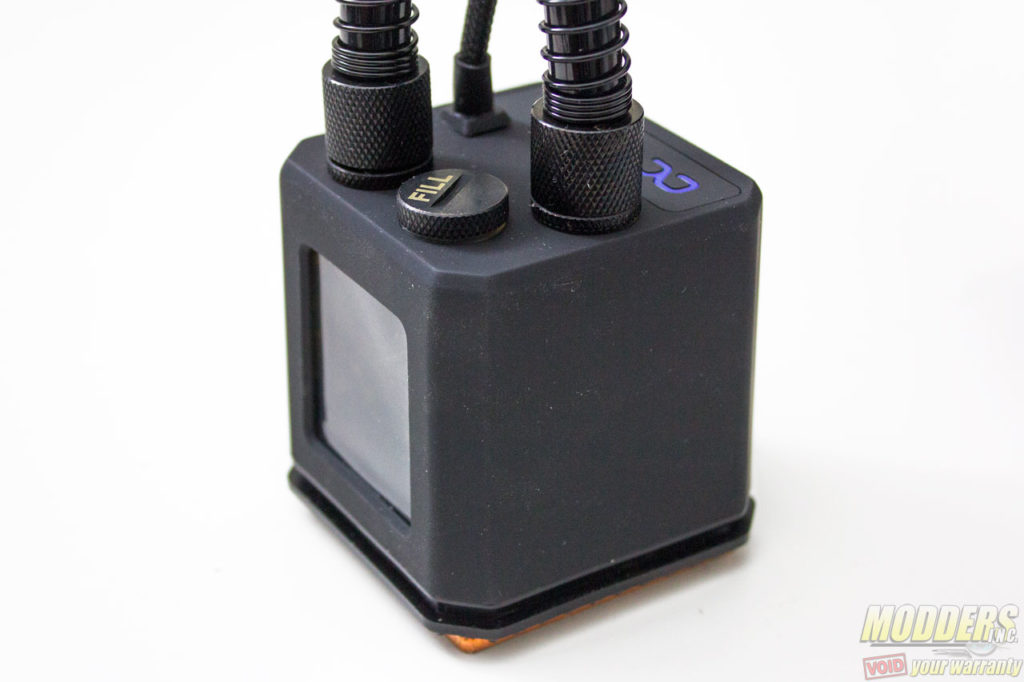 The pump block unit is much larger than other AIOs, but it is designed to take up the space in height so that there is no clearance issue. The hose attaches at the top and the fill-port is located between them as well. There is a viewing window so that users can check for bubbles even if they refill the coolant themselves. It is highly functional and not just an aesthetic after thought.
The actual pump inside is a DC-LT 2600  ceramic 12VDC pump. This is the ultra low-noise version of the DC-LT 3600, having a lower max flowrate of 70l/h @ 2600RPM compared to 120l/h  @ 3600 RPM. It can operate between 7V to 12V, and has a 3-pin fan connector cable for power which is sleeved.
Radiator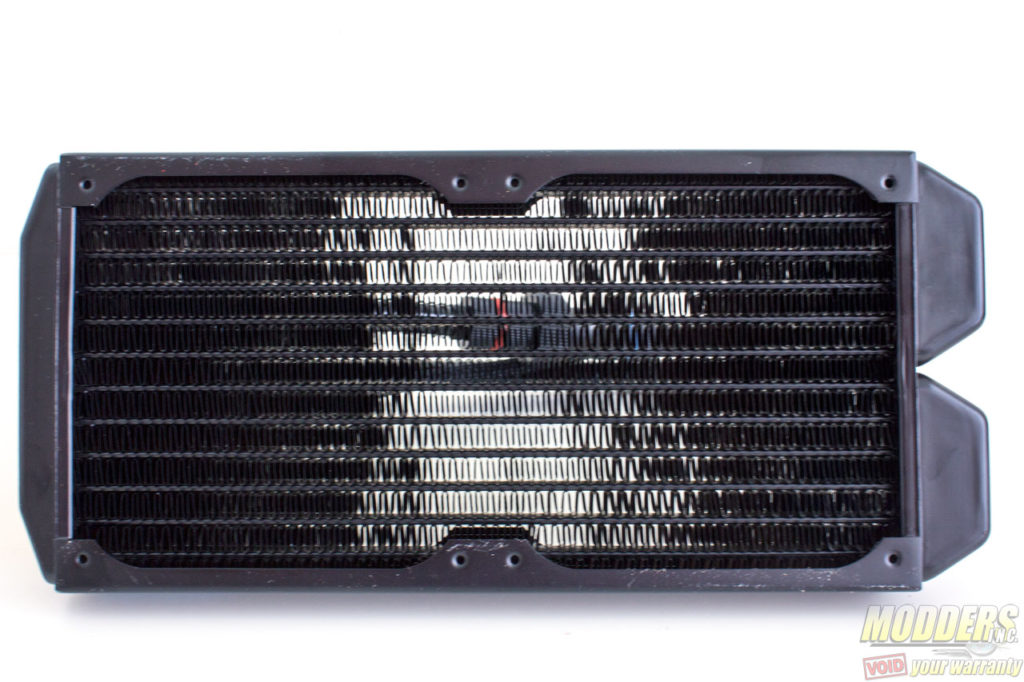 The Eisbaer AIO series is available in various radiator sizes including 120, 240, 280 and 360mm radiators. The 240mm radiator pictured here is based on the Alphacool NexXxos 240mm "full-copper" radiator. The parts that actually matter are copper such as the cooling channels where the fluid flows through. However, it is technically not entirely copper having steel and brass alloy in some parts. It is significantly of higher quality than the typical cheaper aluminum radiator commonly used in the majority of AIOs. This radiator measures 30mm thick and can mount a pair of 120mm fans per side with M3 screws. It has 16-fins-per-inch, and is designed for low to medium fan RPM performance.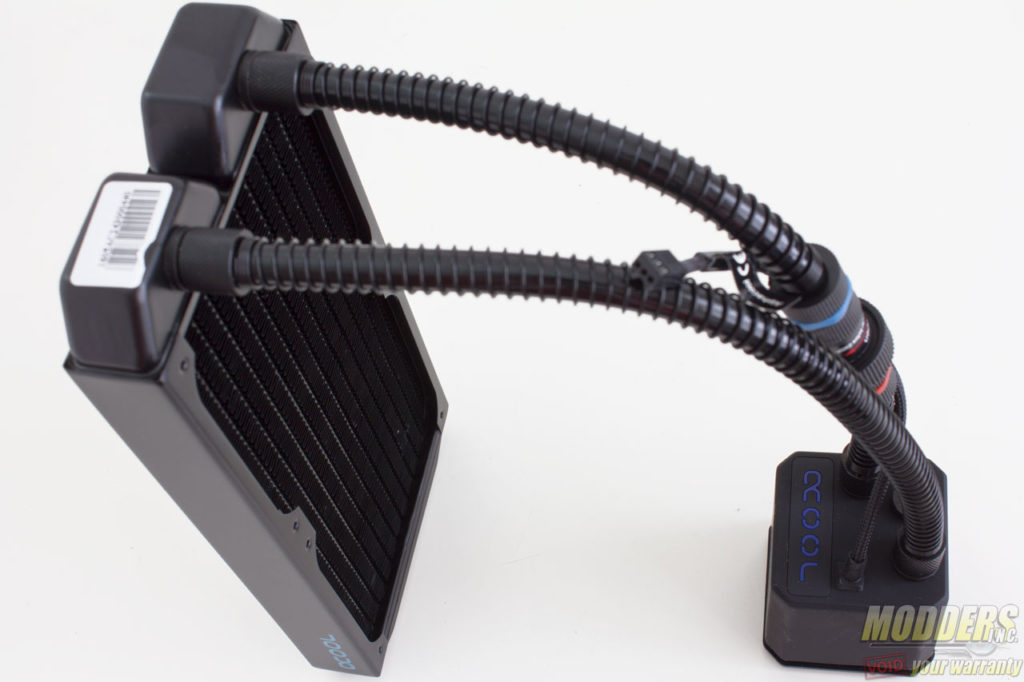 Tubing
The tubing uses flexible black PVC reinforced with anti-kink springs. These are 11/8mm standard and have a quick-lock mechanism. This allows users to easily expand with a GPX-Pro GPU cooling kit, just by opening the quick-lock mechanism and attaching it to the GPX-Pro's matching quick-release mechanism. Since the Eisbaer uses standard G1/4 threads for all connectors, users can also swap out the tubing and fittings with whatever they prefer.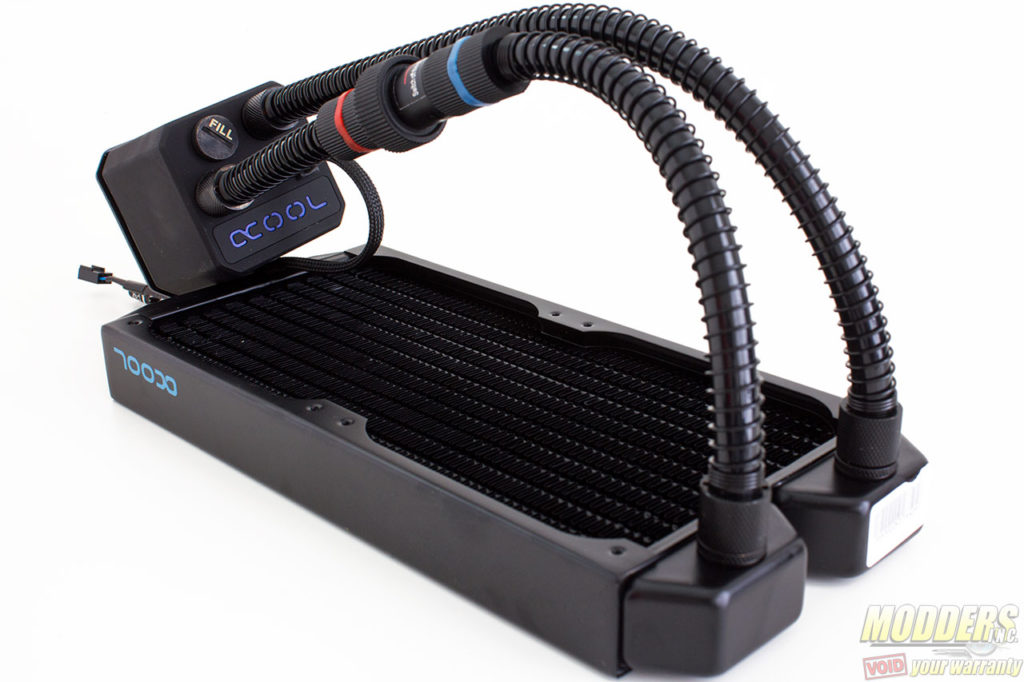 Cold Plate and Contact Surface
The contact surface is highly polished copper with a 56.05 x 56.05 area. The cold-plate is held in place by four Philips-head screws on each corner.

Bundled Fans
The bundled fans included in the Eisbaer 240 package is the Eiswind 12. To match the radiator design, the Eiswind 12 operates only up to 1700RPM and focuses more on balancing noise level and performance. It has a large hub measuring 47mm in diameter. It is in fact larger than the length of the blades themselves. There are seven fan blades in total and they have a very sizable gap that is equidistant closer to the hub as it is at the tip.
It uses sleeve bearing and operates at 550 to 1700RPM producing 1.66mmH20 of static pressure and an airflow of 63.85cfm.
Article Index: