CPU Reviews
AMD Ryzen R7 2700x & Ryzen R5 2600x CPU Review
Zen+ has arrived
« Introduction
|
Conclusion and Final Thoughts »
| | |
| --- | --- |
| Processor | AMD R5 2600x, R7 2700x, AMD R7 1700x, Intel Core i7-8700k |
| CPU Cooler | AMD Wraith PRISM, Thermal Take Water 3.0, Cooler Master Hyper 212 EVO |
| Power Supply | Corsair HX850W 80 Plus Gold PSU |
| Memory | G.Skill Sniper X DDR4 3400 CL 16-16-16-16 |
| Storage | Kingston HyperX Fury SSD (OS), Kingston HyperX Predator 240 (PCIe M.2) |
| Graphics | Nvidia GTX 1080 TI Founders Edition |
| Motherboard(s) | MSI X470 Gaming M7 AC (Ryzen), Aorus Z370 Gaming 7 (Intel) |
| Operating System | Windows 10 Pro x64 (1709) |
For the 1st round of benchmarks, the AMD Wraith PRISM cooler was used on all the Ryzen CPUs. I did not tweak the BIOS except for enabling A-XMP for the Ryzen systems and XMP for the Intel platform. I wanted to go with an out of box experience. All other settings were left in their stock configuration.
CPU and Memory Benchmarks
The AIDA64 suite has various benchmarks for CPU, FPU, and memory testing: CPU Queen is an integer benchmark that tests branch prediction and misprediction penalties. CPU PhotoWorxx tests the SIMD integer arithmetic execution units of the CPU and the memory subsystem. CPU ZLib is a compression benchmark that tests the combined CPU and memory performance. CPU AES is a multi-core encryption benchmark that uses Advanced Encryption Standard data encryption. CPU Hash is an integer benchmark that measures performance using the SHA1 hashing algorithm. – Note: The latest beta version was used to gather benchmarks and the official word from Finalwire is this version does support the Ryzen 2nd gen CPUs.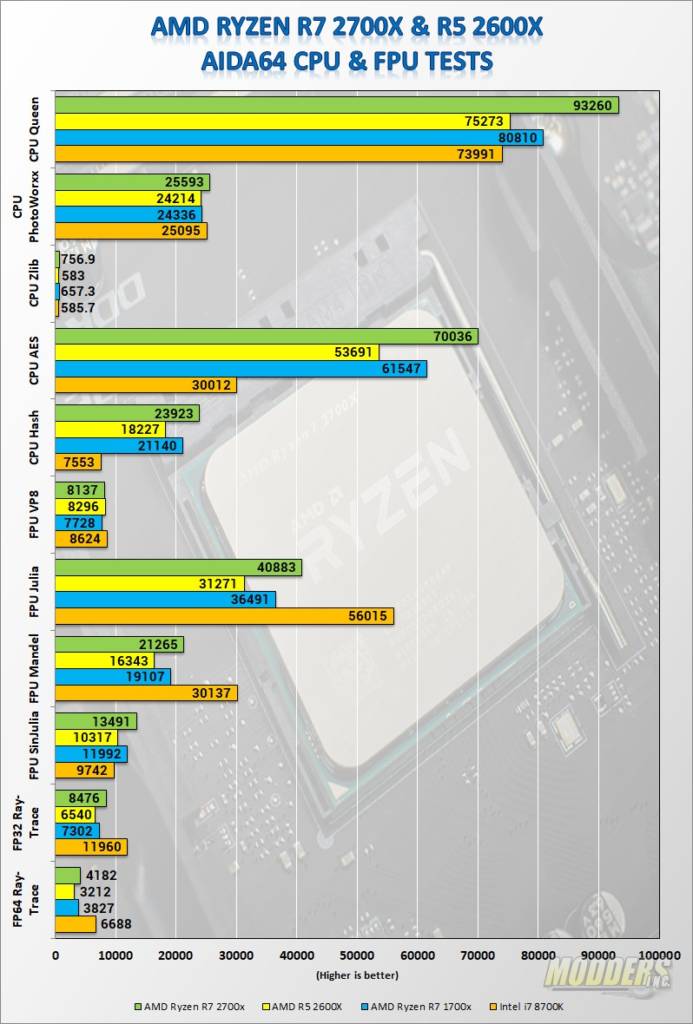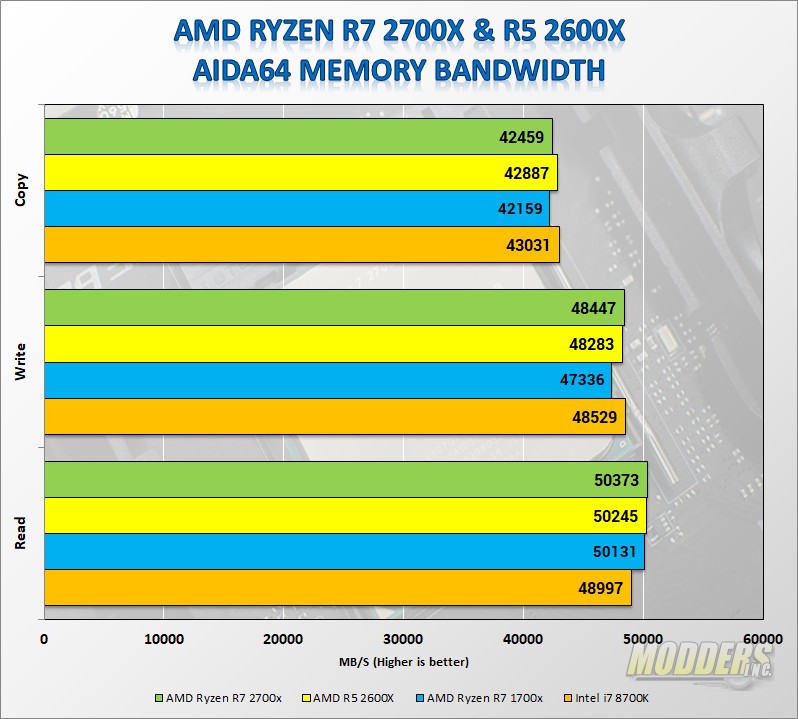 MAXON's Cinebench R15 runs two sets of benchmarks, a processor test for the CPU and an OpenGL test for the graphics processor. The 3D rendering workload is based on Maxon's Cinema 4D, a program utilized by movie production studios worldwide for special effects so it is a semi-synthetic test closer to real-world 3D graphics benchmarking.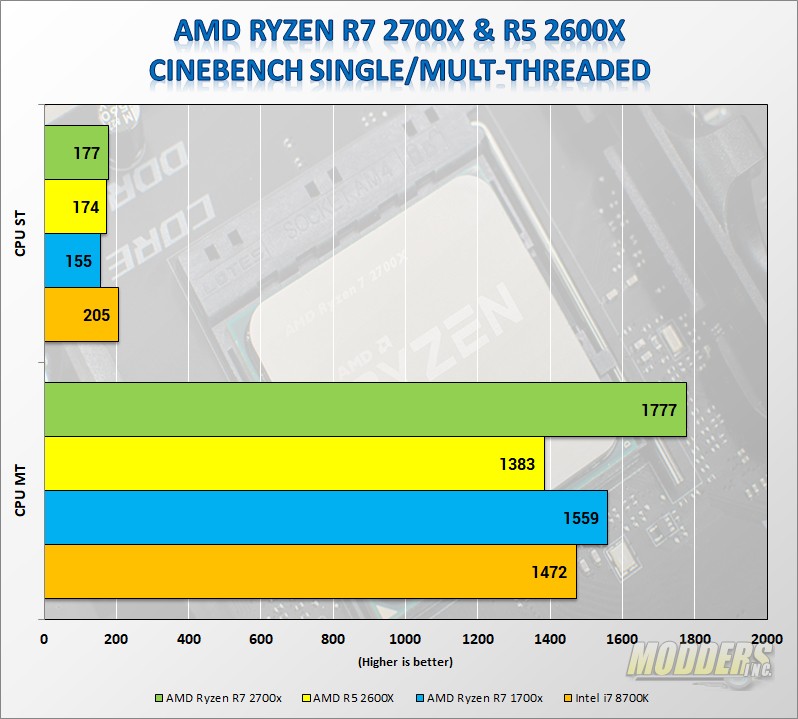 Realbench is a benchmark that uses open source applications and simple scripting to simulate real-world performance of a PC system. It's designed to show the difference before and after upgrading or tuning your PC.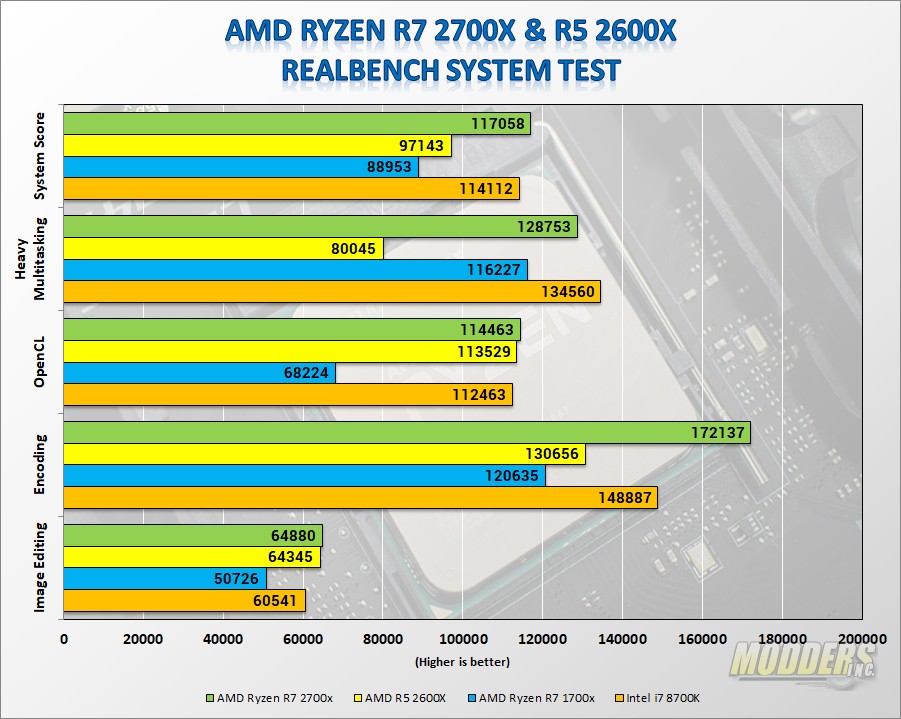 Compression Benchmarks
The compression benchmarks show that AMD is quickly closing the gap in WinRAR but the Intel i7-8700k takes the lead by a fair margin. In 7 Zip, however, results are much closer and AMD's 2700x is able to surpass the i7-8700K
Multimedia Benchmarks
x264 is a popular free software library for encoding video streams into the H.264/MPEG-4 AVC format. x264 FHD measures how efficient a system is in encoding H.264 video and produces results in frames-per-second. H.265/HEVC video encoding is the future of video able to compress significantly larger resolution videos including 4K and make streaming feasible. The downside is that hardware support is still few and far between so processing requirement is steeper than current H.264/AVC standards. x.265 is an open-source implementation of the H.265 standard and x.265 HD benchmark tests the CPU's ability to process an HEVC video.
Handbrake is free open-source video transcoder that can convert various video file formats to compatible video files for other typical media viewing applications such as in an iPhone or Android tablet. A 52:55 1.1GB H.264 MKV file was used converted to the built-in iPod Preset (5G Support), then manually timed. The results are in seconds and the lower number is the better result.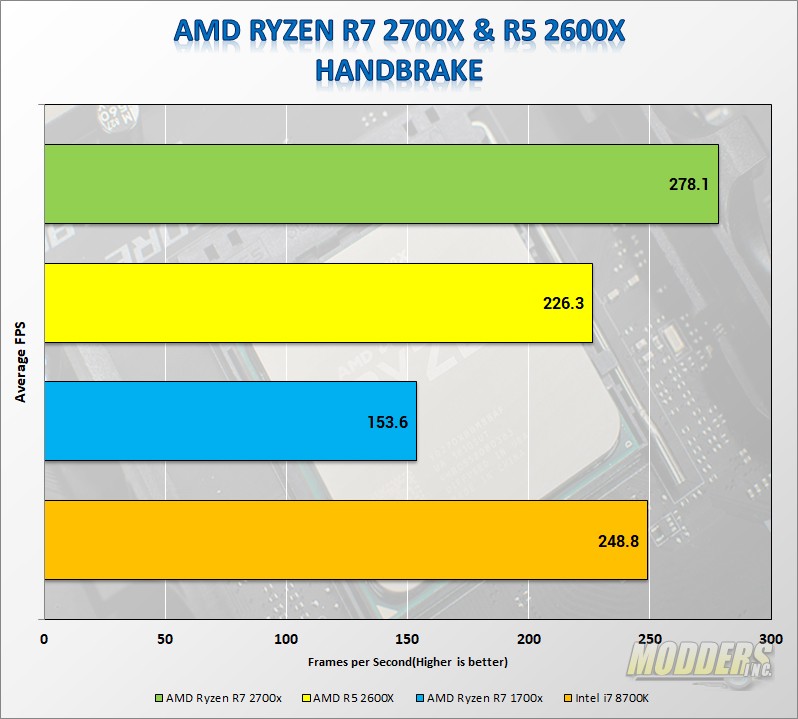 PCMark 10 mimics real-world workloads such as web browsing, image editing, and video conferencing. The benchmark breaks the tests into three categories and gives a final score as well.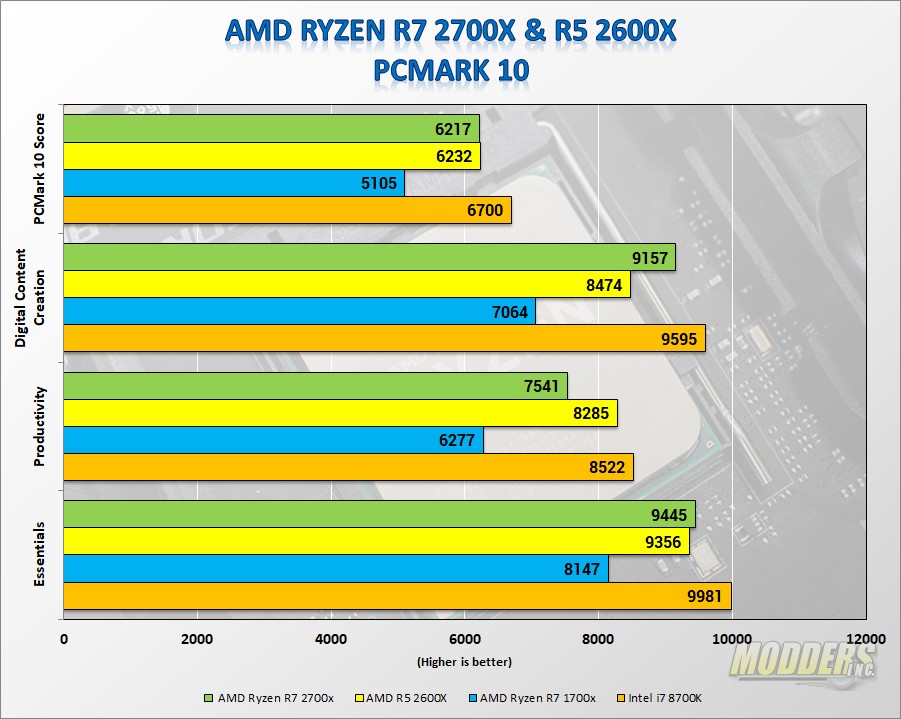 Gaming Benchmarks
Futuremark's 3DMark is a semi-synthetic gaming benchmark that calculates both graphics and CPU-bound physics in a controlled series of tests and provides scores that can be compared with other gaming platforms. Unigine Heaven is a synthetic benchmark that is completely GPU bound for testing possible PCI-E graphics performance inconsistencies.
For real-world gaming, I chose four of the latest games in my library and ran with them. I tested at both 1080p and 4K. AMD claims that you can get a similar gaming experience from their new CPUs as compared to Intel.
FarCry 5
Civilization 6
Ashes of the Singularity
Middle Earth: Shadow of War