« Page 2
|
Page 4 »
With the side panels removed, we can see that there are some features that are typically in a budget case; such as the one piece side panel for the drive bay/hard drive rack. This does give you a great amount of strength in the case but it does limit some the extra things you can do in this area. We can see that a great feature is the over-sized cut-out in the motherboard tray for access to the CPU support bracket. For the price range it is right on track.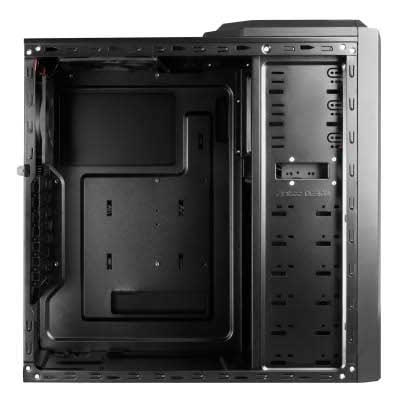 Jumping to the rear of the case; it looks pretty normal and has everything you need. It even has two punch out holes just to the right of the I/O port section. This could be used for many options including running some tubing for water cooling. If you do that please make sure there are no sharp edges around the holes to damage your hoses.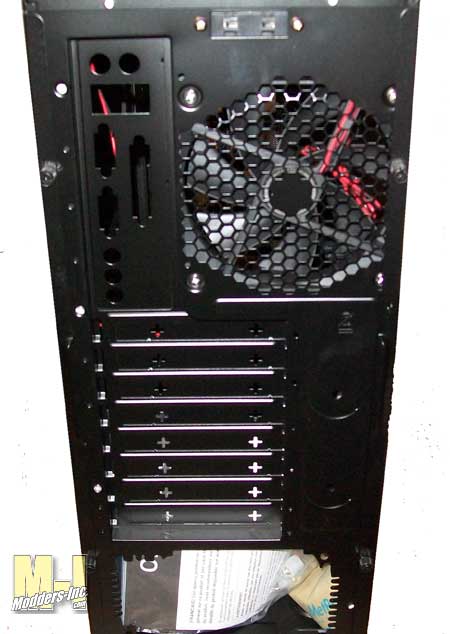 Antec installed 3 – 5.25 Drive Bays and a massive 6 hard drive slots. This case also comes SSD (Solid State Drive) ready. You will have to use screws to hold the devices in place. They also allows you to have a staggering 8 expansion slots for dual or 3-way graphics cards. So there is plenty of room to put all your current hardware and even space for future upgrades.  The wires in the image are from the front panel and can be easily be re-routed out of the way.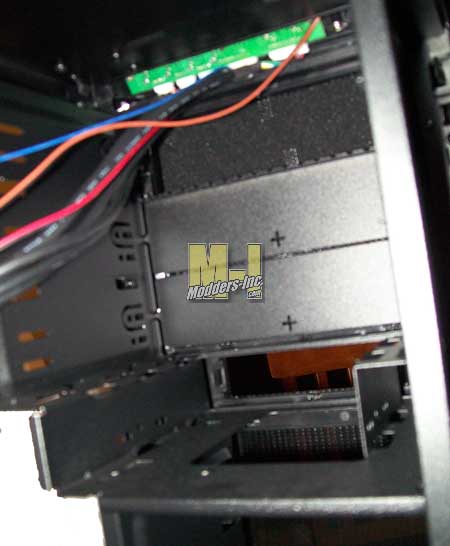 The Antec 100 comes with two of their fans pre-installed. The top 140mm OEM fan is very quiet and does provide impressive airflow, but we were a little disappointed that it cannot be changed out with any other size fan as there are only mounting holes for this particular size fan. This can also be said with the rest of the fan locations which also cannot be changed to different sizes.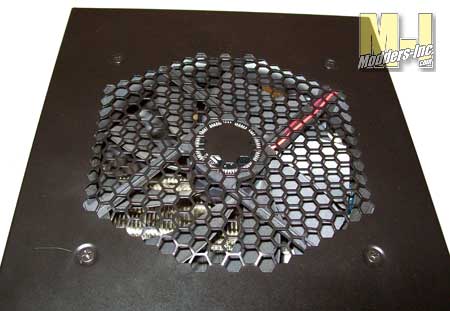 Top rear of the case and a 140mm fan
There are also another 2 optional 120mm fans that can be installed for cooling the hard drives with a pretty neat hardware less system, we were very impressed with how easy Antec made it to just snap in the fan and run the wires through. The fans are very secure and it was well designed but there is no filters for the front fans so after time you may need to dust.
One other thing we wanted to note about the front fans is that after we installed them we noticed they didn't quite line up properly to the case. AS you can see you can see the fan and if you use a fan that has LED's it might look a bit out of alignment. Although, there is a pretty catchy Antec badge that catches your eye.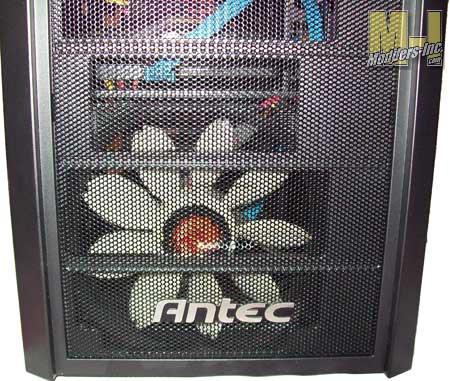 Another thing we did notice about this Antec 100 case is that they installed switches onto the back of the case for the two rear fans. There is only a high and low setting and you will have to reach around to the back of the case if you want to change it for gaming or browsing. Placing these switches towards to top front of the would have been another nice touch. We assume most users will just put them on high and leave them.