Motherboard Reviews
The AORUS Z370 Gaming 7 Motherboard Review
Redefining the Mid-Range Motherboard
« Overclocking and Temperatures
Final Thoughts and Conclusion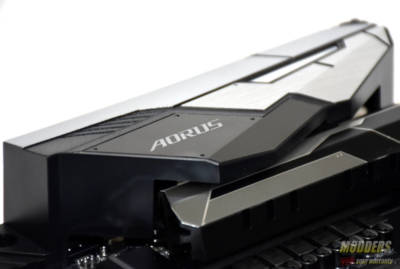 The AORUS Z370 Gaming 7 exceeded my expectations. Although I really like the design of the Z270 series boards, I feel the redesign for the 8th generation and the Z370 chipset was very well done. The move to a more neutral color scheme is a big selling point for me. Too often have I been swayed away from purchasing a board strictly because it had too much red, or white. With a black and gray color scheme, the Z370 Gaming 7 should have no problem fitting into any build.
Even the RGB lighting is done well on this board. Lighting on the board itself isn't overwhelming. The lighting accents the right spots on the board to highlight some of its best features. The RGB Fusion software allows you to control each of the boards six lighting zone individually, or sync them together. The software is easy to use and its compatible with much more than just GIGABYTE products.
The board performed very well overall. The retail 8700k used in testing ran stable at 4.8 GHz at only 1.3 volts. For an Intel Hex-Core processor, I'm very happy with that. The Thermal Guard was a welcomed addition to the AORUS line-up this generation. It not only added to the overall aesthetic of the board, but knocked about 5°c off the temperature of my boot drive.
There is more than enough USB connectivity with USB 2.0, 3.0 and 3.1 headers on the board, as well as the USB DAC-UP and USB 3.1 Type-C on the I/O. There is even a PS/2 port. For the record, I love that GIGABYTE still includes a PS/2 port on there motherboards. With dual Gigabit LAN port, network connectivity isn't an issue. I was pleased with the quality of the on-board audio as well.
All in all, I'm very happy with the AORUS Z370 Gaming 7. I also love that they bundle this board with a one year Premium Xsplit subscription that can stack on a current subscription.  Paired with an 8700k, it can be the base for an amazing gaming machine, or even a good editing machine, or workstation. You wouldn't even break the bank to do so. I've tested boards in the past with fewer features, that cost much more. With an MSRP of $249.99 USD, I feel the AORUS Z370 Gaming 7 is a great board, at a good price. However, at the time of this review, you can get the Z370 Gaming 7 on retail site under that price, but even at MSRP, the AORUS Z370 Gaming 7 is a great board packed with features. I couldn't recommend this board more.