« Introduction and Packaging
|
Bundled Software »
A Closer Look at the Asrock 990FX Fatal1ty Killer Motherboard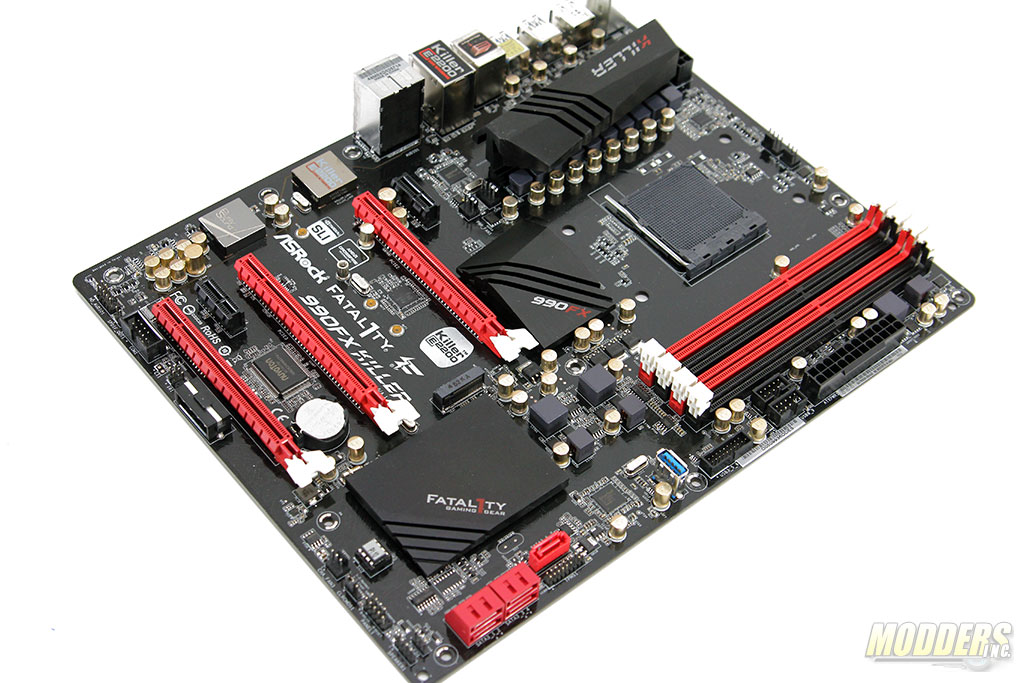 Asrock Fatal1ty 990FX Killer motherboard uses a standard ATX form factor on a matte black 4-layer PCB. As with Asrock's other Fatal1ty motherboards, the design follows a red and black theme with white accents.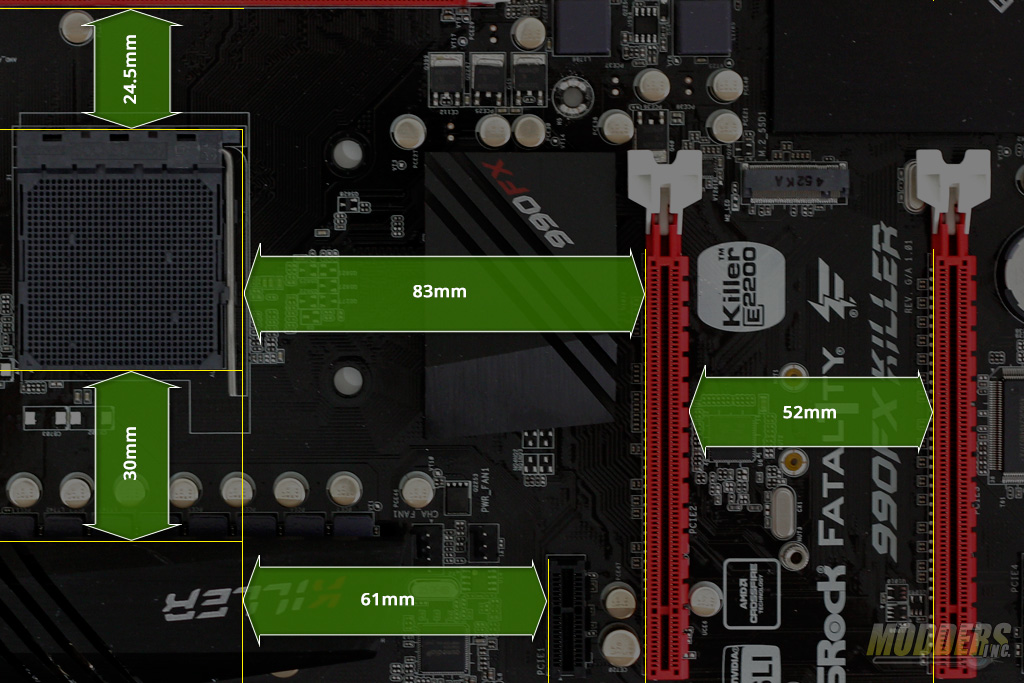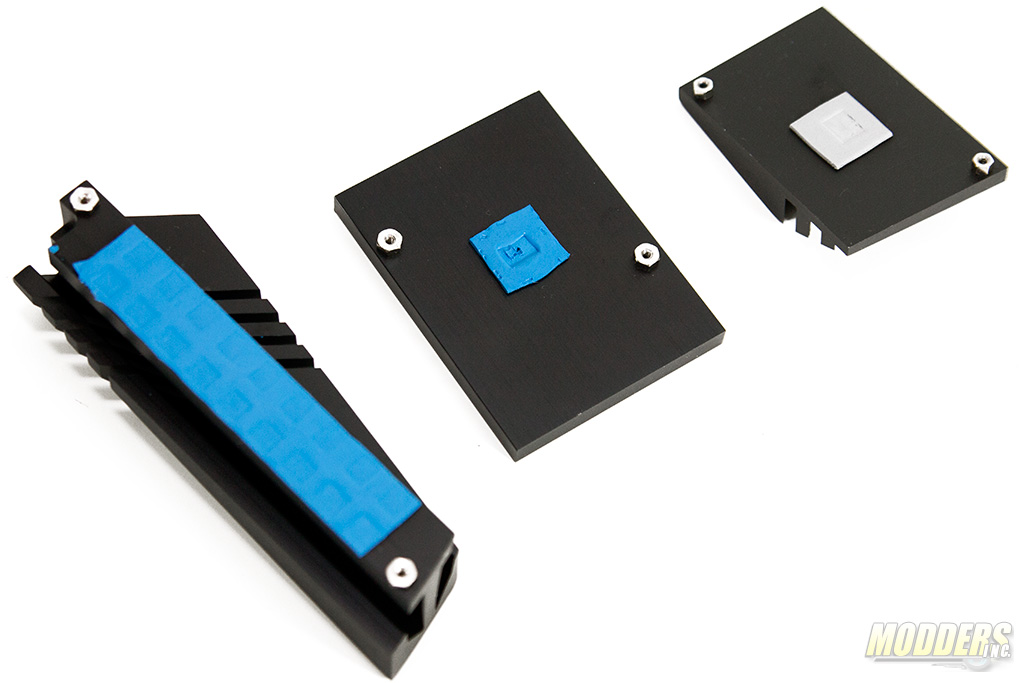 Notably absent on the heatsink is a heatpipe similar to the one found on Asrock's higher-end 990FX motherboards. The aluminum heatsinks are held in place with spring loaded screws at the back and use thick thermal padding for the MOSFETs, 990FX north bridge and SB950 south bridge. While cooling for the chipsets is not a major concern, excellent MOSFET cooling is essential to optimal power delivery for FX processor overclocking.
Underneath the hood, the power delivery system for the CPU is far from the best on a 990FX system with a Richtek RT8871A PWM controller and what looks like 8+2 phases (VDD and VDDNB). I say "looks like" because just counting chokes is not enough to determining how capable the VRM really is. The RT8871A is not a native 8+2 phase PWM controller but a 4+1 phase controller with two built in drivers that can handle a pair of MOSFETs. This is a common PWM controller on AMD FM1 and FM2+ systems but certainly not my first choice for a 990FX AM3+ motherboard especially when overclocking will be on the menu.
The MOSFETs used are a pair of SinoPower SM4336NSKP and SM4337NSKP per phase. This can do 60A but at 25C which is not going to happen on this heatsink. It is not even an 8-phase for the CPU either because there are only four drivers for the setup, two of which are built-in to the RT8871A and two Richtek RT924B are found in the back (can drive two N-channel MOSFETs at a time, no doubling). I cannot verify entirely that the RT8871A only has two built-in drivers as the datasheet is not available online and RichTek is not answering their e-mails but judging by other boards I have seen this controller used in, it only has two built-in drivers.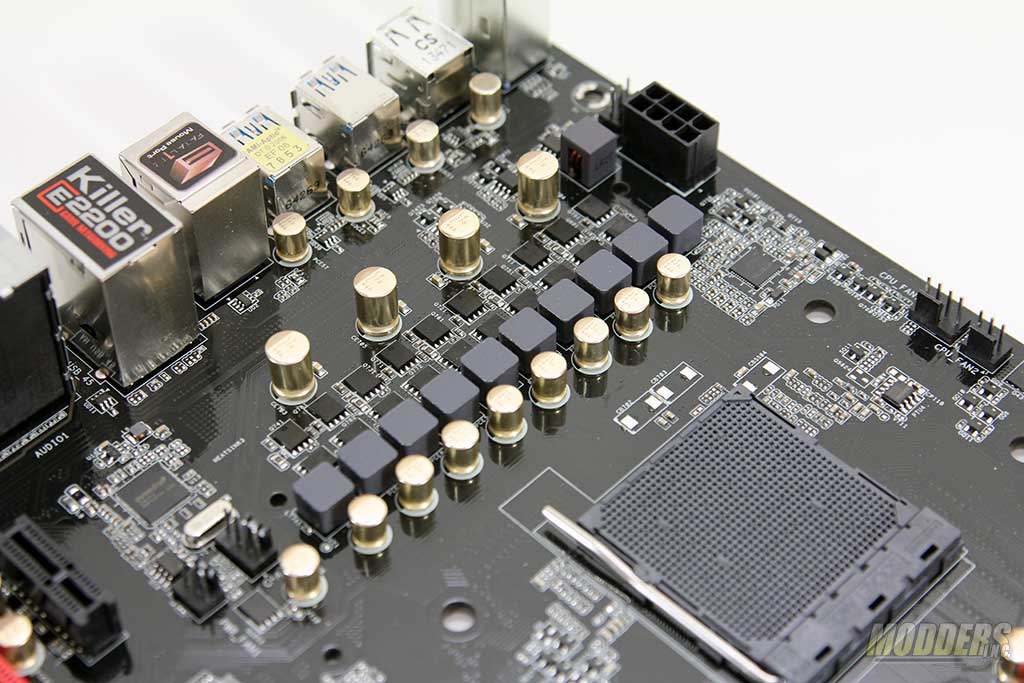 All the capacitors are lovely gold solid LFPAKs. 8-pin power is fed at the top, with the 8-pin plug positioned horizontally. Input filtering has 4x 270uF 44A LFPAK capacitors with ST Micro L393 voltage comparators. Output filtering has 8x 820uF 44A LFPAK capacitors with ten 1.0uH chokes.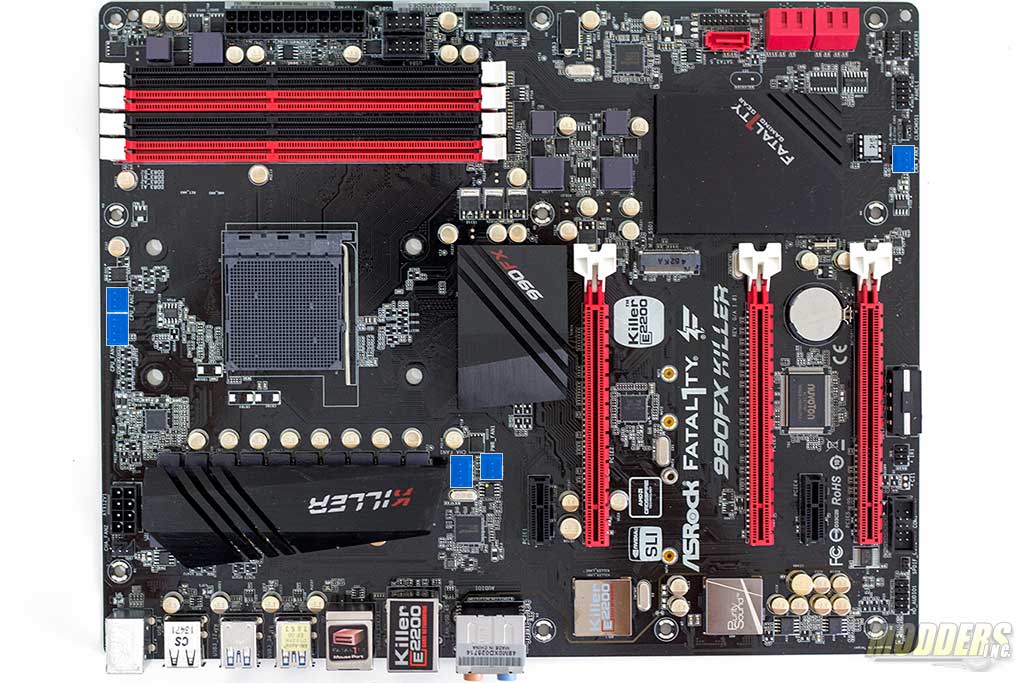 There are five fan headers in total. A 4-pin PWM and 4-pin is provided for the CPU.  A 3-pin is located at the bottom and a 4-pin with a 3-pin is located directly below the MOSFET heatsink.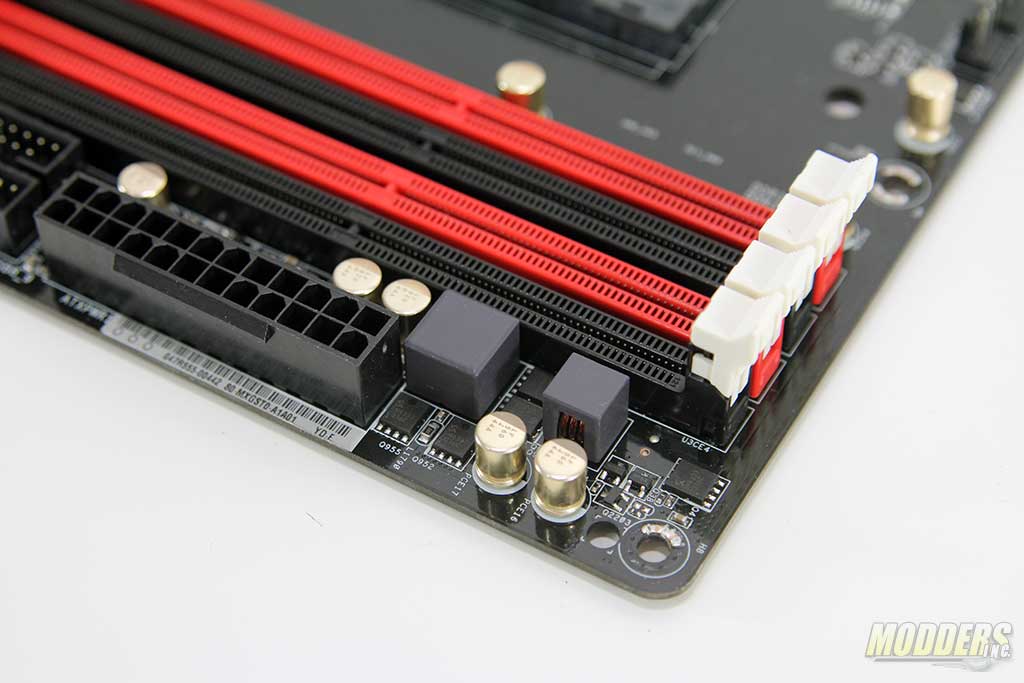 Four DIMM slots in alternating black and red colors are available, supporting up to 64GB and 2400MHz (via multiplier in UEFI). Memory power delivery consists of a Richtek RT8120B single-phase PWM with four SinoPower SM4337NSKP MOSFETs, a 1.1uH choke and a pair of 820uF solid capacitors.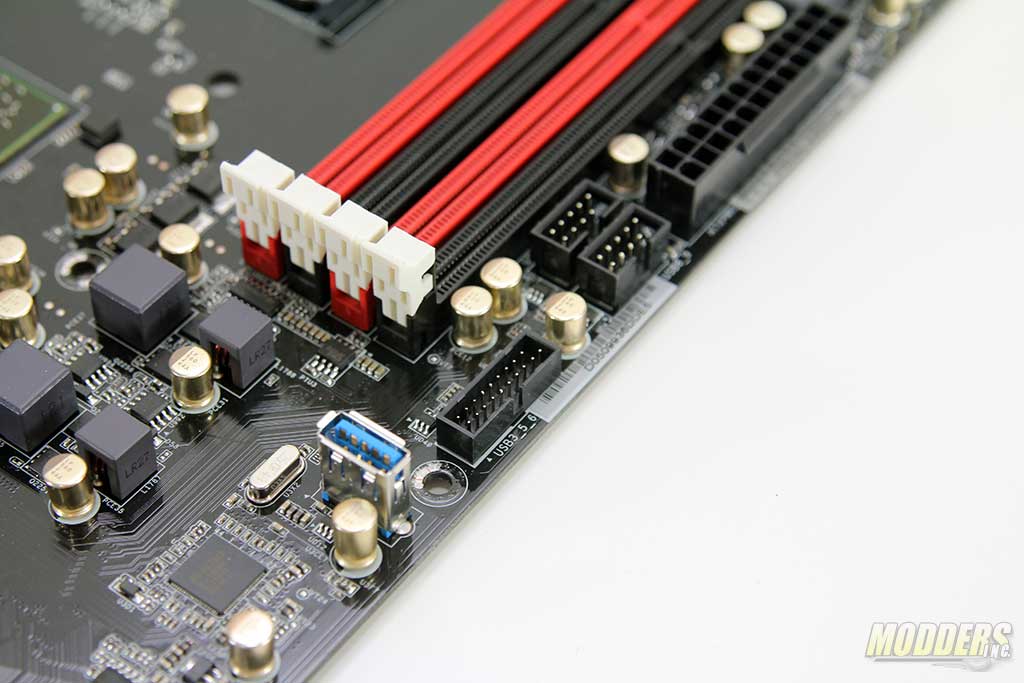 Directly below the 24-pin CPU power are the front panel storage connetors. A pair of USB 2.0 ports side by side and a 19-pin USB 3.0 header with a single USB 3.0 port below it. An EtronTech EJ188H provides these connectors, taking one PCI-E 2.0 and can provide up to four downstream per, although in this case, Asrock only used three USB 3.0 ports for the on-board connector.
Further down below, there are five SATA3 6G ports provided by the AMD SB950 south bridge. Most 990FX motherboards typically provide six but ASRock opted to use the sixth SATA3 6G port as an E-SATA port in the rear IO. The E-SATA port shares bandwidth with the M.2 port utilizing an ASMedia ASM1452 switcher and one cannot be used when the other is populated. This is a very forward thinking move by ASRock incorporating M.2 for storage on the 990FX Killer as it is not done by its competitors. The rest of the connectors in the lower right hand corner are for the front panel connectors and trusted platform module header. A clear CMOS jumper can also be found here as well.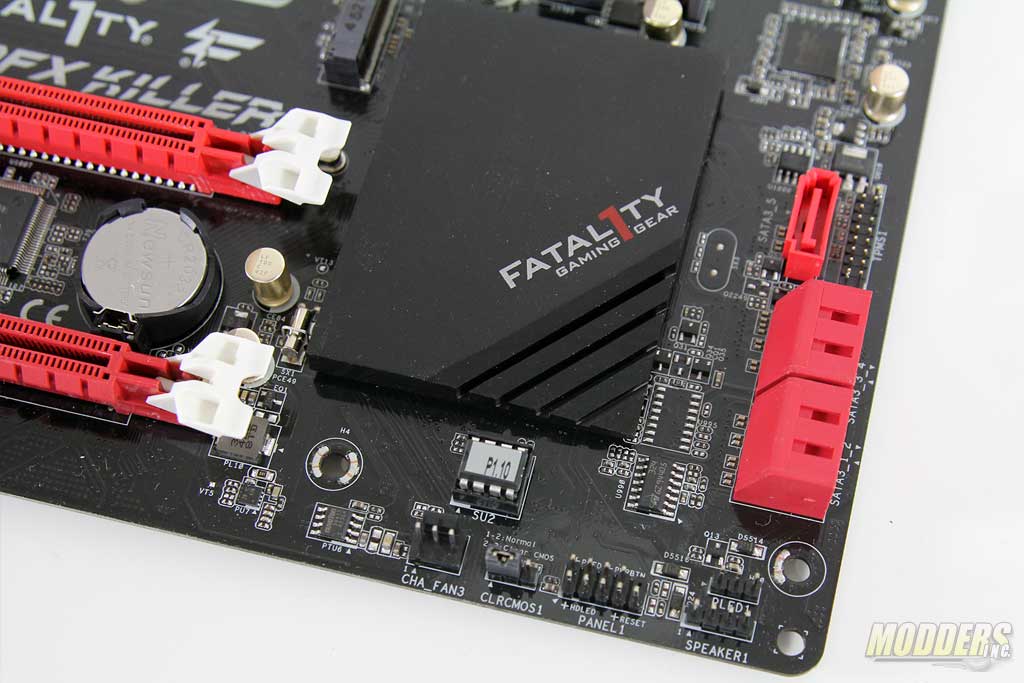 The ASRock Fatal1ty series mainboards are designed for gaming so they have spaced out the PCI-E x16 slots generously with the M.2 slot in between for optimal airflow in dual-video card setups. A 4-pin MOLEX plug is available at the bottom for additional PCI-E power right beside the COM port header.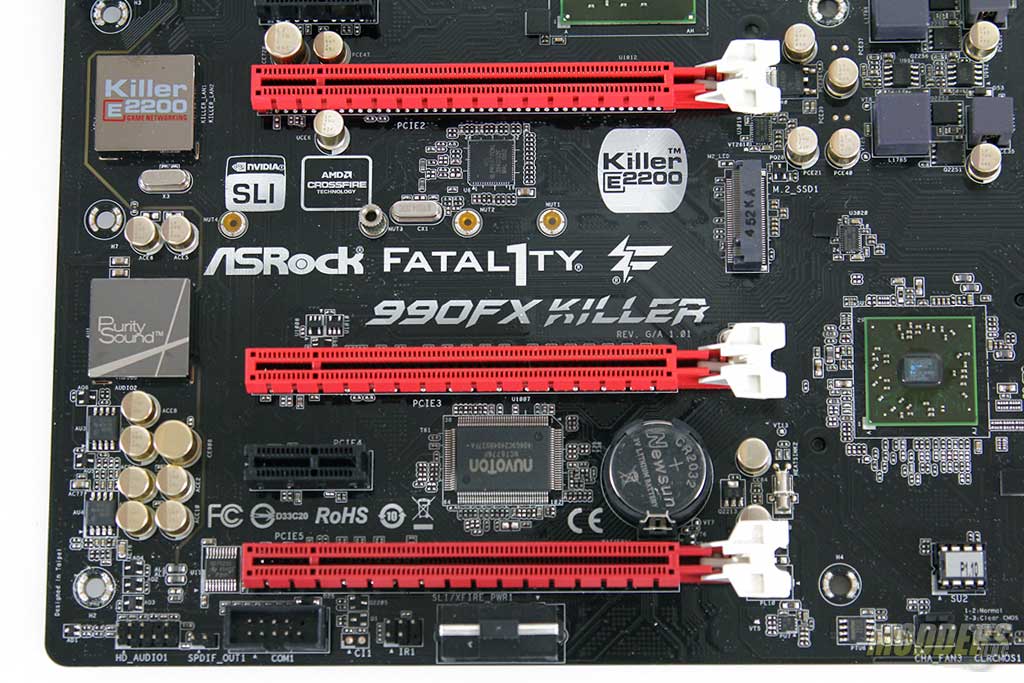 Expansion slot distribution is as follows (in order left to right):
PCI-E 2.0 x1 (via SB950)
PCI-E 2.0 x16 (via 990FX)
PCI-E 2.0 x16 (via 990FX, x8 mode)
PCI E 2.0 x1 (via SB950)
PCI-E 2.0 x16 (via 990FX, x4 mode)
As is common nowadays with motherboard audio, the audio subsystem's grounding is physically isolated although the 990FX Fatal1ty Killer's audio area does not have any fancy LED lighting in the back. Underneath the "Purity Sound" EMI shielding is a Realtek ALC1150 HD audio codec. There are also a pair of Texas Instrument N5332 OpAmps for the front and rear audio outputs. The Killer E2205 Gigabit NIC has been also housed in a fancy metal shielding.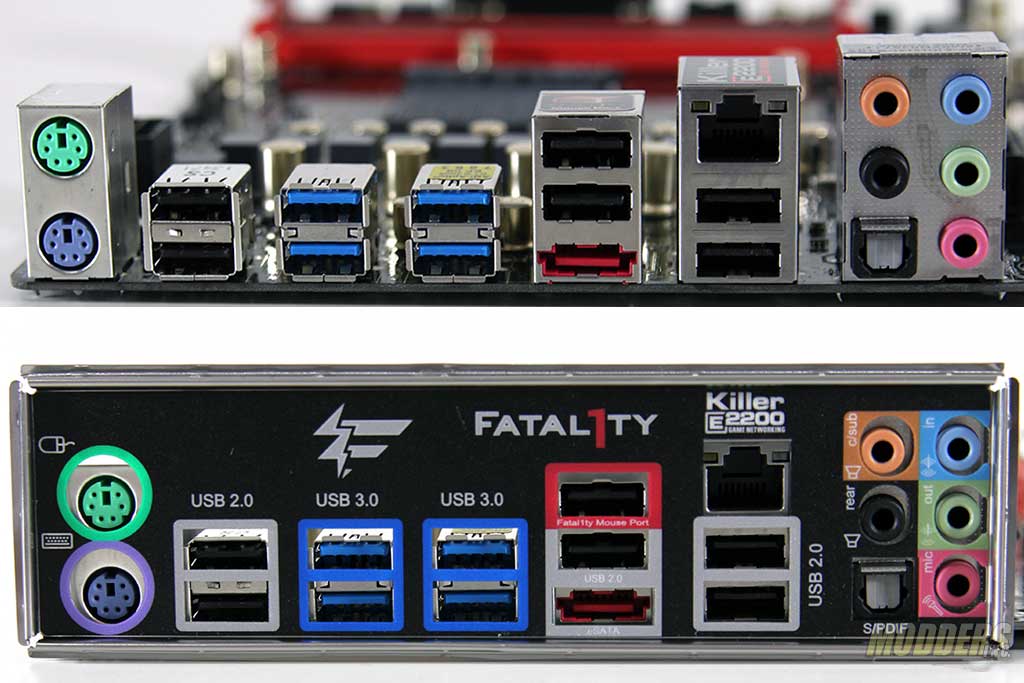 A Nuvoton NCT677F handles the super IO functions including hardware monitoring and providing PS/2 mouse and keyboard connections in the rear.  Six USB 2.0 ports are provided natively by the AMD chipset, one of which is the Fatal1ty mouse port with variable polling rate control via ASRock F-stream utility. The four USB3.0 ports are from an ASMedia 1074 which takes the remaining USB 3.0 port from the EtronTech EJ188H controller (which can provide a total of four but provided three on-board) and outputs up four downstream ports. The IO shielding is clearly labeled and color coded.