Motherboard Overview »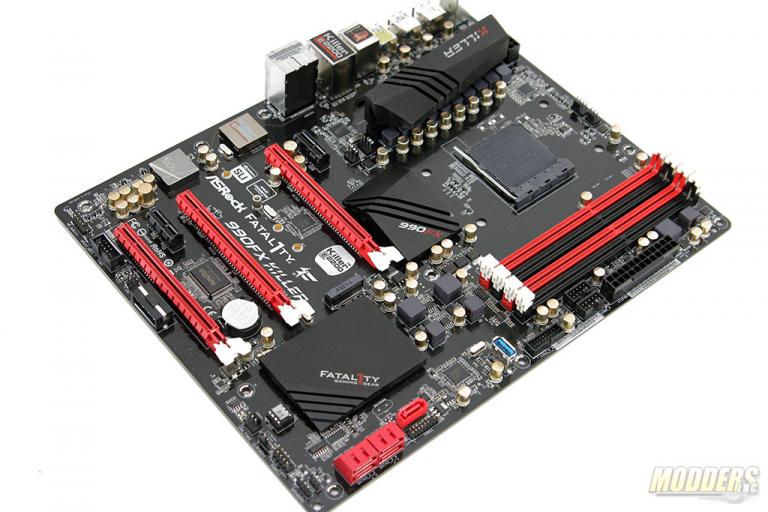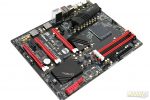 It is an odd way to start the new year with a review of what many enthusiasts consider old technology (990FX mainboard) but the ASRock Fatal1ty 990FX Killer is an interesting and unique in that it incorporates many modern comforts not found on other 990FX mainboards. Plus, with the release of lower power 95W FX processors a few months ago, AMD's FX line remains alive on many markets, especially those outside of the United States and Europe as a lower cost system build alternative when it comes to 8-core CPUs compared to Intel's.
Unlike other 990FX mainboards, the ASRock Fatal1ty 990FX Killer has M.2 support and Realtek ALC1150 audio. It also boasts other gaming-specific features such as Killer E2205 Gigabit LAN and double spaced PCI-E x16 slots for dual-video card setups. It is not a high-end mainboard and its VRM does not officially support FX processor monsters such as the FX-9590 CPU but the trade off in luxury gaming features seems like a sensible move in light of an ever increasing GPU-bound and less CPU-bound PC gaming world.
[sc:sponsor sponsor="Asrock" product_name="990FX Fatal1ty Killer Motherboard" product_price="$120.99″ ]
Being a gaming motherboard, the 990FX Fatal1ty Killer box is busy with graphics and the back is full of promotional information about the Fatal1ty line specific-features.
The accessories include a quick installation guide, a software setup guide, a driver disc, a small screw for the M.2 slot, two pairs of latching SATA cables (two of which are angled), 3-month X-split license gift certificate and an SLI cable inside an anti-static bag.
The full official specifications table can be seen below.

CPU

– Supports Socket AM3+ processors
– Supports Socket AM3 processors: AMD Phenom™ II X6 / X4 / X3 / X2 (except 920 / 940) / Athlon II X4 / X3 / X2 / Sempron processors
– Supports 8-Core CPU
– Supports UCC feature (Unlock CPU Core)
– Digi Power design
– 8 + 2 Power Phase design
– Supports CPU up to 140W
– Supports AMD's Cool 'n' Quiet Technology
– FSB 2600 MHz (5.2 GT/s)
– Supports Untied Overclocking Technology
– Supports Hyper-Transport 3.0 (HT 3.0) Technology
Chipset

– Northbridge: AMD 990FX
– Southbridge: AMD SB950
Memory

– Dual Channel DDR3 Memory Technology
– 4 x DDR3 DIMM Slots
– Supports DDR3 2450(OC)/2100(OC)/1600/1333/1066 non-ECC, un-buffered memory
– Max. capacity of system memory: 64GB*
– Supports Intel® Extreme Memory Profile (XMP) 1.3 / 1.2
– Supports AMD Memory Profile (AMP)*Due to the operating system limitation, the actual memory size may be less than 4GB for the reservation for system usage under Windows® 32-bit OS. For Windows® 64-bit OS with 64-bit CPU, there is no such limitation.
BIOS:

– 32Mb AMI UEFI Legal BIOS with GUI support
– Supports "Plug and Play"
– ACPI 1.1 Compliant wake up events
– Supports jumperfree
– SMBIOS 2.3.1 support
– CPU, DRAM, NB, HT, CPU VDDA, PCIE VDDA, CPU NB Voltage multi-adjustment
Audio
– 7.1 CH HD Audio with Content Protection (Realtek ALC1150 Audio Codec)
– Premium Blu-ray Audio support
– Supports Purity Sound™
– 115dB SNR DAC with differential amplifier
– TI® NE5532 Premium Headset Amplifier (Supports up to 600 ohm headsets)
– Direct Drive Technology
– EMI shielding cover
– PCB isolate shielding
– Supports DTS Connect
LAN
– PCIE x1 Gigabit LAN 10/100/1000 Mb/s
– Qualcomm® Atheros® Killer™ E2200 Series
– Supports Wake-On-LAN
– Supports Energy Efficient Ethernet 802.3az
– Supports PXE
Expansion Slots
– 3 x PCI Express 2.0 x16 Slots (PCIE2/PCIE3 @ x16 mode; PCIE5 @ x4 mode)
– 2 x PCI Express 2.0 x1 Slots
– Supports AMD Quad CrossFireX™, 3-Way CrossFireX™ and CrossFireX™
– Supports NVIDIA® Quad SLI™ and SLI™
Storage
– 5 x SATA3 6.0 Gb/s Connectors, support RAID (RAID 0, RAID 1, RAID 0+1, JBOD and RAID 5), NCQ, AHCI and Hot Plug
– 1 x M.2_SSD (NGFF) Socket 3, supports M.2 SATA3 6.0 Gb/s module and M.2 PCI Express module up to Gen2 x2 (10 Gb/s)*M.2_SSD (NGFF) Socket 3 is shared with the eSATA3 connector.
Connector
– 1 x IR Header
– 1 x COM Port Header
– 1 x TPM Header
– 1 x Power LED Header
– 2 x CPU Fan Connectors (1 x 4-pin, 1 x 3-pin)
– 3 x Chassis Fan Connectors (1 x 4-pin, 2 x 3-pin)
– 1 x Power Fan Connector (3-pin)
– 1 x 24 pin ATX Power Connector
– 1 x 8 pin 12V Power Connector (Hi-Density Power Connector)
– 1 x SLI/XFire Power Connector
– 1 x Front Panel Audio Connector
– 1 x SPDIF Out Connector
– 2 x USB 2.0 Headers (Support 4 USB 2.0 ports)
– 1 x Vertical Type A USB 3.0
– 1 x USB 3.0 Header by Etron EJ188 (Supports 2 USB 3.0 ports)
Rear Panel I/O
– 1 x PS/2 Mouse Port
– 1 x PS/2 Keyboard Port
– 1 x Optical SPDIF Out Port
– 5 x USB 2.0 Ports
– 1 x Fatal1ty Mouse Port (USB 2.0)
– 4 x USB 3.0 Ports (ASMedia Hub)
– 1 x eSATA3 Connector
– 1 x RJ-45 LAN Port with LED (ACT/LINK LED and SPEED LED)
– HD Audio Jacks: Rear Speaker / Central / Bass / Line in / Front Speaker / Microphone
Unique Feature
– F-Stream
– ASRock Instant Boot
– ASRock Instant Flash
– ASRock APP Charger
– ASRock XFast RAM
– ASRock Crashless BIOS
– ASRock OMG (Online Management Guard)
– ASRock Internet Flash
– ASRock UEFI System Browser
– ASRock UEFI Tech Service
– ASRock Dehumidifier Function
– ASRock Easy RAID Installer
– ASRock Easy Driver Installer
– ASRock Fast Boot
– ASRock X-Boost
– ASRock Restart to UEFI
– Hybrid Booster:
– CPU Frequency Stepless Control
– ASRock U-COP
– Boot Failure Guard (B.F.G.)
– Turbo 50 / Turbo 60 Overclocking
– Good Night LED
Support CD
– Drivers, Utilities, AntiVirus Software (Trial Version), Google Chrome Browser and Toolbar, Start8 (30 days trial), XSplit, Killer Network Manager
Accessories
– 1 x ASRock SLI_Bridge_2S Card
– Quick Installation Guide, Support CD, I/O Shield
– 4 x SATA Data Cables
– 1 x M.2_SSD (NGFF) Socket 3 Screw
Hardware Monitor
– CPU/Chassis temperature sensing
– CPU/Chassis/Power Fan Tachometer
– CPU/Chassis Quiet Fan (Auto adjust fan speed by CPU temperature)
– CPU/Chassis Fan multi-speed control
– Voltage monitoring: +12V, +5V, +3.3V, CPU Vcore Voltage
Form Factor 
– ATX Form Factor
– Premium Gold Capacitor design (100% Japan made high quality conductive polymer capacitors)
OS
– Microsoft® Windows® 8.1 32-bit / 8.1 64-bit / 8 32-bit / 8 64-bit / 7 32-bit / 7 64-bit
Certifications
– FCC, CE, WHQL
– ErP/EuP ready (ErP/EuP ready power supply is required)
Caution:
Please realize that there is a certain risk involved with overclocking, including adjusting the setting in the BIOS or using the third-party overclocking tools. Overclocking may affect your system stability, or even cause damage to the components and devices of your system. It should be done at your own risk and expense. We are not responsible for possible damage caused by overclocking.