« Motherboard Overview | UEFI Overview and Overclocking »
Extra features and Bundled Software

With all the big features out of the way, we can take a closer look at the other features which are not so apparent starting with the small safeguards all over the board. Highlighted in red are fuses preventing short-circuit and overcurrent damage to the devices plugged in those ports. Highlighted in green are the ESD guards which provide anti-surge protection. Together with the DIGI+ VRM and the 5,000 hr @ 105C solid capacitors, these features comprise of what the ASUS A88X-Pro's marketing literature refer to as "5X protection".  The 5th protective feature is even less apparent to the naked eye than the tiny fuses and ESD guards since it refers to the stainless-steel back IO panels, bonded with a layer of chromium oxide. ASUS claims that this minimizes corrosion up to three times compared to standard motherboards.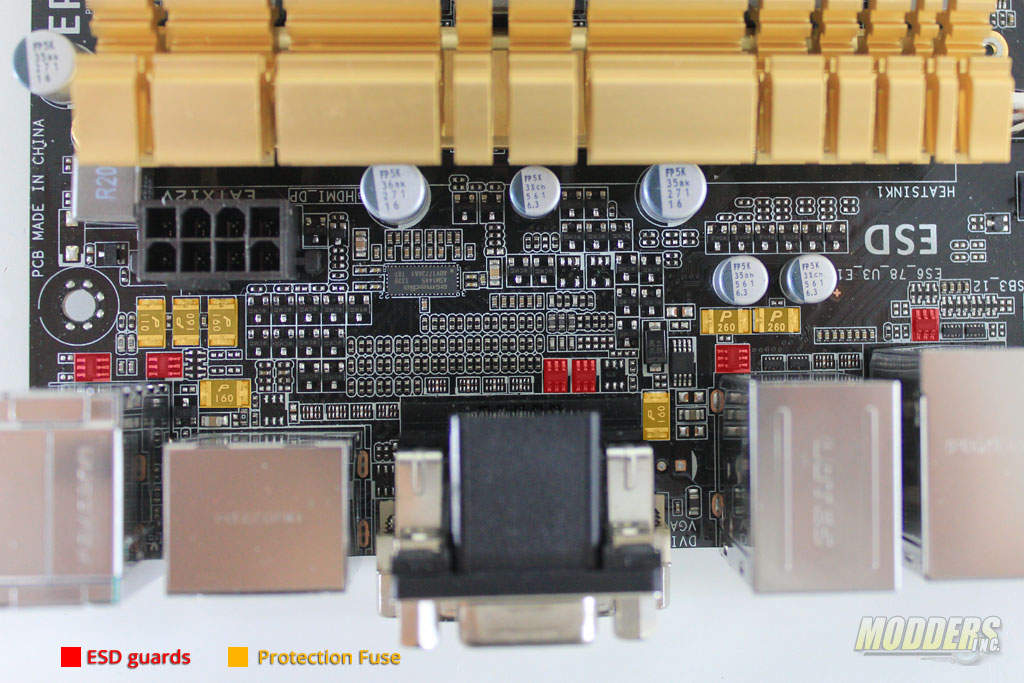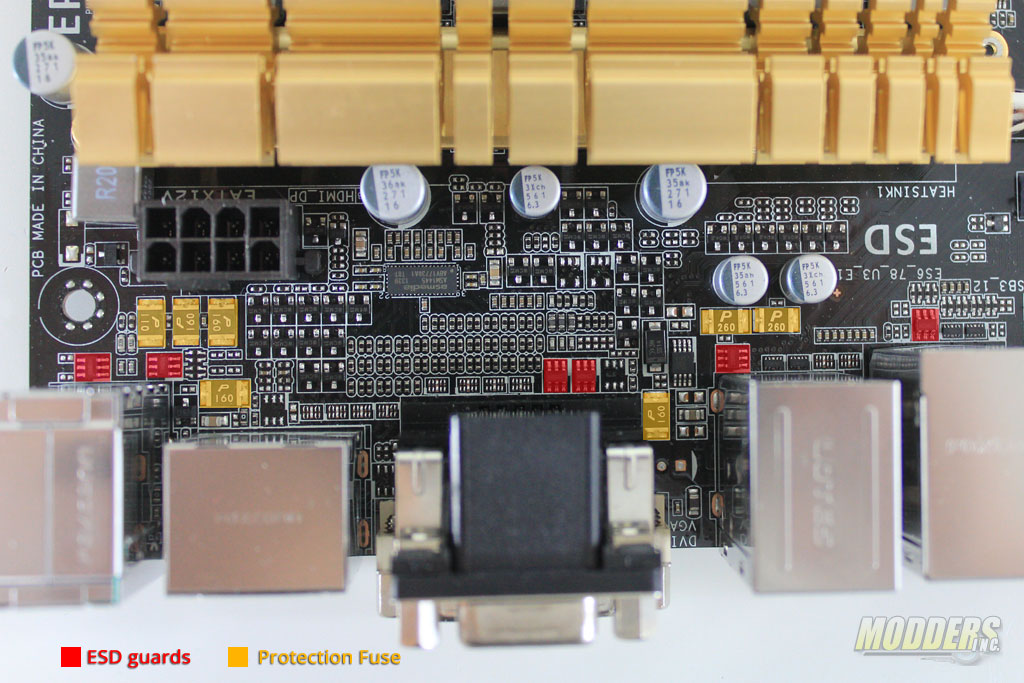 Bundled with the driver disc is AI Suite III, ASUS' one-stop all-in-one software that provides extensive control and tweaking to the A88X-Pro directly from a Windows 7 or 8 desktop. It is called a suite because it is essentially a collection of software that can be installed individually (most of them) but when installed together can be easily accessed via a single program interface.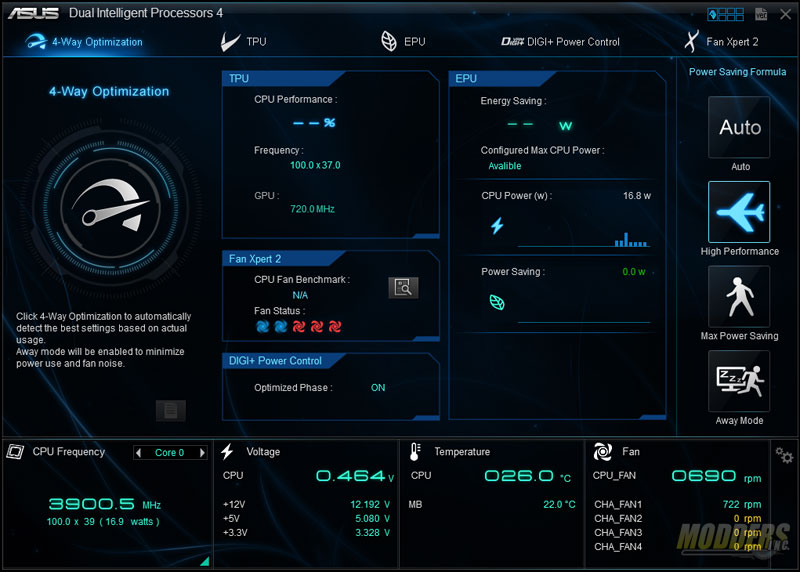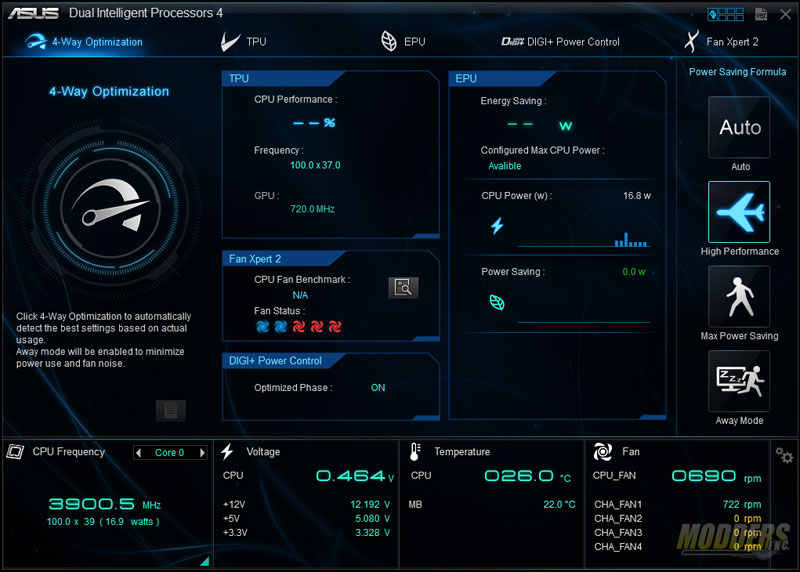 It is comprised mainly of four core programs which is constant on all ASUS motherboards that can run AI Suite III with some smaller satellite apps (up to 8 with the A88X-Pro) which provides enhanced or unique functionality.  Located at the bottom of the AI Suite III program are persistent monitoring values showing CPU-frequency, basic voltages, CPU and MB temperatures and fan speeds. These are segmented corresponding the four programs at the top tab which makes using the AI Suite III intuitive and really easy to understand for beginners.
The TPU program or TurboV as it used to be called, provides overclocking functionality, allowing users to adjust APU frequency, adjust core ratio, change some voltages and provide basic overclocking to the IGP via GPU Boost.  GPU Boost can only overclock the GPU frequency via two-presets, "Turbo" and "Extreme". The Extreme setting sets the GPU to 960MHz which is very good for an instant overclock but UEFI overclocking can provide more.
The EPU section handles the power management features, basically a beefed up, motherboard-specific version of what Windows provides under the screen saver power settings. Four presets can be tweaked: Auto, High Performance, Max Power Saving, and Away Mode.  Users can adjust Vcore downgrade (except in High Performance mode for obvious reasons), assign a fan profile, configure max CPU power (except in High Performance and Auto Mode), mute audio (Away mode only), and set timers for display shut-off and sleep.
DIGI+ Power control on the AI Suite is basically the same as the one on the UEFI with graphical versions of the load-line calibration controls, current capabilities, phase control, and thermal control.  CPU and DRAM controls are separated in two tabs.
The fourth program is the Fan Xpert II which benchmarks all attached fans and assigns adjustable presets classified as Silent, Standard, Turbo and Full Speed.  The benchmark works not just for 4-pin PWM fans but for 3-pin fans as well and can determine the optimal controllable range for the fan attached. Spin-up and Spin-down time is also provided so users can gauge how to adjust the fan graph in Smart Mode. RPM mode allows users to set a constant speed within the controllable fan range. Users can also customize the fan performance depending on the case and fan position in that case which shows the incredible flexibility of this program and the ASUS A88X-Pro fan control.
These four programs are the pillars of what ASUS calls the "4-way optimization" which can be triggered by pressing the giant button on the first main screen.  4-way optimization essentially automatically overclocks your A88X-Pro customized to your need, starting with CPU and GPU overclock, then LLC controls, finishing off with power and thermal controls.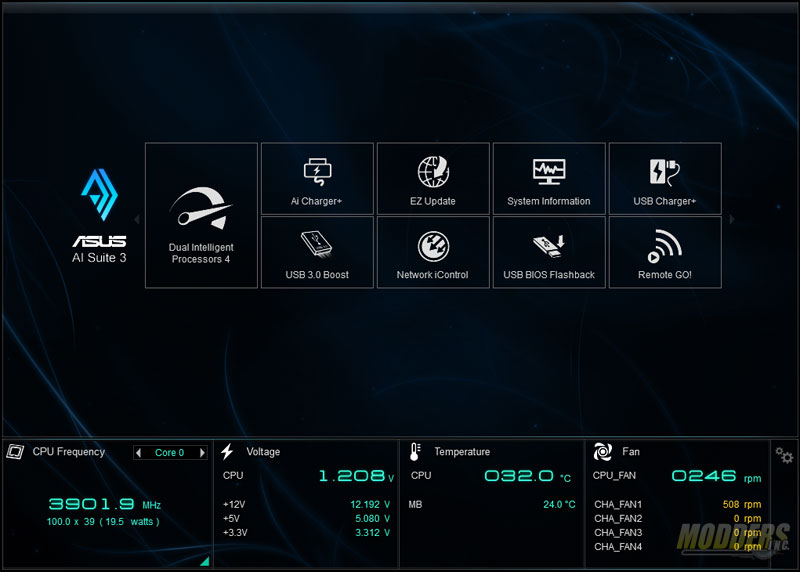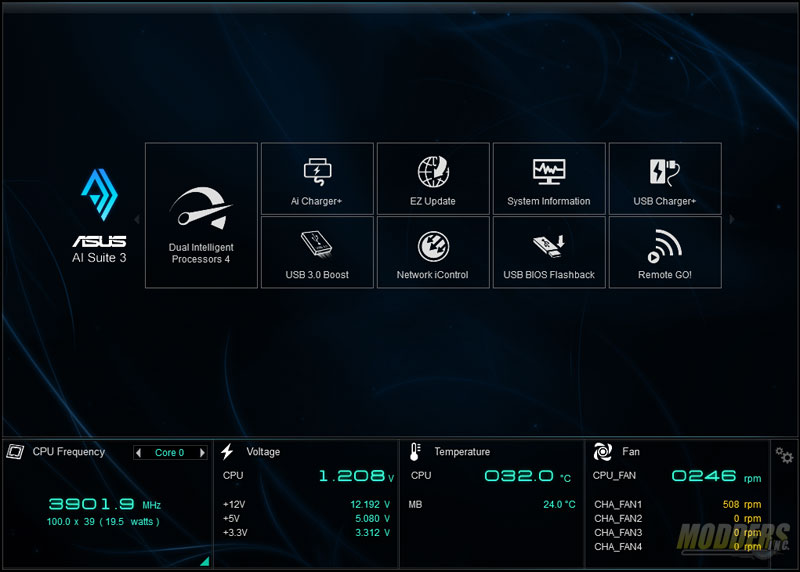 The satellite apps for the A88X-Pro consists of Ai Charger+, USB Charger+, EZ Update, USB 3.0 Boost, Network iControl, USB BIOS Flashback, Remote GO! and System information.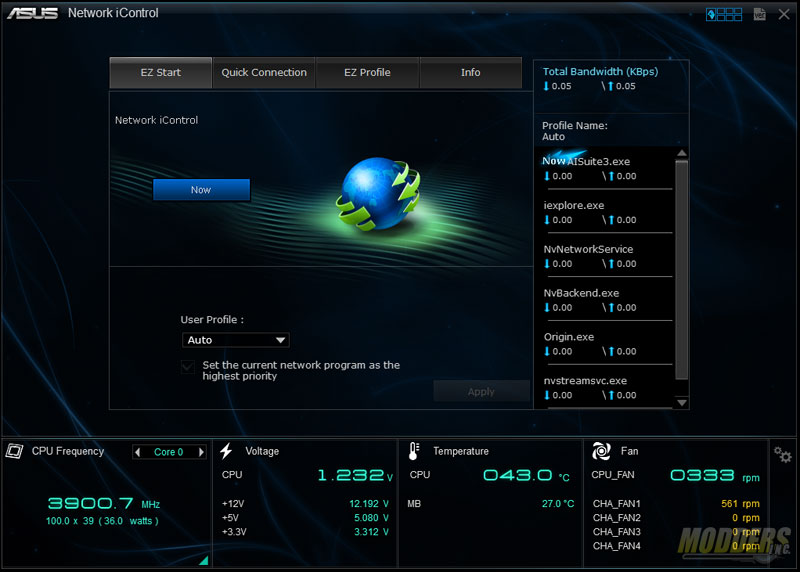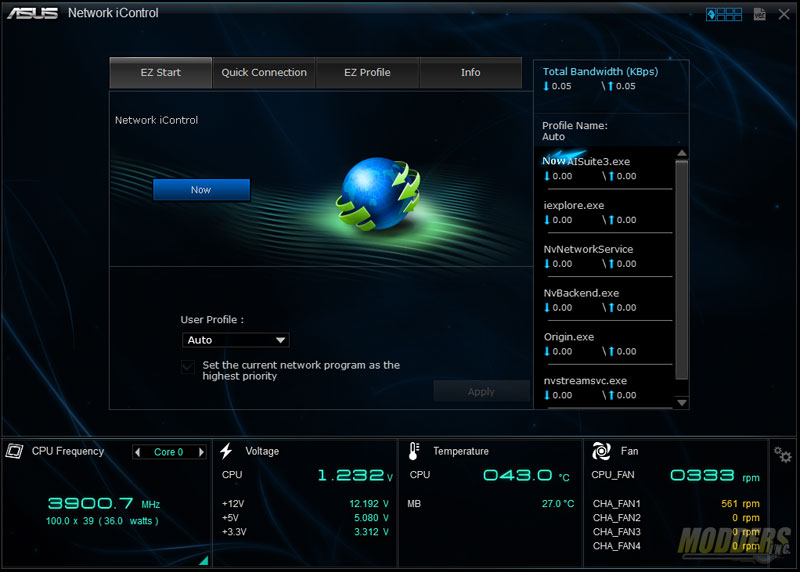 Network iControl is a bandwidth management program which can monitor and prioritize connections that are going through the on-board Realtek ethernet port.
The identical names might be confusing but there are slight differences between the two. USB Charger+ allows quick charging when the system is both running and while the system is sleeping, hibernating or shutdown (standby). USB Charger+ uses a specific USB 3.0 port in the rear IO (highlighted green in the IO shield) and is also device specific, with the device-type plugged-in able to be detected by the software. Ai Charger+ is however can charge up to 3x as fast when enabled, although can only be used on Apple devies and other BC 1.1 compliant devices and when the system is powered on.
EZ update and System Information functions are self-explanatory with the EZ update running an independent icon in the system tray and can check for updates for your A88X-Pro motherboard periodically.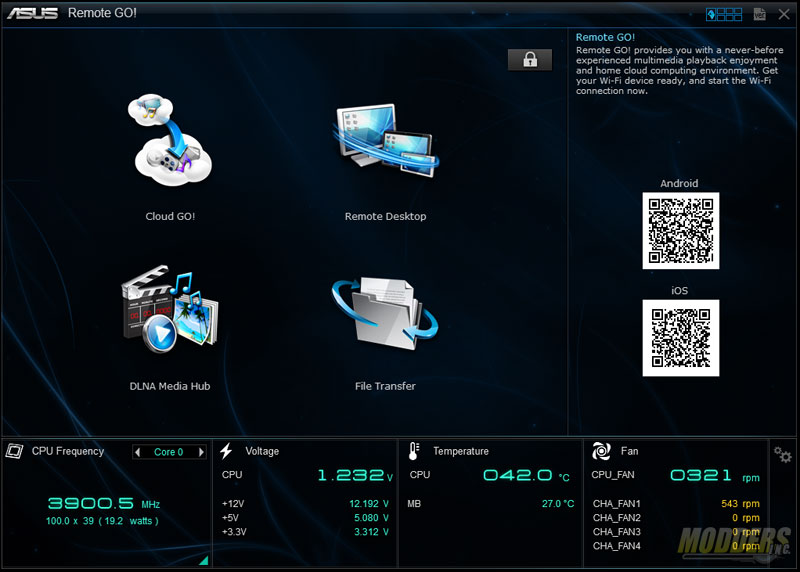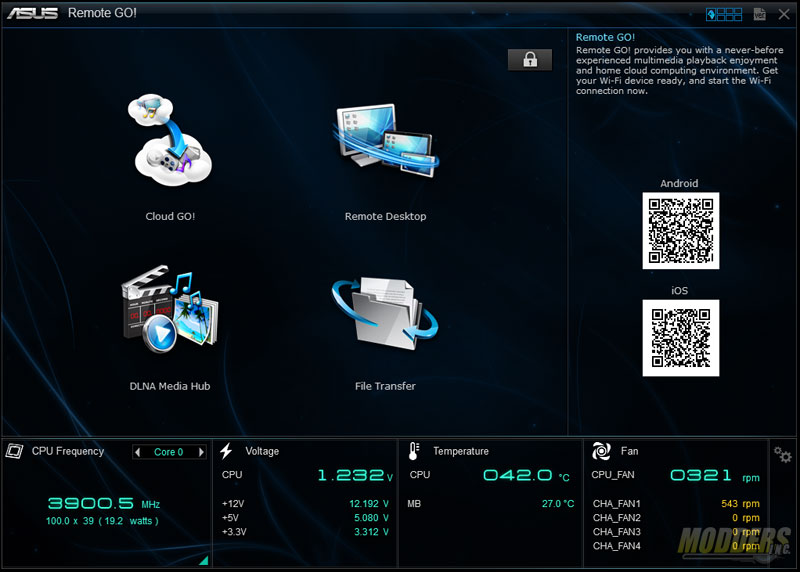 Remote Go! in itself is a multi-faceted program that provides multimedia playback via network (DLNA media hub), network file transfer, remote desktop via Android or iOS app and Cloud Go services.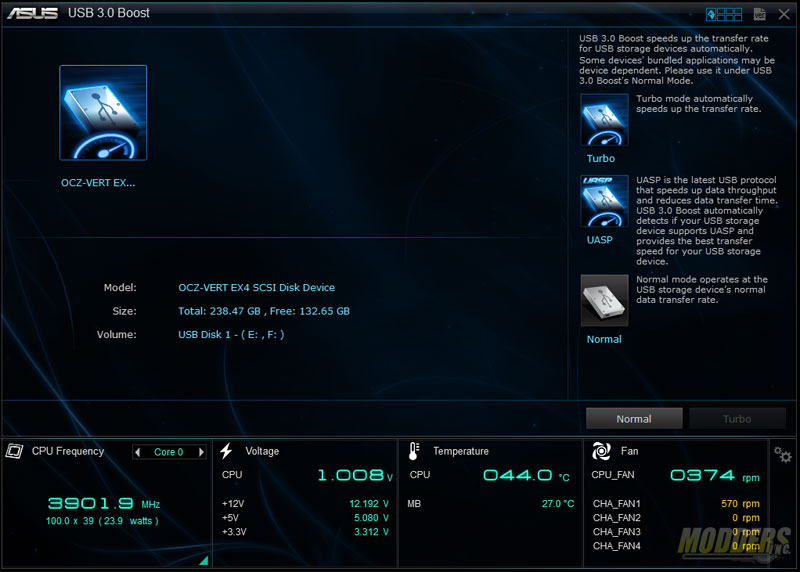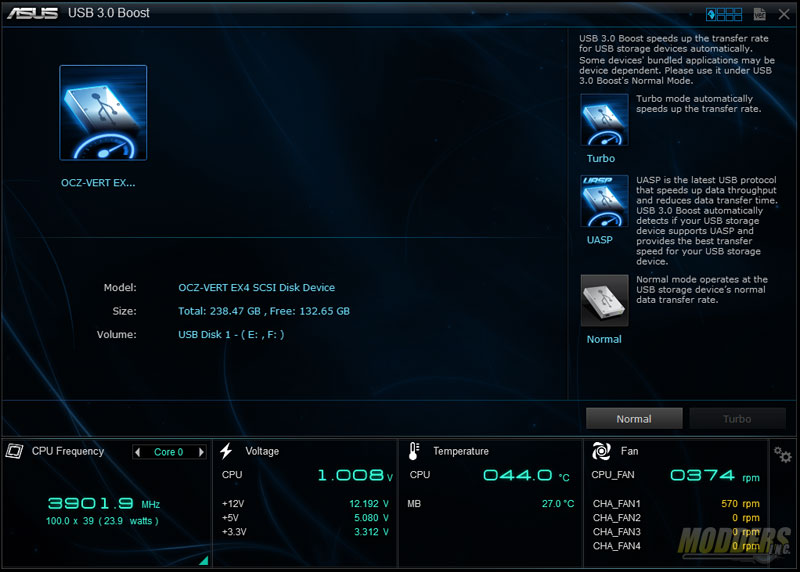 USB 3.0 Boost provides extended transfer rates in two modes: Turbo and UASP. UASP is the fastest but requires a UASP enclosure or UASP USB 3.0 device to work. Turbo works on any USB 3.0 device however after I tested it with a USB 3.0 thumb drive and a Vertex 4 SSD on a Vantec NexStar enclosure, running faster than standard USB 3.0 rates. The software automatically detects whether the device plugged in is compatible or not. We will test this later in our subsystem benchmark section.
More software for the motherboard on the disc, including ASUS Disk Unlocker (for using drives over 2.2TB), ASUS Web Storage (for online backup with free 5GB cloud storage), Realtek Ethernet Diagnostic Utility, ASUS Boot Setting (for Windows 8 only, basically allows software access to the DirectBIOS function without physically pressing the button), Google Chrome browser (so you have an Internet Explorer alternative right from the moment you install your drivers without downloading) and ASUS AO Help (Self-diagnosis tool).
There are also more optional trial versions of WinZip 17.5, RealPlayer (yes, they still exist, now it is beefed up with other features such as file conversion, simple video editor, library, and media burning), Daemon Tools Pro 5.2 (virtual disc program that can create, mount or emulate disc ISOs and has disc burning capabilities and as well) and Norton Internet Security.