Article Pages:
« Introduction
|
Initial Setup »
A Closer Look at the Asustor AS3204T
The Asustro AS3204T balks at the traditional look of a NAS as there are no drive trays. Instead, Asustor chose a look that is more suited for a home entertainment center rather than a network room.  The front of the AS204T has a diamond style texture with the Asustor logo emblazoned in gold on the upper right. Size wise, the NAS is just slightly larger  than the 4 drives it houses and measures in at 165x164x218 mm (6.5×6.45×8.5 in.)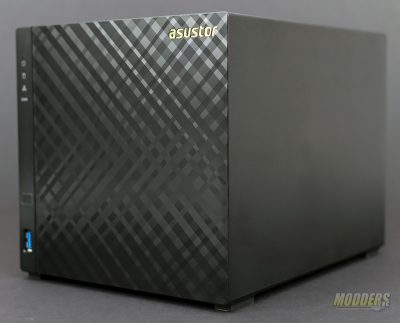 There is a single USB 3. 0 port as well as an IR receiver, and LED status indicators for power, system status, network and drives.


On the back of the AS3204T the most prominent feature is the 80MM PWM fan. Also on the rear of the NAS is the power button, recessed reset switch, 2x USB 3.0 ports, HDMI 1.4B port, a gigabit ethernet port, and a power port.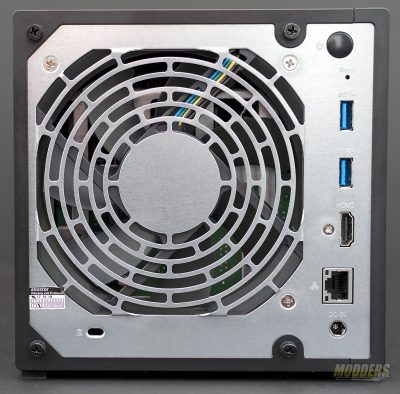 Externally the Asustor AS3204T is extremely simple.  Asustor states the installation of the hard drives does not require any tools. The drives are installed inside the housing. The first step is to remove the four thumbscrews on the rear of the NAS.  Next you'll need to slide the two sections of the NAS apart and then remove the larger section.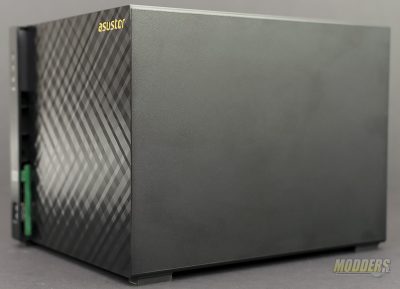 The internal structure of the NAS is made from a steel frame. The frame has slots for 4 SATA drives. To install the drives, simply slide the drives in place and secure using the included thumbscrews.
Drive connectivity is proved by a daughter card that plugs into the PCIe 1x slot on the motherboard.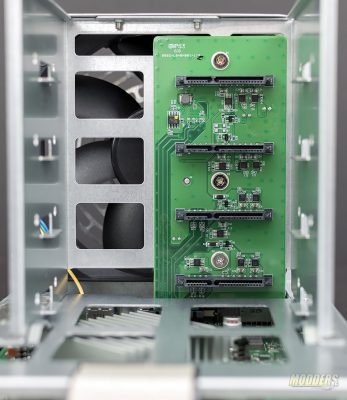 The motherboard is tucked neatly away inside the left side of the case. The most prominent feature on the board is the passive heatsink that helps keeps the Intel CPU cool. The system is designed to use the fan at the back to keep the CPU and hard drives cool.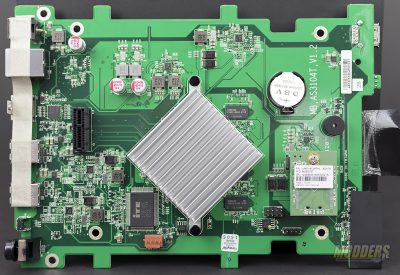 The Asustor 3204T has 2 gigabytes of RAM which cannot be expanded due to the fact the memory is soldiered on to the motherboard. The NAS uses 8 Samsung K4B2G1646!-BIK0 memory ICs that are spec'd to run at DDR3-1600 (11-11-11)
An ADATA IUM01 USB DOM (Disk on Module) supplies the storage for the NAS firmware.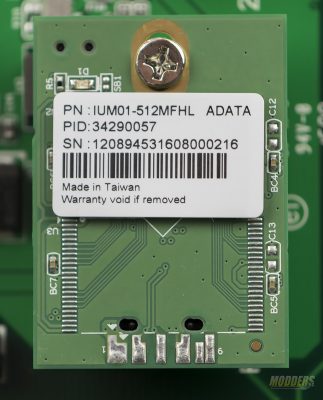 A Texas Instruments DP139 DP to TDMS driver is responsible for the HDMI 1.4b output on the Asustor AS3204T.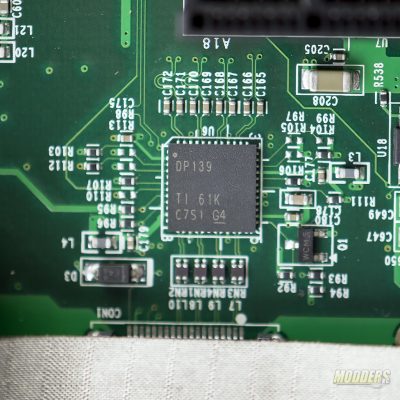 Networking is controlled by a Broadcom BCM57781 Ethernet controller.  The controller is capable of 10/100/1000 network speeds. This is the same chip that's used on many desktop motherbards as well as discreet network cards.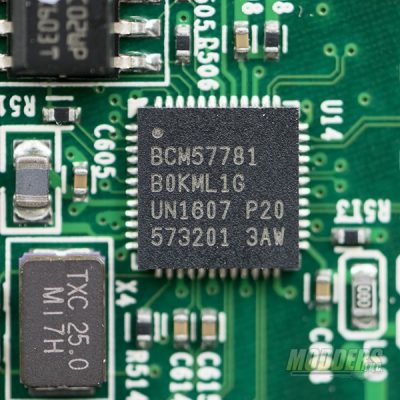 The ITE IT8728F takes care of the super I/O which includes temperature monitoring on the AS3204T.