Keyboards
AZIO MGK L80 Mechanical Keyboard Lineup Review
« Introduction and Packaging
|
Performance Summary »
Closer Look at AZIO MGK L80 Keyboard
The layout of the MGK L80 board is 100% ANSI with 1.25x bottom row. Since there are no extra buttons, the secondary functions are accessed via combos via the Fn key where the right-hand Windows key usually is instead of in the context key area. The context key button is still there.
The bottom of the keyboard offers rubber feet for stability and of course your standard raisers. The construction of the top of the keyboard is made from brushed aluminum however, the back cover is made from ABS plastic.
An arm rest is also provided and it attaches to the keyboard is via magnets. The arm rest is also made from ABS plastic and has 'Elegantly Fierce' laser inscribed in the right side. Rubber feet on the corners provide additional traction so it stays in place on a desk.
The overall dimensions of MGK L80 keyboards with keys are 5.8 x 17.5 x 1.4in or 14.7 x 44.45 x 3.55cm and weighs 2.3lbs. When the keyboard risers are in use, it lifts the keyboard up just about 1cm. The keycap style is a DCS profile.
The MGK L80 RGB and L80 Red are available in Kailh brown switches (tactile non-clicky) while the MGK L80 Blue is available with Kailh blue switches (tactile clicky). Like any good LED backlit keyboard the keycap legends are on top where the LEDs in the switch are placed.
MGK L80 RGB Keyboard has six lighting modes: Spectrum Cycling, Splash, Wave, Color Marquee, Custom and Reactive. To activate each mode you would need to hold 'Fn' key and press one of the designated keys: Ins, Home, PgUp, Del, End or PgDn. Users also ahve the ability to adjust the brightness.
All three keyboards offer a 'Gaming Mode'. In gaming mode, the system disables the Windows start key to avoid any accidental hits that would cause issues while you are gaming. While being in gaming mode, users also have the option to create and use macros.
MGK L80 has ability to record up to four macro keys for any gaming environment. Since there is no software here to customize, recording macros is as easy as hitting a button. In addition to macros MGK L80 has a set of convenience keys such as media keys and browser keys. Controlling volume is offered in form of an analog adjustment wheel which also could be used to mute volume just by pressing on the wheel.
As you can see all three keyboards are very similar in design and only difference is the macro key on the upper right corner. The RGB version of MGK L80 is completely black whereas the other two have red and blue trim respectfully.
Every MGK L80 Keyboard connects via single six foot USB 2.0 cable. The cable is braided and adds that sturdy feel to the build.  It is also worth mentioning that these keyboards support full N-key rollover via USB.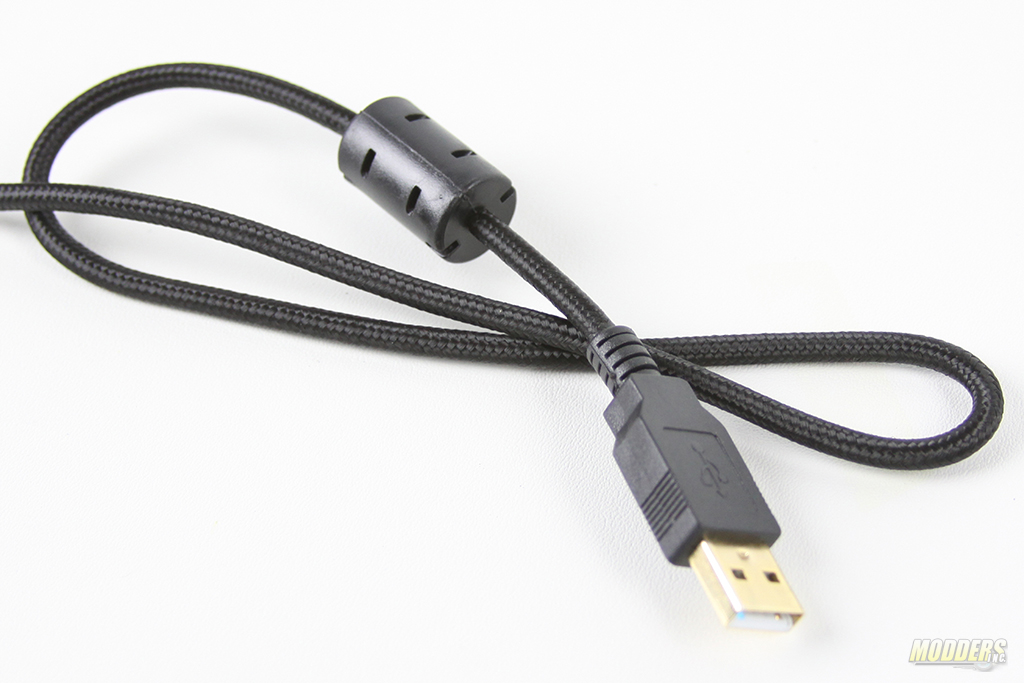 Disassembly and Modding Options
As you might have probably guessed, the three keyboards are very similar in design inside as well. The internal PCB board is nearly identical. The major difference between RGB version and the Red/Blue is that the RGB version has controllers embedded in the PCB. Red/Blue versions of MGK L80 have a soldered daughter board.  The switches are plate mounted on the aluminum plate.
MGK L80 RGB is controlled by Vision micro controller (VS11K05A). LED Drivers are provided by Vision as well (VS12L01A).
MGK L80 Blue uses Holtek HT66FB560 micro controller and Holtek HT66F0185 LED driver.
MGK L80 Red uses Holtek HT66FB560 micro controller and Holtek HT66F0185 LED driver as well.
Each keyboard has top right switches to toggle between gaming modes and macros.  These are standard micro switches instead of mini-square switches so they are a lot more durable and tactile compared to what other keyboards use for secondary feature buttons.
There aren't many imperfections however I found some residue of flux and what seems to me like oxidation on the PCB. Some connections did looked like they were soldered in the rush however none of this causes an issue while in operation.