Keyboards
Sound Blaster Vanguard K08 RGB Mechanical Keyboard Review
Packaging »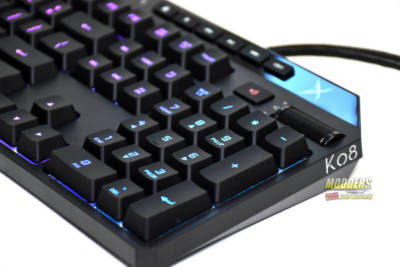 Everyone has their favorite companies to buy from with regards to PC hardware and peripherals. Ask 50 people what the best graphics card is or who makes the best keyboard, you'll get 50 different answers. But where things like graphics cards can be backed by benchmarks, keyboards are purely subjective. Some may have better features, but it all comes down to the feel while typing, or gaming. The best advice to give someone shopping for peripherals is to start with a trusted brand, known for making good, quality products. When we visited the Creative suite at CES, I was intrigued to see the makers of Sound Blaster sound cards making a mechanical keyboard. The short time I used it got me excited to really test it out. Now, it's on my desk and I'm growing more attached to it every day. But what are the things that set the Sound Blaster Vanguard Vanguard K08 apart from other keyboards on the market? More important, what value do you get out of this keyboard over the competition?
Review Sample Provided By: Creative
Product Name and Website: Sound Blaster Vanguard K08
Product was given in exchange for work to produce review.
Specifications
Product Color: Black
Dimension (HxWxD): 215mm x 465mm x 37.6mm
Dimension Without Wrist Rest (HxWxD): 149mm x 465mm x 37.6mm
Lifespan: 70 million actuations
Mechanical

Actuation force: 45g
Actuation distance: 1.5mm
Total travel distance: 3.5mm
System Requirements
Microsoft® Windows 10, Windows 8.1/8.0 32/64 bit, Windows 7 32/64 bit
Intel® Core™2 Duo or AMD® equivalent processor (2.8 GHz or faster recommended)
Intel, AMD or 100% compatible motherboard
1GB RAM
>600 MB of free hard disk space
Warranty
1-Year Limited Hardware Warranty
Downloads
Drivers
http://support.creative.com/Products/ProductDetails.aspx?catID=1170&catName=Peripherals&subCatID=1176&prodID=22925&prodName=Sound%20BlasterX%20Vanguard%20K08&bTopTwenty=1&VARSET=prodfaq:PRODFAQ_22925,VARSET=CategoryID:1176&_ga=2.265507983.1617294271.1520178801-1005575768.1511930546
Manual
http://support.creative.com/manuals/welcome.aspx?catID=1170&catName=Peripherals&subCatID=1176&subCatName=Gaming%20Keyboard&prodID=22925&prodName=Sound%20BlasterX%20Vanguard%20K08&_ga=2.265507983.1617294271.1520178801-1005575768.1511930546