« A Closer Look At The Ballistix Elite 32GB Kit | Conclusion »
Software
The Crucial Ballistix M.O.D. software is available to download from the manufacturer's website, and it's less than 4MB total when unpacked. You can download it here. When you launch the Memory Overview Display software, you'll see a trio of tabs along the left side of the UI. By default, the SPD Data screen is visible. Here you'll get all the speeds, latencies, banks, ranks, bus widths, part numbers, capacities, JEDEC timings, and XMP Certified timings for the DIMM you select from the drop down menu at the top of the screen. 
Click the Temperature tab to see colorized bars that correspond to the currently installed DIMMs. There's a third tab, for controlling LEDs, but the utility reminds you that there are no LEDs in this kit if you click it. You can click the Settings icon from the top-right corner of the utility to automatically launch the software when Windows starts, or flip the Temperature Widget setting from Hide to Show to display those colorized bars indicating your module temps in a transparent window that you can keep on your Desktop. You can also use the transparency slider to change the visibility of the widget.
We can see the temperature widget coming in handy for troubleshooting and overclocking, but this memory doesn't get very hot even when stressed (more on that later).
Test System
Memory on AMD's Ryzen platform has only recently gotten the performance overhaul it needed to achieve near parity with Intel platforms. We may not quite be there yet, but at least non B-die memory, such as this kit from Micron, is finally capable of running at their native rated XMP speeds and timings. A large part of our success is probably down to the fact that we're running a Ryzen+ processor on an enthusiast-grade X470 motherboard. Here is the rest of our load-out for this review.
AMD Ryzen 7 2700X

MSI X470 Gaming M7 AC

MSI Radeon R9 290 Gaming 4G

16GB Ballistix Elite DDR4-3466

Cooler Master 

MasterLiquid ML240L RGB

Phanteks Enthoo Pro TGE

Seasonic Platinum 1000W PSU
Benchmarks and Utilities
The benchmarks we used are the standard ones used on all of our memory reviews. Rather than simply post the numbers for this kit running at its native speeds and timings, we also compared it against the kit underclocked to 3,200MT/s and 2,666MT/s, which were the average and peak memory speeds we managed to achieve with the first generation Ryzen processors on the X370 platform, respectively.
AIDA64 Engineer

Passmark Performance Test 9.0

ROG Realbench

SiSoft Sandra Lite

7-Zip

3DMARK Time Spy

CPU-Z
Our testing methods are always the same, no matter what the review. The room is kept as close to 20°C as possible. The Ryzen 7 2700X used in this review was left at stock speeds. The BIOS for the motherboard was fully up-to-date. Most benchmarks were run three times and averaged to get the result.
AIDA 64 Engineer
AIDA64 implements a set of 64-bit benchmarks to measure how fast the computer performs various data processing tasks and mathematical calculations. Multi-threaded memory and cache benchmarks are available to analyze system RAM bandwidth and latency. Benchmark pages of AIDA64 Extreme provide several methods to measure system performance. These benchmarks are synthetic, so their results show only the theoretical maximum performance of the system. The AIDA64 suite has various benchmarks for CPU, FPU, GPU, storage and memory testing.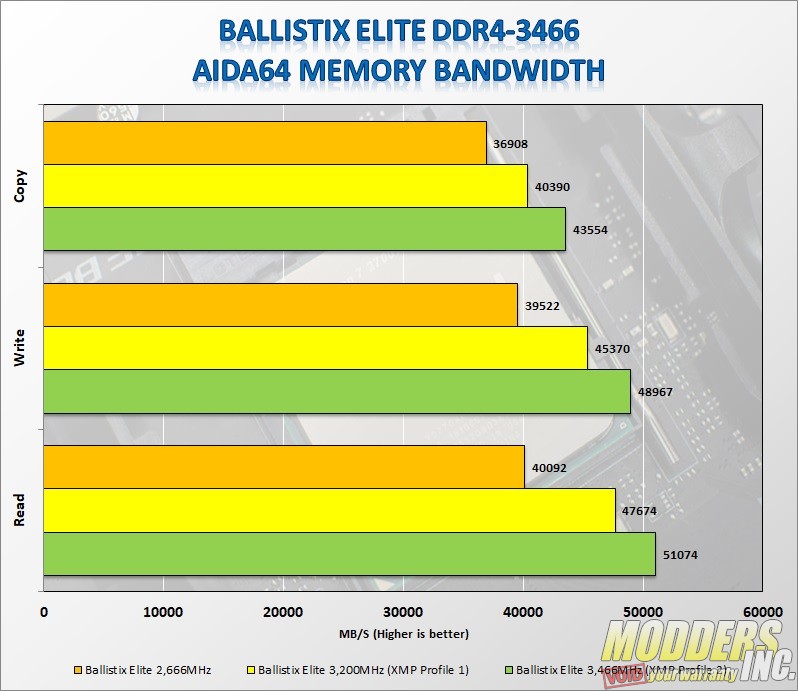 Unsurprisingly, the Ballistix Elite DRAM performed the best when clocked the highest. The timings remained static through the testing, so a tighter set of numbers may narrow the latency gaps somewhat.
7-zip
The 7-zip benchmark shows a rating of MIPS (million instructions per second). The rating value is calculated from the measured speed, and it is normalized with results of Intel Core 2 CPU with multi-threading option switched off. So, if you have modern CPU from Intel or AMD, rating values in single-thread mode must be close to real CPU frequency. There are two tests, compression with LZMA method and decompression with LZMA method.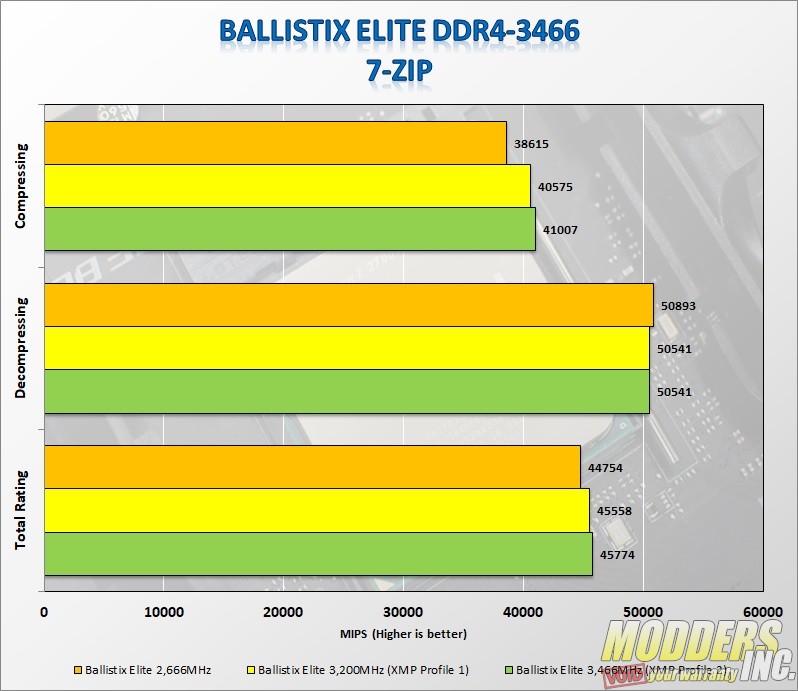 The Total Rating and Compressing tests showed the fastest speed's advantage, however, when clocked down to 2,666MT/s, the kit showed a slight jump in the decompressing test. 
SiSoft Sandra Lite
Sandra Lite is a free version of SiSoft's Sandra testing suite. Sandra Lite is a synthetic benchmark program that has its own set of system memory specific benchmarks. Floating and Integer memory bandwidth performance scores are recorded in Gigabytes per second (higher is better).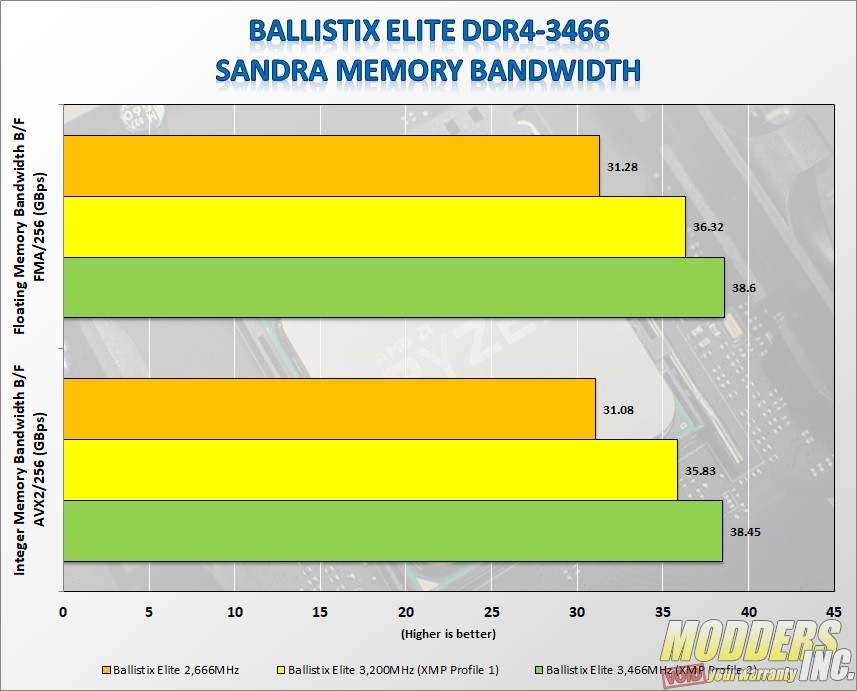 These tests mirror those of AIDA 64, which shouldn't come as a surprise as they're both synthetic tests designed to measure bandwidth. 
ASUS ROG Bench
ROG Realbench is an open source program, designed to test your PC as it would run in real-world scenarios. It's a semi-synthetic testing suite that collects four different programs and can perform controlled runs of each related to image editing (GIMP), video encoding (Handbrake H.264), OpenCL (Luxmark) and Heavy Multitasking (Combination of all three at the same time).
In the ROG Realbench results, listed as the "System Score" in the left pane, show a decent amount of overall improvement as we step up in speeds. AMD's platform has been lauded for showing appreciable performance improvements when paired with fast DRAM, and this is yet another example of this phenomenon.
Passmark Performance Test
PassMark Performance Test is a benchmarking utility that is capable of returning scores for multiple components, making it and its memory-centric tests ideal for our purposes. For this review, we only ran the Memory Mark portion of the suite. 
As you can see, there was a steady improvement in our scores as we moved from 2,666MT/s, to 3,200MT/s, and finally to 3,466MT/s.
3DMark Time Spy
3DMark is a computer benchmarking tool created and developed by Futuremark used to determine the performance of a computer's 3D graphics rendering and CPU workload processing capabilities. It does this through a series of graphics and physics and or CPU tests.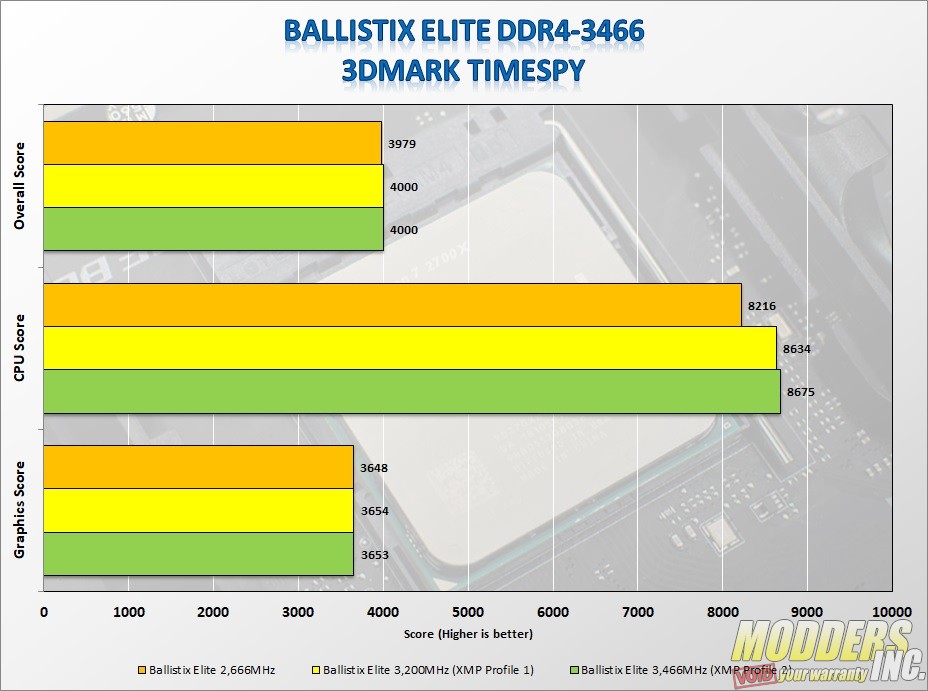 3DMark Time Spy didn't show that the kit clocked to 3,466MT/s had much of an advantage compared to the kit when clocked to 3,200MT/s. On the other hand, both of these score showed a decent advantage compared to the kit when clocked down to 2,666MT/s.
Overclocking
For overclocking, I wanted to ensure peak stability throughout, so I left the CPU and GPU at their factory shipped configurations.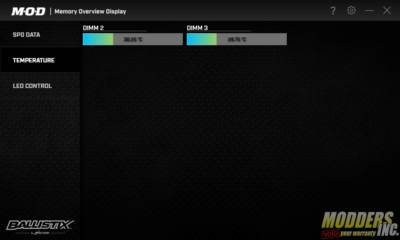 I was able to reach 3600MT/s, while keeping the timings the same (16-18-18), and without increasing the memory voltage above the stock 1.35V. Anything outside of these parameters and the stability of the system was difficult to maintain. I ran the AIDA64 torture test for roughly 4 hours to ensure the clocks were rock solid, then rand a few tests to see if there was an improvement. I also checked the M.O.D utility to ensure that the kit could handle the added stress. As you can see, even when overclocked, and under load, this kit only got 1.25 degrees warmer.