CPU Cooler
be Quiet! Dark Rock Slim 180W TDP CPU Cooler Review
Dark Rock Slim 180W
« Introduction and Specifications
|
Installation and Clearance Issues »
A Closer Look at the be quiet! Dark Rock Slim 180W TDP
The dimensions of Dark Rock Slim 180W are 72 x 127 x 159.4 mm which, makes it very small in comparison to full-size CPU coolers. The CPU cooler has aluminum fins which help disburse heat away from four 6mm heat pipes.
The color scheme of the cooler is of course black. Black fins with black heat pipes. There is no visible silver color anywhere on this cooler.
The fan mounting points are located on each side of the cooler. The top plate is made from brushed aluminum and has be quiet! logo right in the middle of the plate.
Just like you would expect there is a warning sticker on the bottom of the CPU heat block. For some, it is common sense but for others, you need to tell on what to do before installing the CPU Cooler. Remove the sticker! The CPU heat sink is highly reflective and made from Aluminum. I am not entirely sure it is 100% aluminum as I can see some copper in the metal.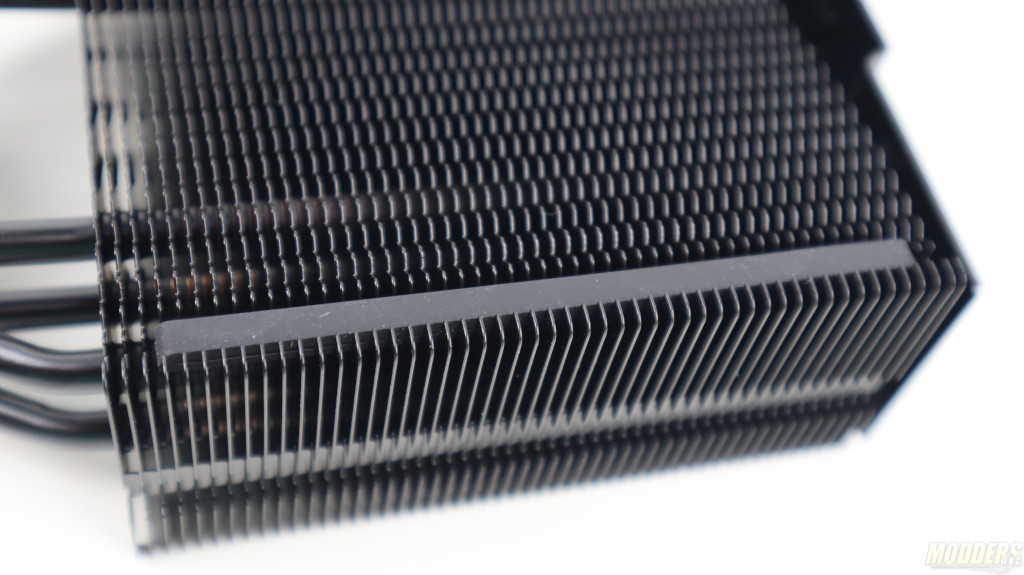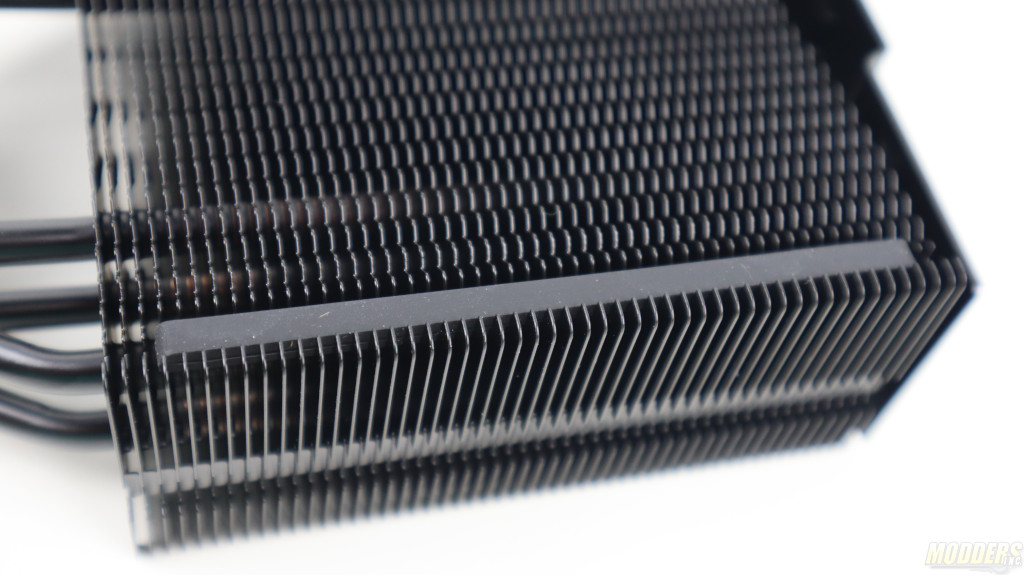 To minimize the vibrations of the CPU cooler be Quiet! is using a pair of rubber strips on each side of the cooler where the fan meets the fins. Clever design if you ask me.
Bundled Fan Specifications:
| | |
| --- | --- |
| Fan dimensions (mm) | 120 x 120 x 25 |
| Speed @ 100% PWM/12V (rpm) | 1,500 |
| Input current (A) | 0.08 |
| Connector | 4-pin PWM |
| Lifespan (h / 25°C) | 300,000 |
The bundled fan is by be quiet! and it is a Silent Wings 3 120mm. This fan is PWM enabled so speed would be controlled by the motherboard. Maximum RPM of this fan is 1500 and running at 100% it is only generating 23.6 dBA. Wave-contoured fins provide excellent static pressure.
| | |
| --- | --- |
| Air Flow @ 100% PWM / 12V (CFM / m3/h) | 50.5 / 80.47 |
| Air Pressure @ 100% PWM / 12V (mm H2O) | 1.79 |
| Noise level @ 100% PWM / 12V (dB(A)) | 16.4 |