Page 2 »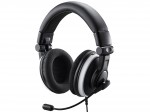 The ability to tune out and focus our environment is a big blessing that would otherwise drive anyone insane if we are unable to. Our brain actually sorts out all the stimuli it is receiving from the senses, sorts then prioritizes them in to our conscious perception. This happens faster than the speed of thought and whenever we engage in an activity, all the senses necessary to do that task are prioritized in our brain until that task is completed. When gaming, especially when competing at the pro levels, it is even more important to simultaneously be able to tune out all the distracting surroundings while all the relevant data from the senses such as sound are amplified. Although just one piece of the competitive gaming puzzle, a good headset will do just that but a great headset will render any gamer unstoppable.
[sc:sponsor sponsor="Cooler Master Storm" product_link="http://www.cmstorm.com/en/products/audio/Ceres-500/" product_name="CM Storm Ceres 500 Gaming Headset" ]
Cooler Master is not a stranger to the pro-gaming circuit and they have taken all the experience they have amassed over the years to design the next addition to the CM Storm headset line, specifically a mid-range addition to the budget Ceres headset that was announced last year. The new Ceres 500 headset is designed for portability and for flexible compatibility, able to work on an XBOX 360, PS3 and more importantly on the PC.
Newer CM Storm packaging has moved away from the black and red color scheme to a simpler black and white package. A viewing window on the right side allows a preview of what the Ceres 500 headset looks like as well when you see it in a retail store.
Aside from the Ceres 500 headphone unit itself, inside is a 3.5mm to RCA pass-through cable, 2.5mm audio cable, a user's guide and a quick setup guide. The microphone attaches the left ear cup and can be bent so it can be positioned comfortably near or away the user's mouth. This microphone has an omni-directional pick-up pattern with a frequency response range of 100 Hz to 10,000 KHz.
Product Number:

SGH-4600-KWTA1
Headphones:

Driver:

40mm driver
Frequency Response:

20Hz-20,000Hz
Impedance

32 ohms
Sensitivity@1KHz:

116dB ± 4dB
Connector(s):

3.5mm jack
USB
Cable Length:

3m


Microphone:

Pick-up Pattern:

Omni-Directional
Frequency Response

100Hz-10,000Hz
Sensitivity

-54 ± 3dB
In-line remote:

Removable Mic
Volume Control
Mic Mute
PC-Console Mode Switch