« Intro
|
Page 3 »
Overview:
The Ceres 500's design is more in-line with contemporary headset designs compared to the unique aggressive styled designs we have seen previously from the CM Storm line. The design looks a lot less busy compared to the Ceres 400, looking a lot less like a toy while also improving on a lot of the functional aspects. The entire headband is padded, not just on the internal side touching the user but the outside as well.
The earcups themselves comfortably decent sized with breathable cloth padding on top of the 40mm drivers housed inside. Unlike entry level headsets, the Ceres 500 has a wide range of fitting adjustments available with the cups themselves able to swivel in place and the band able to be lengthened to accommodate larger head sizes.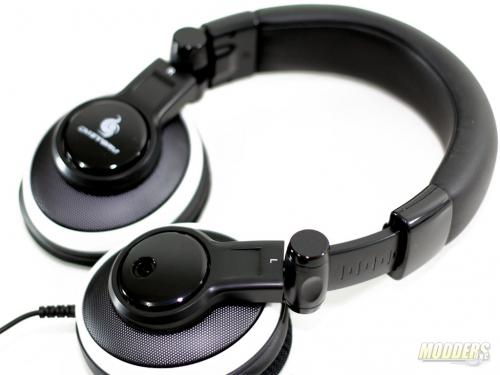 For portability, the Ceres 500 can also fold so it takes up less space.  The microphone can also be detached to protect it from damage during transport.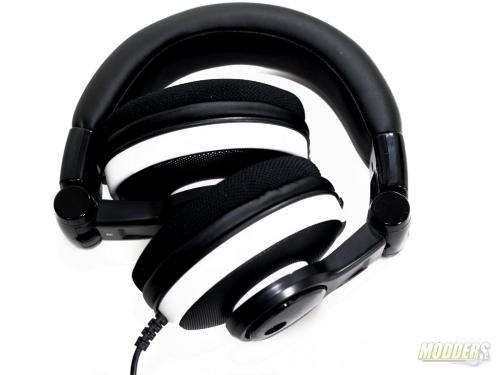 The connector cable also runs up to the left ear cup where it has anti-fraying protection on the bottom end.  The cable is 3 meters long and is vinyl covered.
This connector cable has an in-line remote that is a step above typical mainstream headset inline remotes. A toggle switch for console or PC use as a well as volume control is located on the left side, but on the opposite side, a chat volume control is present so gamers have much more flexible control over their online chat interactions. There is also a microphone mute toggle in the middle with an LED indicator that switches red when muted but otherwise glows white when the Ceres 500 headset is plugged in. The Ceres 500 inline remote also has a built-in clip in the rear so it can attach to the user's clothing and stay in place.
For the PC, the Ceres 500 uses a USB 2.0 connection and the 3.5mm jack is not used at all. For the PS3, the microphone uses the USB connector plugged into the unit while the 3.5mm jack attaches to the RCA pass-through included that then attaches to the TV.  For XBOX360 use, the USB connector provides power only while the 3.5mm jack connect so to the RCA pass-through that connects to the TV with an added step of connecting the provided 2.5mm jack to between the XBOX 360 console and the inline remote.