Page 2 »
In hockey, the enforcer is the tough guy, the monster, the goon who exacts revenge on dirty play by their opponent, with exceptionally harsh violence exacted on those going after star players.  If we can take this definition to this case, it has built-in attitude- with revenge coming to those who challenge it. With its very clean imposing looks, it has enforcer written all over it.

Sponsor: Cooler Master
[hr]
First Look – Packaging and Information
  The box on the Enforcer is flashier than a lot of them I've seen lately- shiny printing and major features on the box- but its single-wall box's travels dulled the nice graphics work and it was travel-worn.  The case was tucked ever so gently in its foam enclosure and was no worse for wear- I'm interested in the case, not the box so much, and it would take a pretty good throw or drop to damage the contents inside.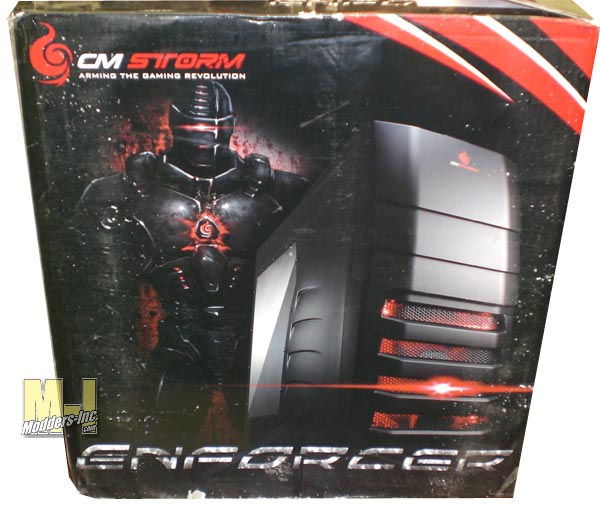 A view of the significant features is given on the backside of the box- and there is one incredibly simple item this case has that I haven't seen before but after reading about it, I had one of those "palm hitting forehead" moments.  I'll expand on this nice little feature later, but for now, the details on the case are below:
Front I / O Panel with USB 3.0 (internal)
Tool – free for 5.25″ device
Dust Filters on bottom and front intakes
Cable management for better cable routing
Reinforced front door protects your vital devices
Supports rear internal 120mm water cooling radiator
Removable & Rotatable HDD cage for convenient installation
Support high-end graphics cards including AMD Radeon HD 6990 and NVIDIA GTX 590
Storm Guard – security system for safeguarding your gaming peripherals
Dimension                 (W) 229 x (H) 484.5 x (D) 523.5 mm (W) 9.0" x (H) 19.0" x (D) 20.6"
Weight                       8.9 KG / 19.5 lb.
Motherboard Type     Micro-ATX, ATX
Material                      Steel body, ABS plastic, Mesh bezel
5.25″ Drive Bay          4 Exposed (one could be converted to 3.5" bay)
3.5″ Drive Bay            1 Exposed (converted to 5.25" bay) / 6 Hidden
2.5″ Drive Bay            4 Hidden (two converted from 3.5" bay)
I/O Panel                   USB3.0 x 2 (internal), USB2.0 x 2, Mic x 1, Audio x 1
Cooling System Front:200mm Red LED fan x 1, 1000 RPM, 19 dBA  (optional two 120mm)
  Rear:120mm black fan x 1, 1200 RPM, 17 dBA
  Top: OPTIONAL- 200 mm black fan x 1  or two 120mm OR one 140mm
Expansion Slots           7 + 1
Max. CPU cooler height: 175mm
VGA card length:         270mm (with HDD cage); 390mm (without HDD cage)
Power Supply              None Included- accepts Standard ATX PS2 / EPS 12V (Optional)
Warranty                     2 years
  The included Operator's Manual is small, but clear and to the point.  There isn't really much to this case that is hard to understand, but the details are nonetheless put to paper with the pictures (that are quite small) doing most of the talking.  
  Accessories included in the box are your typical assortment of motherboard standoffs, screws, loop to make the case lockable, zip ties, hard drive brackets, brackets for mounting a 3.5" drive/accy into a 5.25 slot, the "Storm Guard" bracket (explained below), a bracket for mounting a 2.5" drive into the 3.5" cage, and the system speaker.  It's a pretty normal comprehensive kit of accessories.