« Page 4
  Cooler Master has designed a great case in the CM Storm Enforcer.  I have always admired Cooler Master cases for their smart engineering, and just as importantly their good value.  With a going out the door price of between $80 and $100 as of this writing, you really can't go wrong.  

  Think of it this way.  Let's say you have a budget of $60 or so for a case.  There are options out there from many manufacturers that will get you set with a case, but truthfully, very few give you what you are looking for without tradeoffs in some way or another.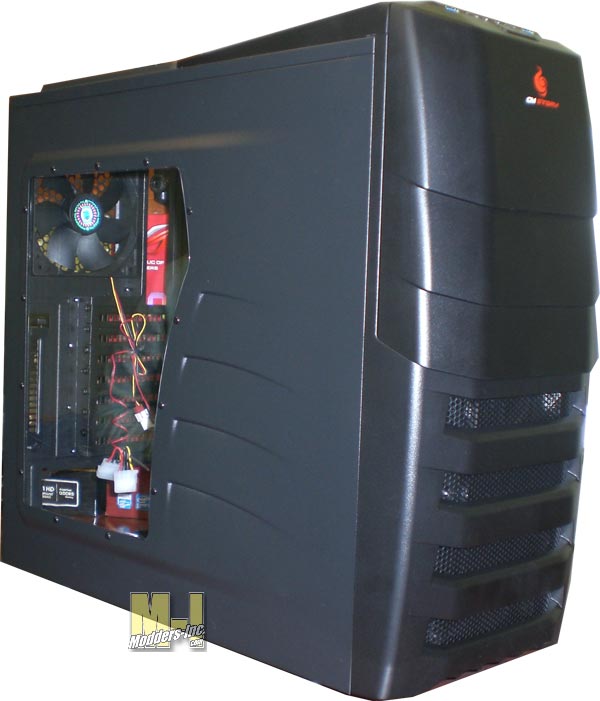 I think it would be money VERY well spent to take the extra $20 or so and upgrade to this case- it is very competitive on price, but the quality and the features you get for your money is outstanding.  I believe this case is worth every penny for the price of admission, and I've had my hands on a lot of cases.  Couple that with clean looks that will look good for years to come, and you really can't beat the Enforcer.  
  So what choice will you make?  As 70's icon Harry Callahan (Clint Eastwood) the ORIGINAL Enforcer would say, "You have to ask yourself one question: Do I feel lucky? Well, do ya, punk?"  
Pros

---

Cons

---

+ Flawless Matching finish on steel and plastic  inside and out.
+ "Storm Guard" Peripheral Security
+ Front Panel USB 3.0
+ Very sturdy construction
+ Finish resists fingerprints
+ Multiple configurations for hard drives/SSD drives and oversize graphics cards.
+ Amazingly simple 3.5 and 5.25 drive locking
– The "Rotatable" hard drive section won't let you use standard 3.5 drives when rotated.
– Smallish feet on bottom for a bottom mount power supply case.