Cooler Master M2 Silent Pro 1500 Watt Power Supply Overview
Article Index: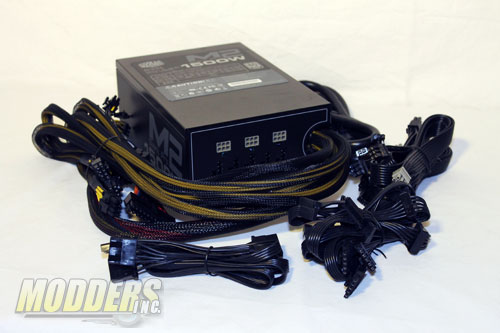 The Cooler Master M2 Silent Pro 1500 Watt Power Supply is a mostly modular device. The main power feeds are connected directly to the PCB to ensure that noting can wrong when delivering that much power to your hardware.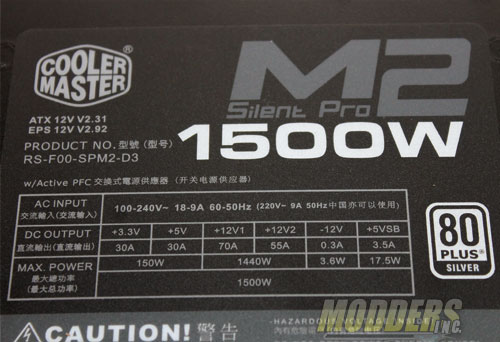 We can see that the PSU had been given the 80 Plus Silver certification which means that at a 20 percent load it must supply 85 percent of the listed power, while at the 50 percent load it has to deliver at least 88 percent, and at 100 percent load it must push 85 percent.  Also displayed are the amount of wattage that the M2 1500 can push on each voltage with an outrageous 1440 total watts being forced through the +12VD rails.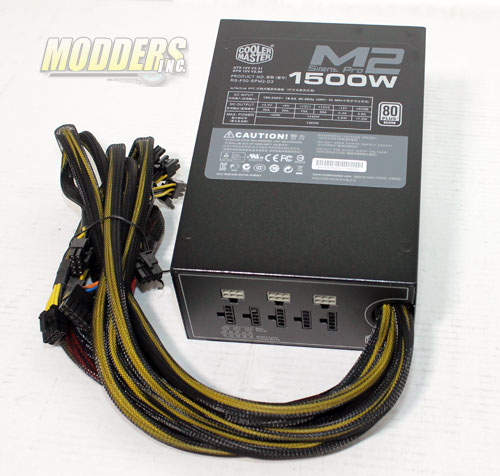 Taking a closer look of the power supply we first notice that it longer than most, which is true at  5.9(w) x 8.6(l) x 3.4
(h) inches but compared to a fairly standard size power supply of 5.9(w) x 7.1(l) x 3.4(h) inches the M2 Silent Pro 1500 is only 1.5 inches longer, but make sure that you do have the correct amount of space available. The finish on the PSU is a textured semi-gloss black that will go with any color case. The attached power cables are sleeved to help keep them nice and neat with heat shrink on the ends, but I would like to the sleeving be less translucent to match the all black modular cabling.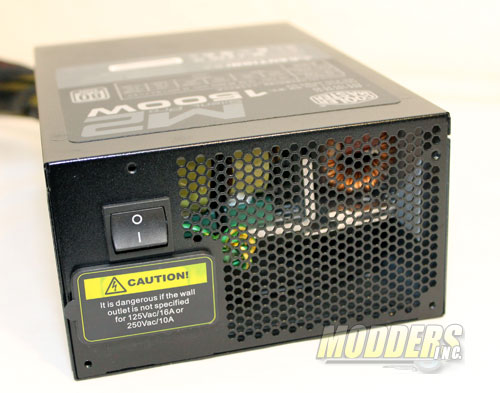 The rear of the power supply is without a fan to help cool the unit. Instead a single fan is used to do the work, but with a heavily vented back the fan should have no problem moving the amount of air needed to keep the PSU nice and cool.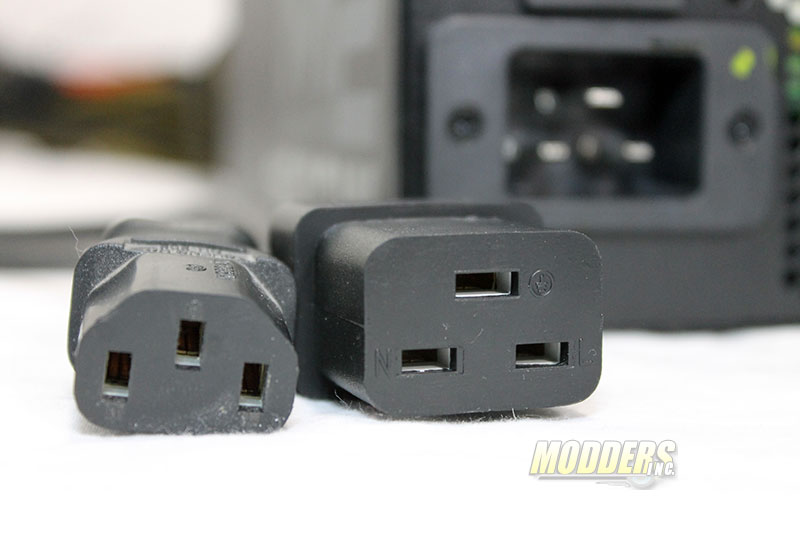 The M2 Silent Pro 1500 Watt powers supply comes with it's own power cable that you MUST use. Since the PSU can pull a massive amount of power the wires inside the power cord need to be able the handle the load. As the image above show the female plug end of the power cable is different than your typical power cord. This way there is no chance of using the wrong cord and house any sort of damage to either your PC, PSU, or home electrical circuit.
Article Index: