A Closer Look at the Cooler Master MasterCase Pro 6 »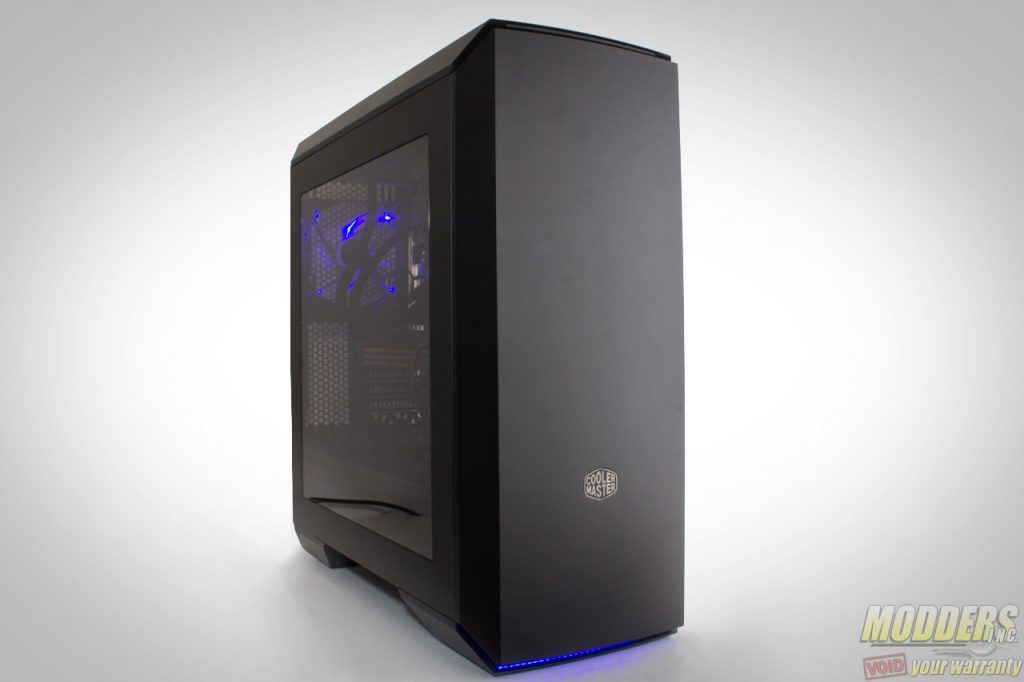 Despite the higher number in the name, the MasterCase Pro 6 sits behind the MasterCase Maker 5t since the Maker line is Cooler Master's current flagship model with the MasterCase right in the middle and the MasterBox bringing up the rear. The MasterCase Pro 6 however, brings some new features to the table that were not in the MasterCase Pro 5, namely a magnetic top cover and front door panel that is a lot flatter but is more conducively flexible to airflow than previous model designs without an immediately obvious peppering of ventilation holes on its surface. Continuing their "Make it Yours" ethos, Cooler Master's MasterCase Pro 6 has an ingenious way of using magnets to move these panels into place while making it easy to move and remove for modification purposes.
Cooler Master has put much thought on the MasterCase Pro 6 packaging as it can be conveniently brought out of the box with its cloth cover bag. Users simply need to pull it out via the bag handles. Inside the bag, the case itself is covered in more foam covering in the form of foam pads on each side and a foam sheet wrap. The pads are tied in place so as not to come off at all during handling. This is probably the most comprehensively packed cases I have seen and I have reviewed hundreds of cases over the years.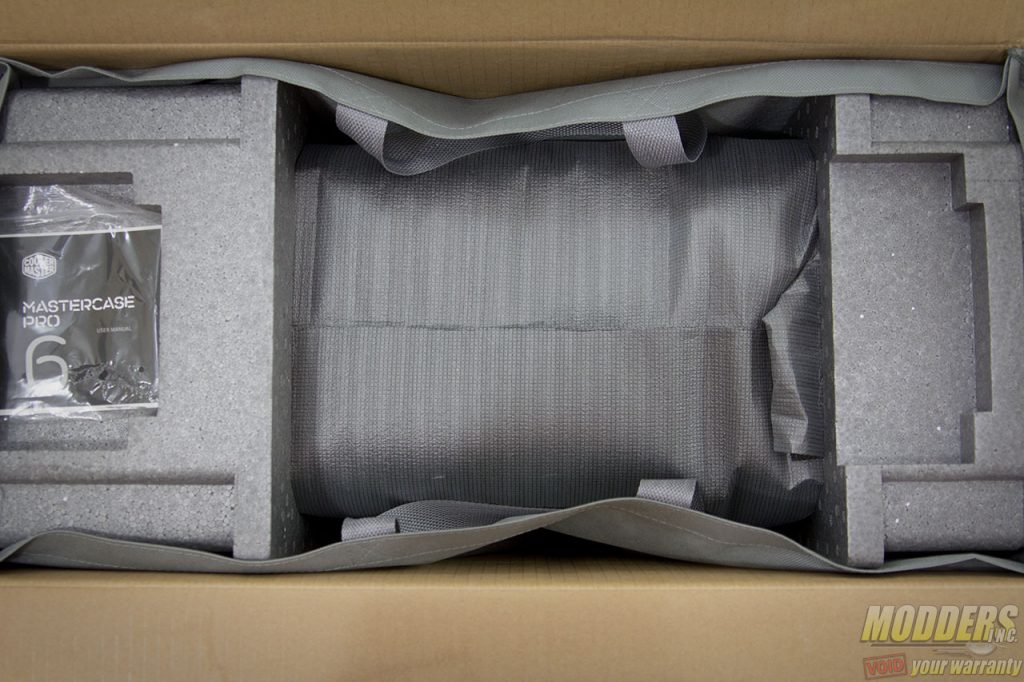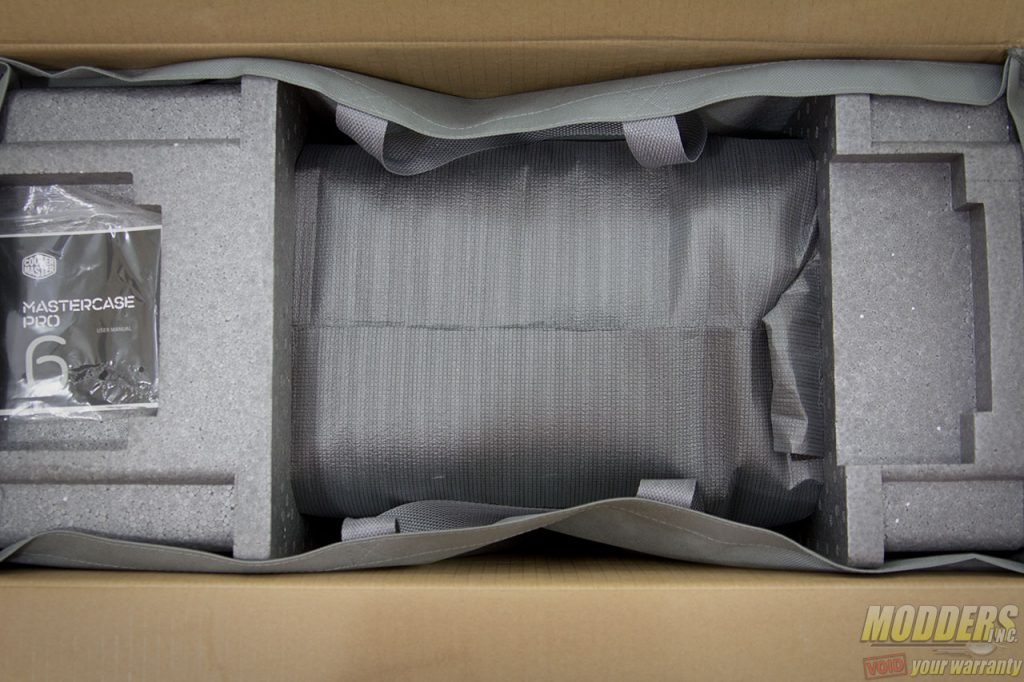 While the documentation sheet is right on top of the foam package as the user opens the box, the accessories are tucked inside the case itself in one of the drive trays. These accessory pieces are inside a cardboard box unlike the MasterCase Maker 5t which has a magnetic metal housing for its accessories.
Each pack contains the following:
1x side-panel lock bracket
1x #6 32*5 screw for lock bracket
4x #6 32-29 screw for front fans
1x stand-off socket adapter
7x motherboard tray stand-off
5x #6 32*10 HDD cage screws
2x #6 32*6 HDD cage screws
15x #6 32*5 PSU/Fan Cage/Motherboard screws
10x cable management zip ties
4x M3*5 ODD screws
1x fan cage bracket
8x Ø5*10 top fan screws
20x M3*4 2.5" SSD screws
3x 3-pin to 4-pin cable adapters
2x Velcro cable management strap
4x m3*6 screws for fan controller bracket
4x Ø3*6 screws for fan controller bracket
4x Ø3*7 screws for fan controller bracket
2x 5.25" bridging connector for fan controller bracket
Other accessories pre-installed inside the case:
3x 140mm 3-pin fan
1x CM StormGuard theft-prevention security tool
Specifications
Product Name
MasterCase Pro 6
Model Number
Blue LED version: MCY-C6P2-KW5N
Red LED version: MCY-C6P2-KW5N-01
Available Color
Dark metallic grey exterior with black interior
Materials
Steel body, Plastic panels
Dimensions (LxWxH)
544 x 235 x 548 mm
Net Weight
11.74kg
Motherboard Support
ATX, Micro-ATX, Mini-ITX
Expansion Slots
7
Drive Bays
5.25″
2
3.5″
5
2.5″
2
I/O Panel
USB 3.0 x 2
Audio In & Out
Pre-installed Fan(s)
Front
140mm x 2
Rear
140mm x 1 (blue/red LED fan)
Fan Support
Front
120/140mm x 3
Rear
120/140mm x 1
Top
120/140mm x 2
Liquid Cooling Support
Front
120mm / 280mm
Rear
120mm / 140mm
Top
240mm / 280mm (maximum 297mm radiator length)
Clearance
CPU Cooler
190mm / 7.48″
PSU
200mm / 7.87″
Graphics Card
296mm / 11.7″ (with 3.5″ HDD cage)
412mm / 16.22″ (w/o 3.5″ HDD cage)
Cable Routing
Behind Motherboard Tray
25-35mm
Dust Filters
Front, bottom
Power Supply
Bottom mount, ATX
Extra features
Side Window Panel
Front bottom Blue or Red LED Strip x 1