« Hardware Installation and Clearance Compatibility
Final Thoughts
The straight and almost plain look of the Cooler Master MasterCase Pro 6 suggests its more functional than aesthetic focus. It has more storage space than the MasterCase Maker 5t so it is ideal for those who are building a graphics or video editing PC that requires several drives in RAID rather than as a typical gaming PC. The removable panels are also a very interesting idea executed well as it just has the right amount of grip to stay put but also very easy to remove when necessary. This also makes it a welcoming platform for modding as the panels can be customized and removed from the case even without turning off the PC at all. This is the only case in the world that can make such claim.
Like the MasterCase Maker 5t, optical drives can be used even with the front panel on due to the brilliant way Cooler Master made the bottom part of the panel latch on so it acts as a hinge if the top part is pulled out first. The front mesh also comes off easily for easy dust servicing, the same with the PSU filter at the rear. Although like most rear-facing dust filters, users who have the case installed right against the wall would have to move the entire case forward first before pulling out the dust filter. A more ideal position would be if it was possible to pull it out from the middle as there is enough gap in there to push it towards the center and into either the left side or the right side.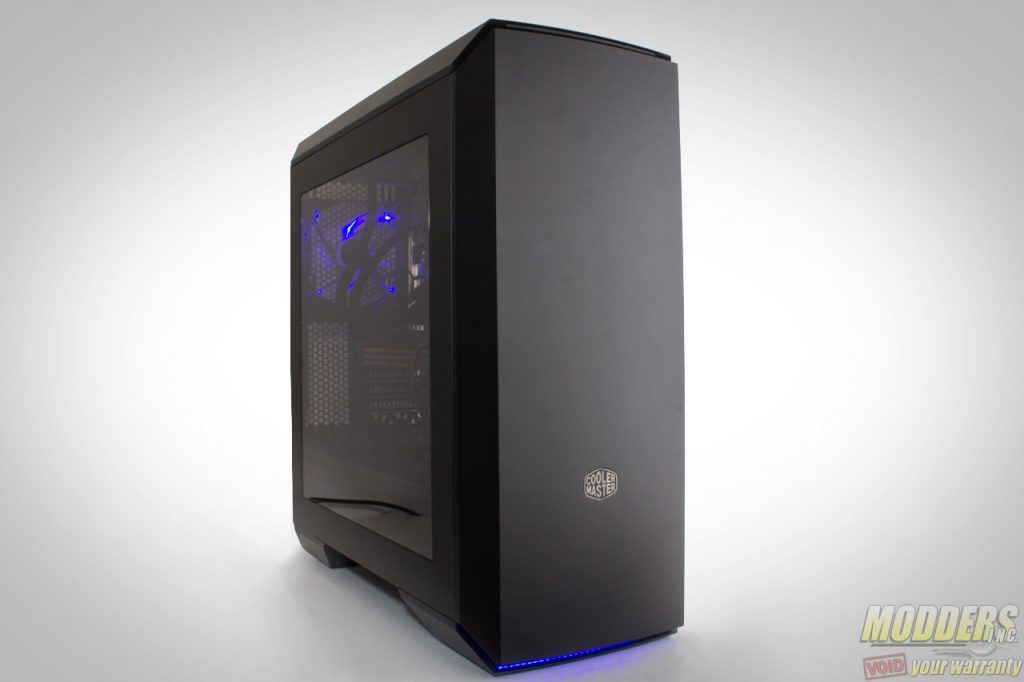 The hint of LED lighting is also a nice touch. It is not overpowering by any means, and it is actually much subtler than the promotional photos would suggest. It is available in either blue or red and easy enough to mod with an RGB lighting if the user truly prefers.
There is a bit of a minor clearance issue with the use of video cards longer than 300mm and the three-drive HDD cage on the main chamber of it is a dual slot video card and if the PCIe slot is the second slot from the top on the motherboard. Video cards longer than 300mm fortunately are not really in use anymore as even NVIDIA's flagship GTX Titan measures only 267mm but there are some users with aftermarket coolers or custom graphics cards that might overlap that 300mm mark.
Any problem encountered while building the case however is easily overcome in large part to the FreeForm modular design. The fact that users of all skill levels can just move things around or replace and remove certain features entirely without breaking out a dremel makes it a case that truly lives up to their "Make it Yours" philosophy.