Keyboards
Cooler Master MasterKeys MK750 Mechanical Gaming Keyboard Review
Game Smarter, Not Harder
« Introduction, Packaging and Specifications
|
Cooler Master Software »
A Closer Look at the Cooler Master MasterKeys MK750 Keyboard
The Cooler Master MasterKeys MK750 measures 437.75 mm long by 132.25 mm wide. The layout is a standard 100% ANSI Windows layout with right-side Windows key and a dedicated function key. There are 104+4 dedicated analog audio and multimedia controls on the upper right.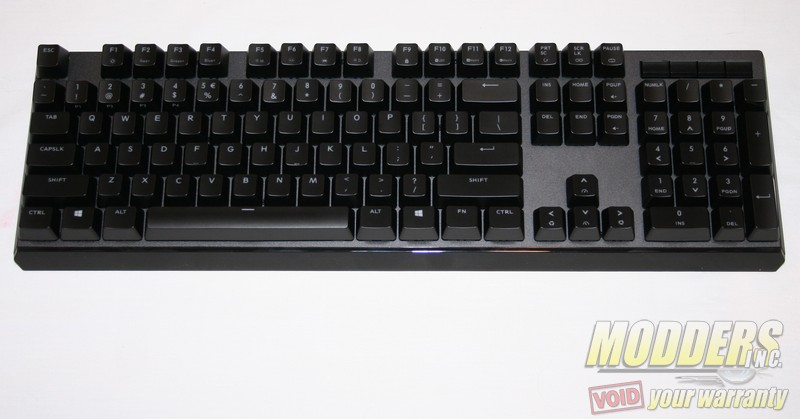 Textured rubber pads at the back keep the keyboard in place while on a desk and it can be flipped up to raise the back up 14 mm from the surface. The detachable 1.8 meter braided USB Type-C cable makes it ideal for taking the MK750 with you on-the-go to LAN events. The cable management grooves on the underside help to ensure the cable is always routed cleanly in the right direction.
The wristrest attaches to the keyboard assembly via magnets. The material is a soft leatherette that is both comfortable yet firm. The wristrest has the Cooler Master logo embossed into it.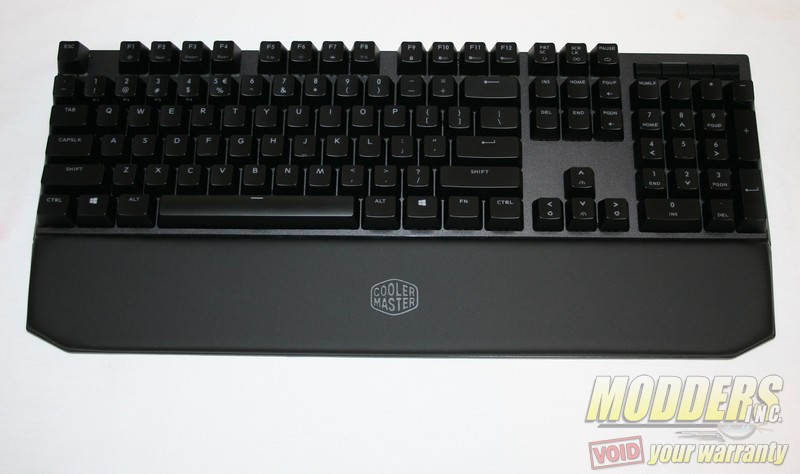 Switch Type and Keycaps
The MasterKeys MK750 uses Mechanical Cherry MX switches for responsiveness, durability, and tactile satisfaction. These switches are rated for a 50 million+ lifespan. All of the switches utilize ABS keycaps.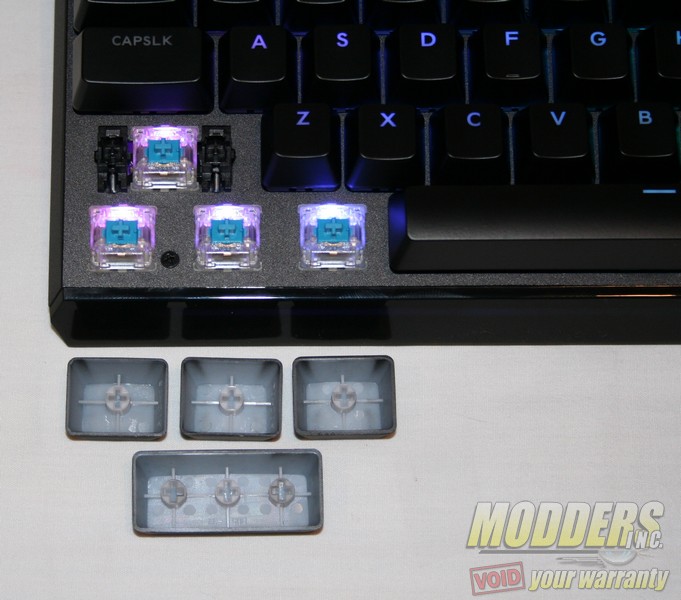 Replacing the standard keys with the extra doubleshot keycaps adds a distinctive flair that is visually appealing.

On-The-Fly Controls
The On-the-Fly controls allow the user to quickly adjust settings without having to go into a separate software screen. These features are accessed via combo keys with the 'Fn' key located beside the right Windows key.

Fn+ESC = Default profiles 1-4
Fn+F1 = Quick Pick / cycle 9 colors and modes
Fn+F2 = Add red color (9 levels)
Fn+F3 = Add green color (9 levels)
Fn+F4 = Add blue color (9 levels)
Fn+F5 = Cycle LED Modes
Fn+F6 = Lighting Foreground Effect
Fn+F7 = Lighting Background Effect
Fn+F8 = Lighting Demo Mode
Fn+F9 = Windows Key Lock On / Off (Disables both Windows keys)
Fn+F11 = Record Macro
Fn+F12 = Delete Macro
Fn+up arrow = Backlight speed up
Fn+down arrow = Backlight speed down
Fn+left arrow = Change direction left
Fn+right arrow = Change direction right