Keyboards
Cooler Master MasterKeys MK750 Mechanical Gaming Keyboard Review
Game Smarter, Not Harder
« A Closer Look at the Cooler Master MasterKeys MK750 Keyboard
|
How Did It Perform »
Cooler Master Software
The second version of the Cooler Master Software GUI has improved functionality, an improved user-experience and updated visual identity.
The software allows for multi-language installation with the following supported languages: English, French, German, Italian, Russian, Spanish, Portuguese, Swedish, Chinese Simplified, Chinese Traditional, Japanese and Korean.
The software installs relatively easily and prompts if any firmware updates are required.
LED Modes
Here are numerous default LED modes available right out of the box. These LED modes include: Static, Rainbow Wave, Crosshair, Reactive Fade, Stars, Rain, Color Cycle, Breathing, Ripple, Multi-Zone, Snake and System Status. There is also a Custom LED mode and an option to turn the LED mode off.
Many of the effects have selectors for Left to Right, Right to Left, Front to Back and Back to Front.
The customization doesn't just stop at the individual keys, but also includes the front and side RGB lightbars.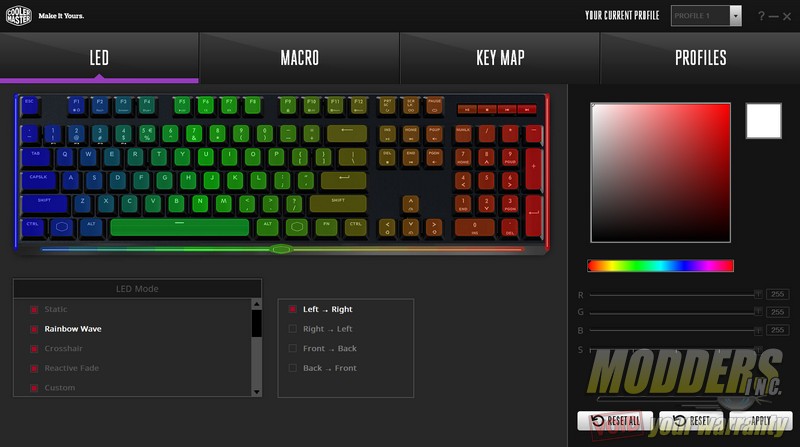 Macros
A built-in macro recorder is available in the software. Just create a macro, give it a name and perform the steps that you want the macro to perform. You can even set the delay between keystrokes down to 0 milliseconds.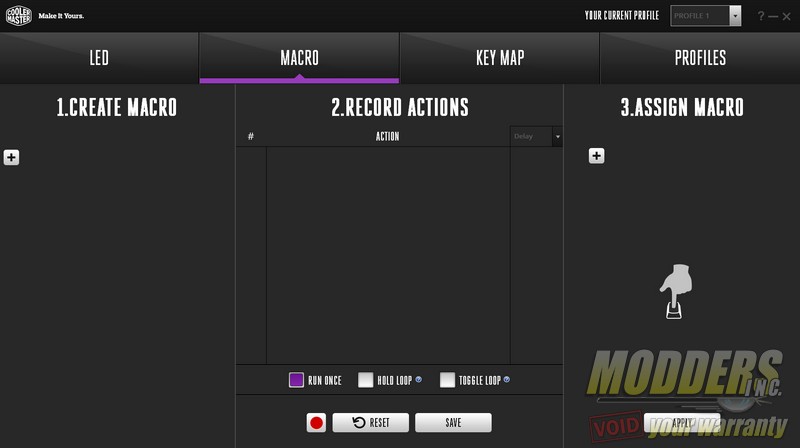 Key Map
You can easily change the assignment of almost every mechanical key on the keyboard. Just select the desired key that you would like to change and a pop-up will appear. This pop-up will allow you to enable or disable the key, as well as select the new function.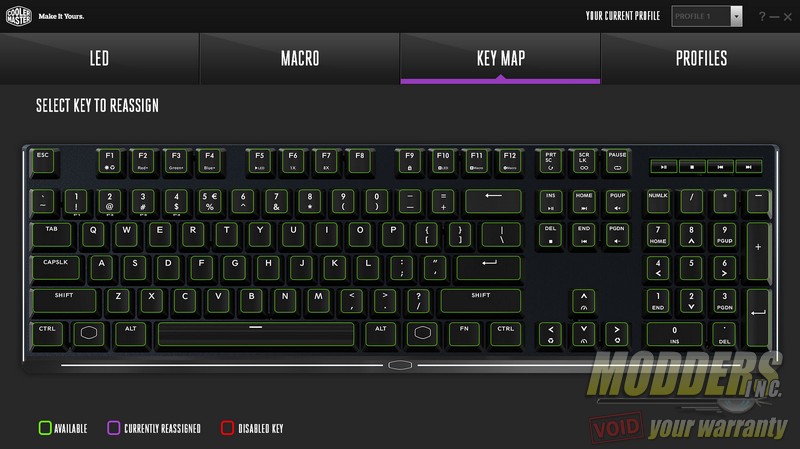 Profiles
You can easily export and import selected profiles. The Library function allows for sharing of profiles. Once a new profile is imported, it is saved directly to the keyboard, meaning it's plug and play ready.