Page 2 »
First Impression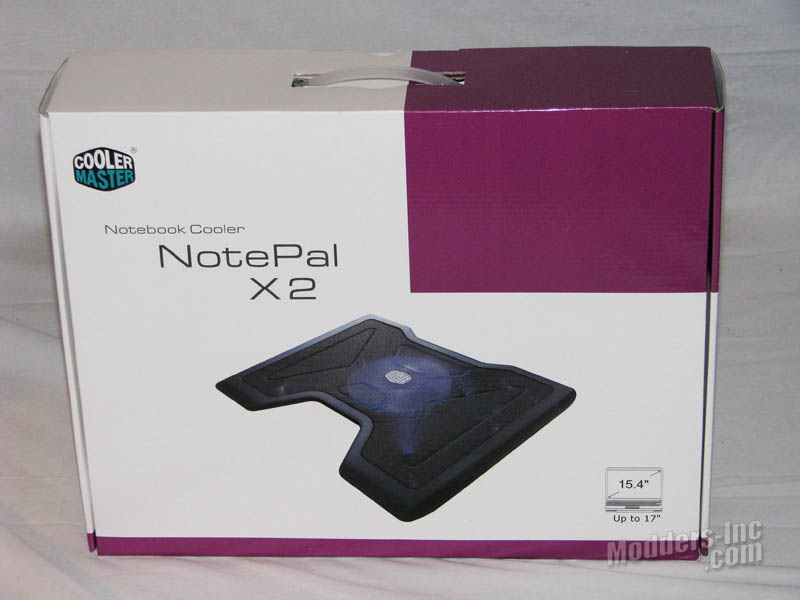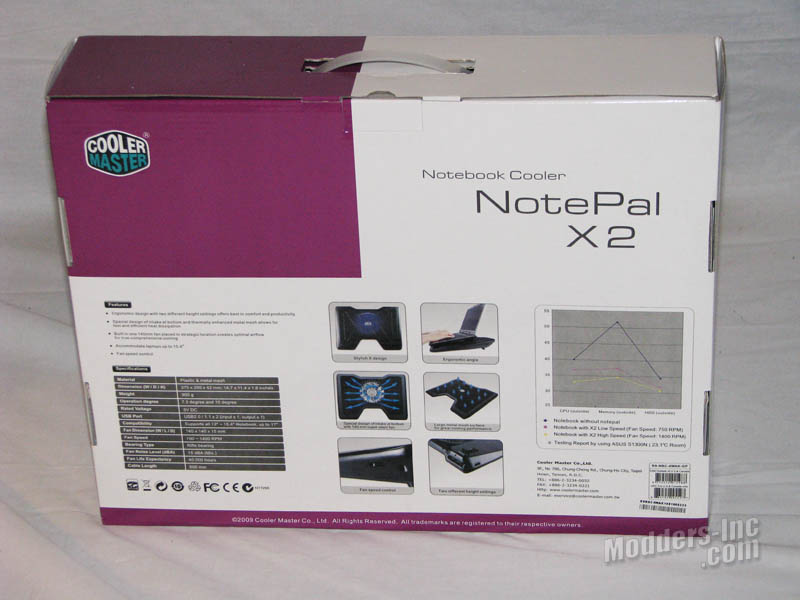 The Cooler Master NotePal X2 comes packed in the standard looking White/ Purple retail box. Adorn on the front is a large image of the NotePal X2 itself to show the consumer what they have in hand. At the lower right corner you will find an icon signifying that the NotePal X2 will work with notebooks that use a monitor that measures 15.4″ up 17″ inches diagonally. Turning the box around you will find the key features, the Specifications, a few images, and a temperature comparison which shows a 3 – 6° drop at the CPU sensor, a 15 – 18° drop at the memory sensor, and a 1 – 4° drop at the HDD sensor. We will have to see how close we come to that.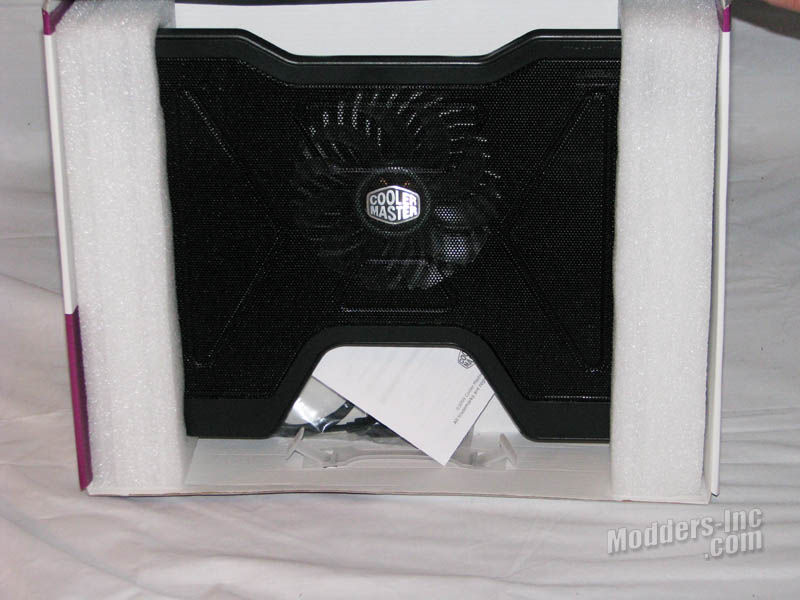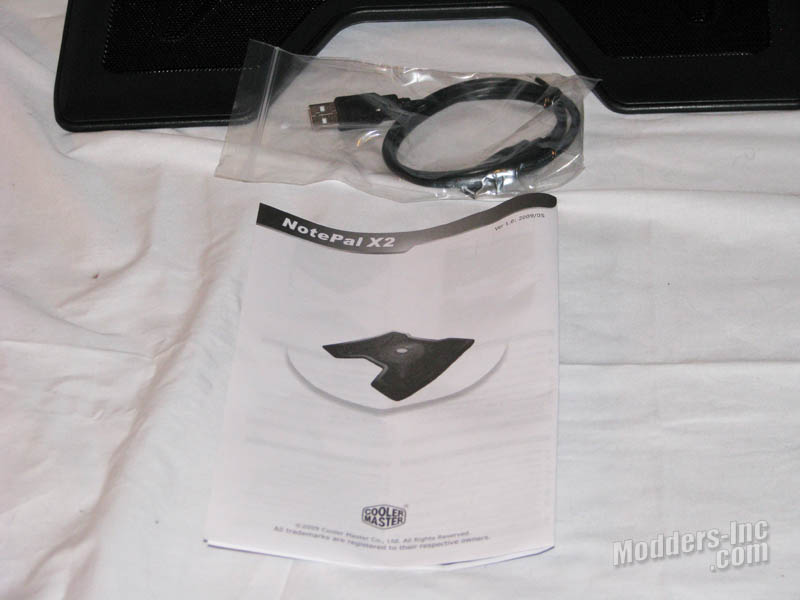 Opening up the box, we can see that the NotePal X2 is sandwiched between a couple of foam end caps to prevent any damage during shipping. Tucked under neath the NotePal X2 is the users manual and 28.5″ long USB > USB cable for powering the fan and lights.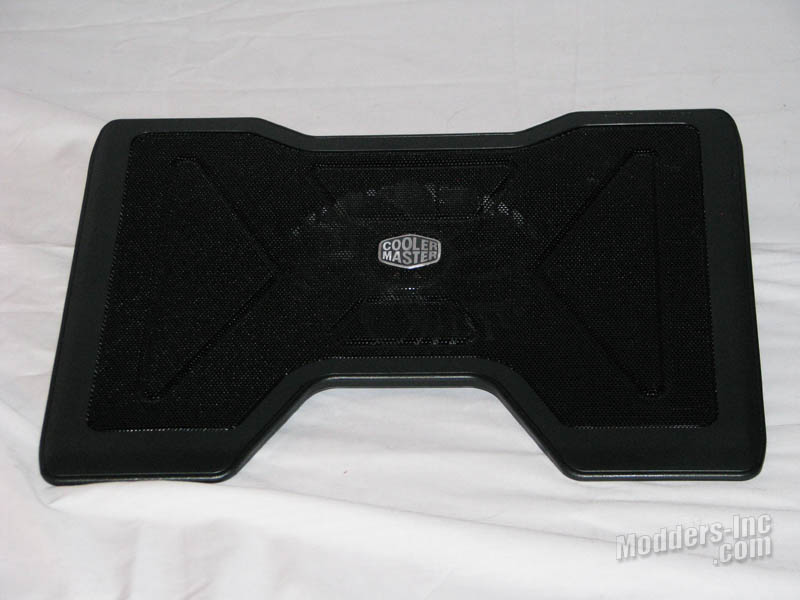 With the Cooler Master NotePal X2 removed from the box, we can see that it closely reassembles the older NotePal X1 notebook cooler. The main difference between the two models is the newer X2 version utilizes a larger 140mm cooling fan, which offers a few more CFMs. The NotePal X2's main body is constructed of a rigid ABS plastic with a mesh insert covering most of the top of the cooler. The lower section of the cooler is well ventilated to allow air to be drawn in from below and to the front and rear. This will allow the cooler to draw in fresh air even when sitting on the users lap. The only thing that caught me off guard was the use of LED lighting on the NotePal X2. In order to see the lighting you would have to power the cooler without having the notebook on it, which would defeat the purpose of the cooler.I don't know, I will have to see just how much light shines out from under the cooler later on.
Features:
Ergonomic Design – Two different height settings for improved comfort.
Special Heat Dissipation – Specially designed bottom intake and thermally enhanced metal mesh allow for fast and efficient dissipation.
Optimal Airflow – Built-in silent 140mm fan placed in strategic location creates optimal airflow for comprehensive cooling.
Accommodates up to 17" notebooks.
Fan speed control.
Blue Led – Blue LED shines through the center mesh when notebook cooler is powered on.
Specifications:
 
| | |
| --- | --- |
| Model: | R9-NBC-4WAK-GP |
| Dimension: | 375 x 290 x 42mm ; 14.76 x 11.42 x 1.7 inches |
| Fan Dimension: | 140 x 140 x 15mm |
| Fan Speed: | 700 ~ 1400 RPM |
| Fan Airflow: | 23 ~ 44 CFM |
| Fan Noise Level(dB-A): | 15 dBA (Min.) |
| Weight: | 900g ; 1.98lbs |
| USB Port: | USB 2.0/1.1 x 2 (input x 1; output x 1) |
| Rated Voltage: | 5V DC |
| Material: | Plastic and Metal Mesh |
| Bearing Type: | Rifle |
| Fan Life Expectancy: | 40,000 hours |
| Cable Length: | 600mm ; 11.8 inches |
| Compatibility: | Support 12″ – 15.4″ notebook and up to 17″ |