Observation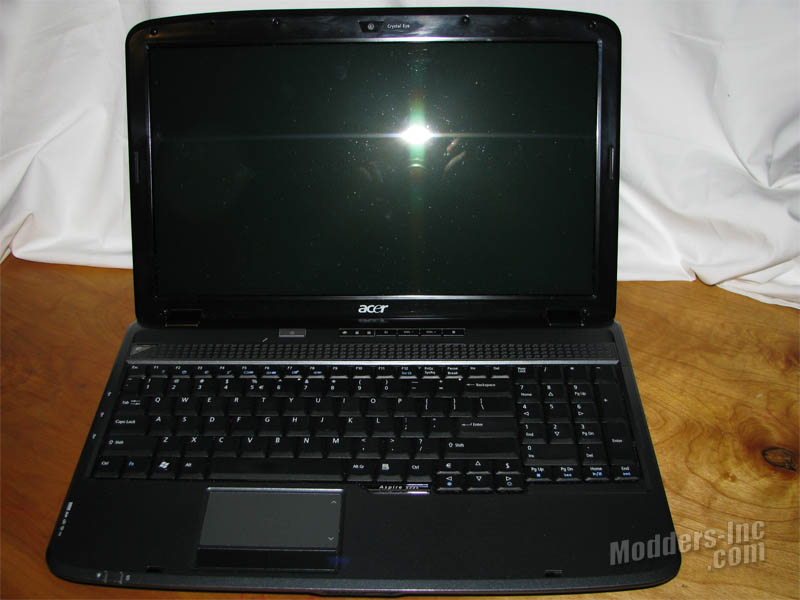 For the testing phase I will be using my Acer Aspire 5335 notebook. I know its nothing hardcore, but how hardcore does a person need to get when typing up an email or viewing a website? I leave all the gaming needs to a real PC.
  To give the Cooler Master NotePal X2 a run for its money. I will be using Prime 95 V25.8 build 4 pared up with Everest Ultimate v5.00.1650 to record the temperatures. I will be testing in four different configurations (Notebook, Notebook w/ NotePal X2 w/ no power, Notebook w/ NotePal X2 Low RPM, and Notebook w/NotePal X2 High RPM). Unfortunately, Everest Ultimate only pickups up two sensors on my budget laptop (CPU and HDD), but I guess thats better than none at all right?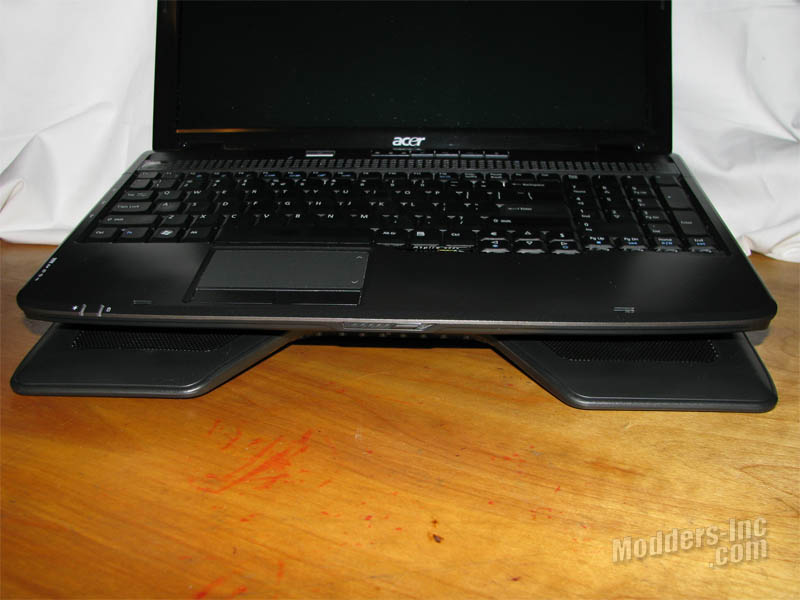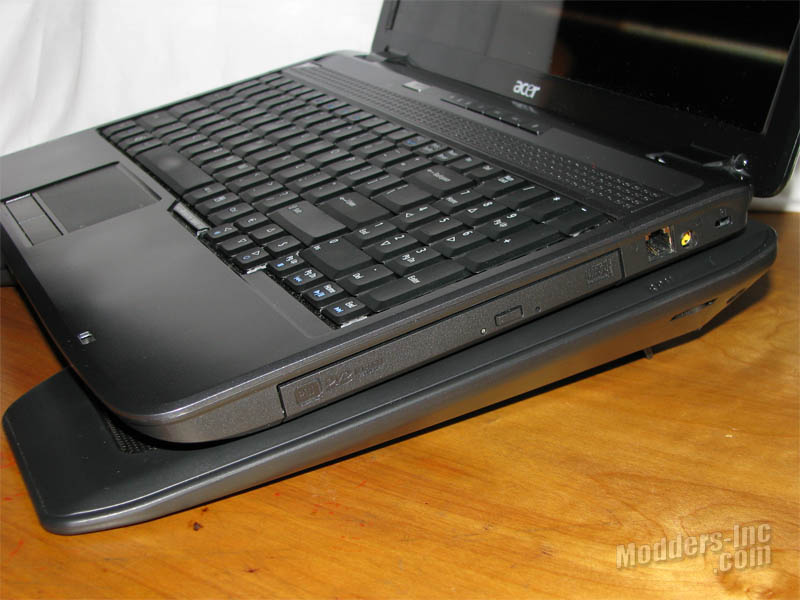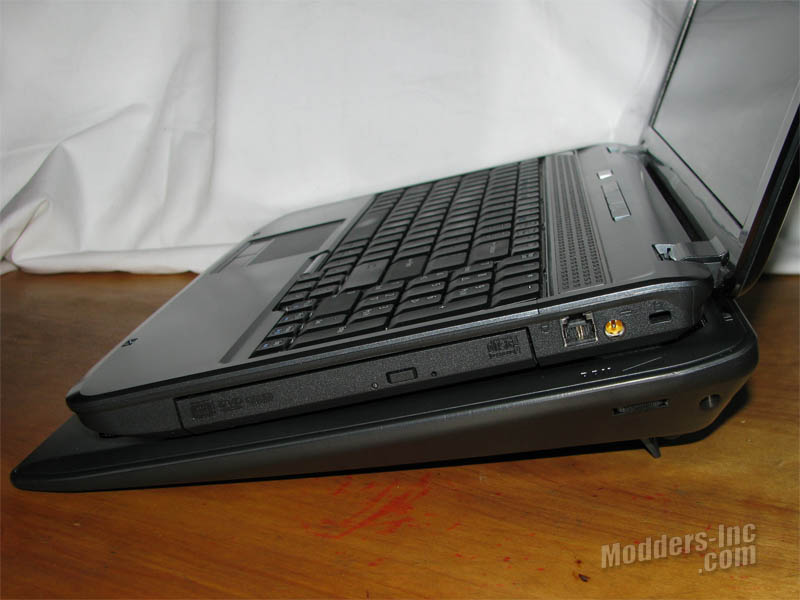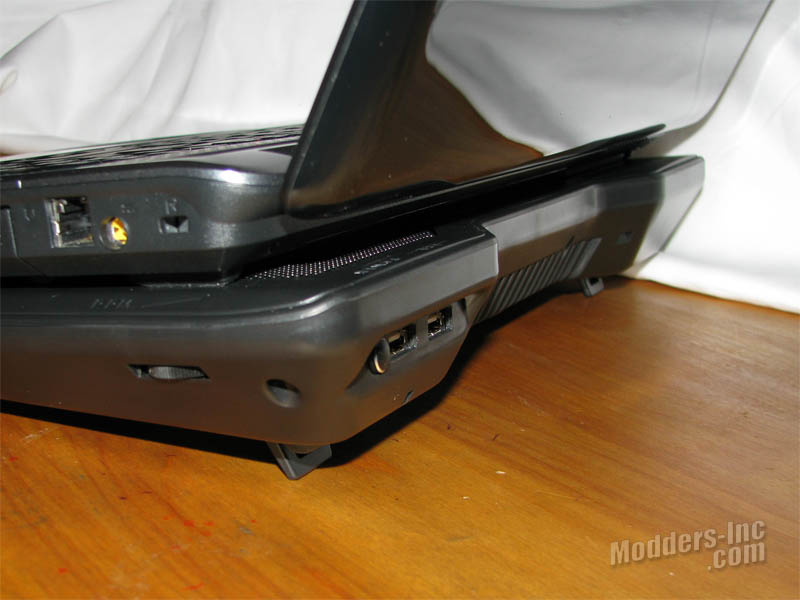 The Acer Aspire is a 15.6″ widescreen notebook and we can see that it takes up most of the space provided by the NotePal X2. The specs state that the NotePal X2 will accommodate up to a 17″ notebook, although it might dwarf it a bit.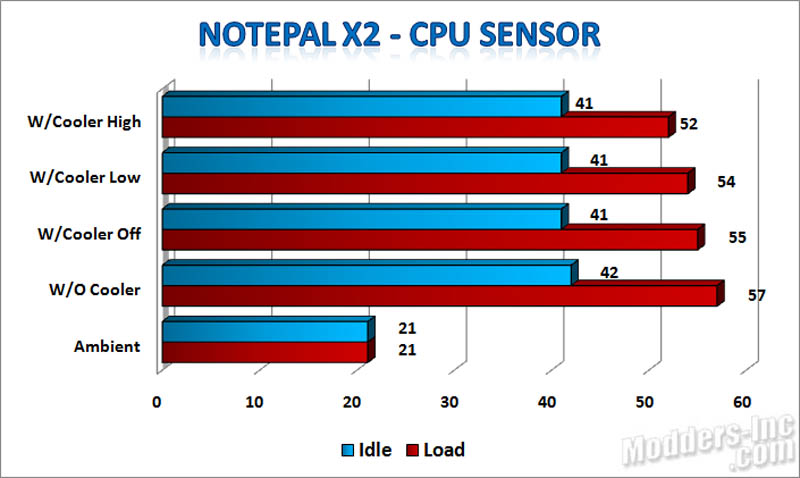 Ok, this time around I separated the charts by sensor. Looking at the CPU sensor chart we see that simply sitting the Acer notebook on the NotePal X2 without it being turned on netted us a 1º drop at idle and a 2º drop at load. Turning the cooler on and adjusting the RPMs to their minimum resulted in no idle change and only a 1º drop at load. Adjusting the dial to maximum still left us at 41º C for idle temperature and dropped the load temperature by another 2º leaving us at 52º C. Overall we ended up with a 1º C drop at idle and a 5º C drop at load on the CPU with the Cooler Master NotePal X2.
  On the HDD sensor side of the scale. The Acer pulled in a 42º C idle temp with a 47º load temp. Simply placing the notebook on the cooler with the power off gave us a 3º drop at idle, and a 5º drop at load. Turning the cooler on and to the minimum RPM dropped the idle temperature 1º while not affecting the load temperature. At full RPMs we held steady at 38º C idle and brought down the load temperature 1º to 41º C. This gave us an overall drop of 4º C idle and 6º C load on the HDD sensor.