PC Water Cooling
Corsair iCUE H115i RGB PRO XT Liquid CPU Cooler
The Liquid CPU Cooler Designed to Keep Your CPU Cool
« A Closer Look at the Corsair iCUE H115i RGB PRO XT
|
Installation and Clearance Issues »
Corsair iCUE Software
I'm not going to cover the whole iCUE software but only the parts that are relevant to this review.
Once the iCUE software is installed and the USB cable plugged into both the side of the pump/CPU block and an available USB header on the motherboard, the cooler shows up in the iCUE software. The first item we'll look at is the lighting. Like almost all of Corsair's LED products, the lighting is fantastic. There are many options for you to choose from and tweak and tune to your heart's content. Personally, I'm a huge fan of the temperature lighting profiles.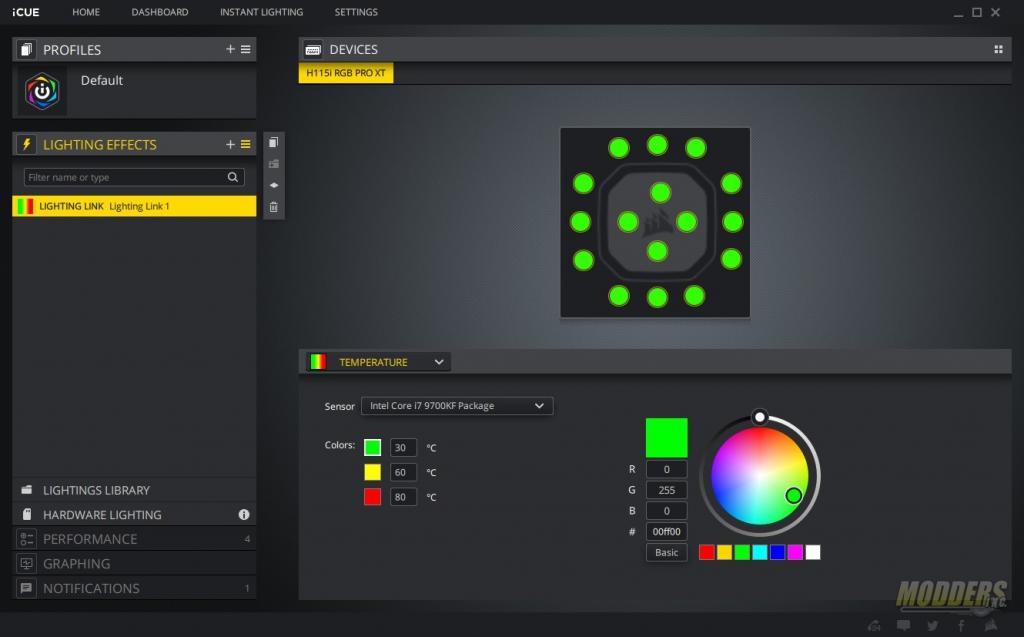 Next up is the performance tab. This allows you to individually set extreme, quiet, balanced, or zero RPM on the pump or the fans. Each item can exist in a different performance profile. Also, there's an all devices slider that locks all 3 items into one profile.