PC Mouse
Cougar 600M Black Edition Gaming Mouse Review
« Introduction and Packaging
|
Disassembly »
Closer Look at the Cougar 600M Gaming Mouse
The 600M is very light weighing in at 90g to make re-positioning the mouse relatively easy, but I think Cougar should follow through with the design on the left side of the mouse where the sniper button is located, where it is able to act as a rest position for your thumb, to allow your ring and pinky fingers to rest; during game play they just dragged upon the surface and it did get uncomfortable after awhile. As for the DPI, I usually keep mine at a relatively low setting for more accuracy but if you are one of those players that loves to quick scope or fly across the map in a RTS you will appreciate the the 8200 DPI setting.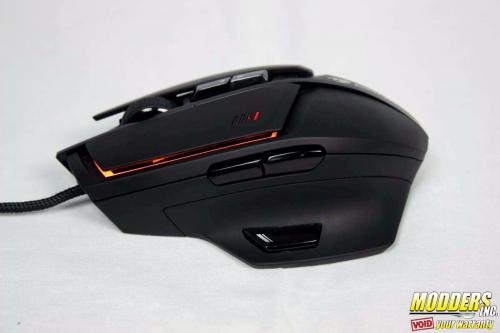 The Cougar 600M Black Edition Gaming Mouse features a nice flat black, soft touch body with high gloss black accents and buttons. Featuring 8 completely programmable buttons including a "sniper button" for better stability during those critical FPS moments. Cougar also carries the element of detail leading to their gold plated USB plug with a nicely braided paracord sleeved cable.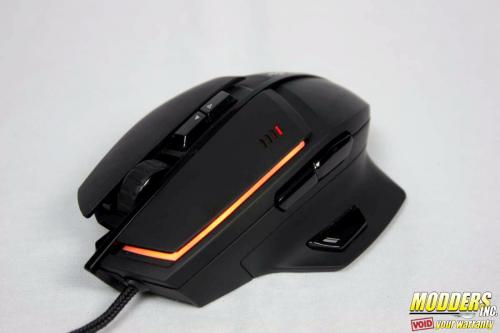 The DPI buttons are nicely placed as in the past I have had issues with certain mice having the DPI buttons in the way and would accidentally click them during game play. This was not the case with the 600M, the same can be said for the forward and backward navigation buttons which due to their shape and location make it difficult to accidentally click them. However the "sniper button" did fall short for me as out of box the button is set to be null, and during game play I found using the button was more awkward than useful. This is due to it being in an unnatural spot for thumb mobility, had it been moved up a bit, it would have been perfect!
Unlike most soft touch coated materials, the 600M features a true black finish, often the material on similar products is a soft black, but you can see a bit of contrast from the soft touch material to the high gloss black plastic frame and buttons.